Space
Worlds with off-kilter orbits may be much more common than previously believed
Behavior & Society
A new look at "the Russian Blues" demonstrates the power of words to shape perception
Wellness
Stress reduction, insomnia prevention, emotion control, improved attention—certain breathing techniques can make life better. But where do you start?
Special Report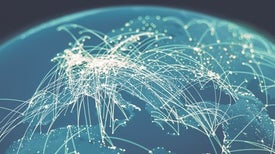 Computing
Berlin conference spotlights world-shaping science
Videos
Researchers from MIT have flown a plane with no moving parts for the first time. It is powered by an "ion drive" which uses high powered electrodes to ionise and accelerate air particles, creating an "ionic wind." This wind drove a five-meter-wide craft across a sports hall. Unlike the ion drives which have powered space craft for decades, this new drive uses air as the accelerant. The researchers say it could power silent drones. This video was reproduced with permission and was first published on November 21, 2018. It is a Nature Video production.