End of 'Green Sahara' May Have Spurred a Megadrought in Southeast Asia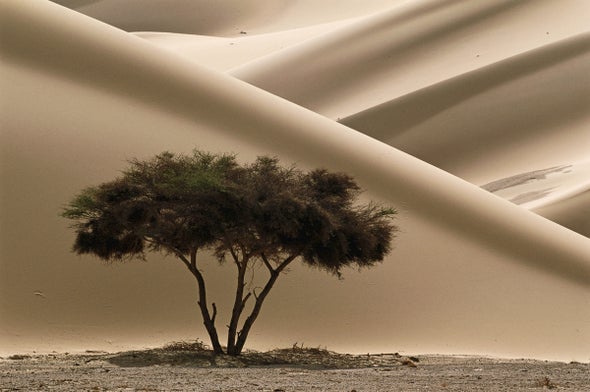 That drought may have brought about societal shifts in the region 5,000 years ago. Christopher Intagliata reports.
Ten thousand years ago, the Sahara had extensive grasslands and was dotted with lakes and trees. But some 5,000 years ago, that "Green Sahara" dried up to become the enormous desert we know today. And scientists now think that this climate shift had effects far away—including causing a megadrought in Southeast Asia.
Kathleen R. Johnson, a paleoclimatologist and geochemist at the University of California, Irvine, says the key to that discovery were stalagmites collected in a cave in northern Laos.
"Stalagmites are really amazing archives of past climate variability. People are more familiar with things like tree rings and ice cores or ocean sediment cores. Well, stalagmites work in a similar way, in that they're deposited over time."
Johnson's team analyzed trace elements and carbon and oxygen isotopes in the hardened cave drippings. That information enables researchers to determine rainfall patterns over the millennia. And Johnson and colleagues discovered signs of a 1,000-year-long drought in Laos, which began around the same time the Sahara dried up—about 5,000 years ago.
As for why the two events might be connected? The researchers simulated the drying out of the Sahara using climate models—and they included a couple things we know happened, including the subsequent disappearance of vegetation and a connected increase in airborne dust—and found those variables would have been capable of cooling down the Indian Ocean.
"And so those cooler ocean temperatures led to less moisture being brought by monsoon circulation in the summertime, when that region gets most of its rainfall."
The details are in the journal Nature Communications. [Michael L. Griffiths et al., End of Green Sahara amplified mid- to late Holocene megadroughts in mainland Southeast Asia]
One of Johnson's co-authors is Joyce White, a consulting scholar at the Penn Museum. She studies the human history of Southeast Asia. And her reaction when she first heard about the drought:
"I said, 'Oh my God, that's the missing millennia.'"
The "missing millennia" because she says archaeological data is scant in that part of Southeast Asia, from 4,000 to 6,000 years ago. White says it's a critical period in which hunter-gatherers gave way to farmers.
"And there are a lot of debates about how the two periods related to each other, but we lacked the evidence in the area I'm most interested in, which is the Mekong Valley."
White says this study doesn't answer that question directly—but the megadrought is a tantalizing new clue for archaeologists as they continue to investigate those "missing millennia."
—Christopher Intagliata
[The above text is a transcript of this podcast.]