Special Report
9/11: 10 Years Later
The attacks on September 11, 2001, profoundly influenced the direction of science and technology. What's been learned from those events, and how they have shaped our lives since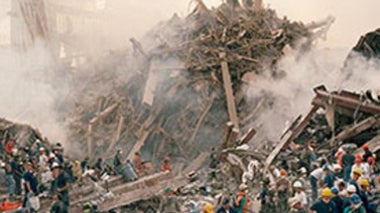 Public Health
Ten years later, what exactly residents and rescue workers were exposed to remains at least a partial mystery
September 7, 2011 — David Biello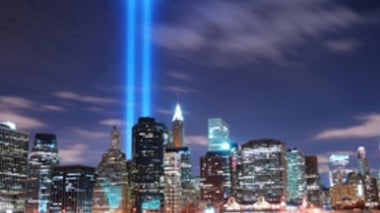 The Sciences
From hacking infrastructure to a detonating a nuclear "dirty bomb," what are the most likely next terrorist attacks?
September 9, 2011 — David Biello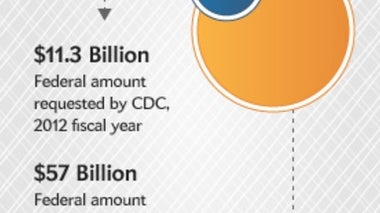 Health
A look at how much the U.S. has spent through Homeland Security since 9/11 and what the government spends on preventing deaths through public health
September 8, 2011 — Katherine Harmon
Federal disaster investigators issued 31 recommendations to improve the safety of high-rises and emergency responses, but critics emerged
Long before 2001 authorities were scrambling to respond to deadly attacks of all kinds
Our understanding of how people experience trauma--and how best to help them recover from it--has changed greatly in the past decade
What was once called the Freedom Tower should soon become the tallest building in the U.S. It will also be among the best prepared in the nation for a terrorist attack or other emergency
The Lower Manhattan Security Initiative has covered much of the city with a network of surveillance cameras and other equipment, to the dismay of privacy advocates
Airport security breaches on and after 9/11 have led to the continual advancement of technologies such as millimeter wave imaging and backscatter scanners to prevent future tragedies
What have we learned about the way children understand and process major events--even if they, themselves were not alive to have experienced them?
Recollections of the circumstances of how we first heard of the 2001 terrorist attacks may feel extraordinarily vivid and true, but they are flawed
Underlying the memorial's seemingly random layout of nearly 3,000 names is a complex and deeply human order
The U.S. Department of Defense keeps seeking and developing advantages for today's unconventional warfare, ranging from Iron Man-like body suits to smart grenade launchers
New work in forensics, biodefense and cyber security blossomed after the attacks on New York City, Washington, D.C., and in the skies over Pennsylvania, but increased regulations have also stymied international collaboration as well as work on some infectious diseases
The U.S. Defense Department has added thousands of automated aircraft added to its fleet over the past decade to support operations in Afghanistan, Iraq and Pakistan as concerns of drone accuracy persist
A decade ago I was wrestling a paragraph in my home office when my wife called out from another room, alarm in her voice. The music station she was listening to had interrupted a song to announce that a plane had flown into the World Trade Center.
When the first plane hit, I was literally shaken out of the shower. What was that? I remember the precise look on my roommate's face when I walked into the living room of the tiny tenement-style apartment we shared on the Lower East Side of Manhattan, about a mile from the World Trade Center: a mix of bewilderment, disbelief, and only a touch of the sarcastic smirk he typically wore.
A humorous review of the "illusion of safety" airport security brings—along with the lack of personal hygiene products