Special Report
The Boston Marathon Bombings: An In-Depth Report
The deadly April 15 explosions unnerved a city and a sport. How can science and technology stop terrorist attacks and save lives? New stories will be added daily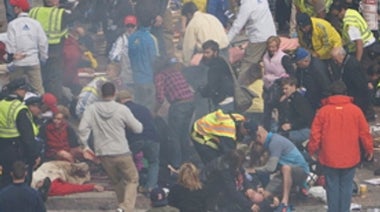 Mind
In the seconds after the explosions came an answer to an ancient question: Are we by nature good, or bad?
April 23, 2013 — Adrian F. Ward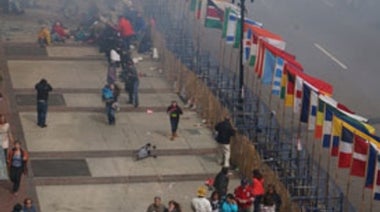 Health
A decade of battlefield experience in Iraq and Afghanistan has led to better understanding of IED injuries that will likely improve the outcomes of survivors of the Boston Marathon bombing
April 17, 2013 — Tara Haelle
The Sciences
Image of the Boston Marathon finish line 54 minutes before the first explosion courtesy of Aaron "tango" Tang, via Flickr Soon after the investigation into Monday's Boston Marathon bombings began, law enforcement urged the public to e-mail any video, images or other information that might lead them to the guilty party.
April 18, 2013 — Larry Greenemeier
Credit: © MotoEd/iStockphoto Today at BoingBoing, Maggie Koerth-Baker has a fascinating Q&A with communications engineer and entrepreneur Brough Turner about how mobile-phone networks respond to sudden spikes in call volume, as occurred April 15 in the aftermath of the Boston Marathon bombings.
Two IEDs were detonated near the race's finish line. An expert explains how they work and how they can lead investigators back to the bomb-makers
Can't Keep 'Em Down: New Year's in Times Square Will the masses at NFL events do "the wave" only in the watchful sights of a police sharpshooter's high-powered rifle?
"When I was a boy and I would see scary things in the news, my mother would say to me, 'Look for the helpers. You will always find people who are helping.' To this day, especially in times of disaster, I remember my mother's words and I am always comforted by realizing that there are still so many helpers -- so many caring people in this world." - Fred Rogers The exact details of what happened today on Boylston Street are still being sorted out, but multiple reports are confirming that two bombs were detonated close to the finish line of today's Boston Marathon, killing at least two people and wounding dozens of others.As a social psychologist, there are so many reasons to expect that this should end up revealing an absolute low point for humanity.
It might be no surprise that immediately after the explosions at today's Boston Marathon, social media sites became the best way for the public to obtain on-the-scene reports.
Airport security breaches on and after 9/11 have led to the continual advancement of technologies such as millimeter wave imaging and backscatter scanners to prevent future tragedies
The Lower Manhattan Security Initiative has covered much of the city with a network of surveillance cameras and other equipment, to the dismay of privacy advocates
Advances in motion-capture technology hold enormous potential as a tool for analyzing surveillance video for possible security threats
Robots continue to play ever-more important combat roles in the air and on the ground in Afghanistan and Iraq, and their responsibilities will only continue to grow
3VR wants to be the Google of surveillance footage, giving businesses the ability to search video for specific people, places and things
Brain tissue from deceased military veterans exposed to explosions shows signs of the same neurodegenerative brain disorder that strikes football players who have sustained multiple concussions