Special Report
The Buzz on Bees
Humanity's indispensable insect ally is facing an array of threats, many man-made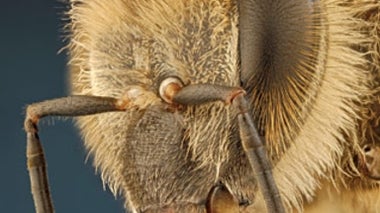 The Sciences
The mysterious ailment called colony collapse disorder has wiped out large numbers of the bees that pollinate a third of our crops. The causes turn out to be surprisingly complex, but solutions are emerging...
April 1, 2009 — Diana Cox-Foster and Dennis vanEngelsdorp
Sustainability
In a race against time, researchers propagate native solitary bees as an alternative to our most important pollinators
March 31, 2009 — Christopher Mims
The Sciences
Lacking a stinger is no barrier to kicking butt in the evolutionary cage match between Australian bees and hive-invading parasites
March 31, 2009 — Christopher Mims
Home sweet home: Not all honeybees work far afield--some are making honey high in the rooftops
One million of the 2.4 million U.S. honeybee colonies perished last winter. What's behind the die-off is still a mystery, but one researcher plans to spend this summer gathering clues
Bees display a remarkable range of talents—abilities that in a mammal such as a dog we would associate with consciousness
The Xerces Society for Invertebrate Conservation last week petitioned the U.S. Department of the Interior to protect seven Hawaiian bee species under the Endangered Species Act.
Honeybees: A European import vital to food production--or are they? David Biello reports
Researchers zero in on the culprits behind colony collapse disorder