The World's 10 Most Polluted Places [Slide Show]
The list includes locations suffering from toxic pollution as a result of everything from e-waste to chemical weapons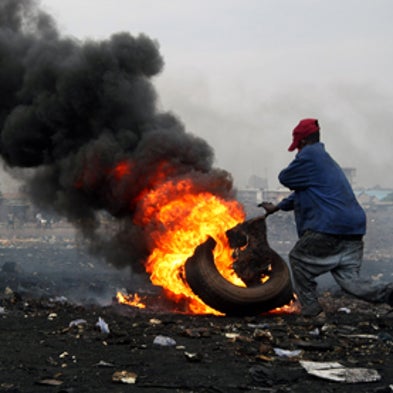 The World's 10 Most Polluted Places [Slide Show]
NIGER RIVER DELTA, NIGERIA: The global addiction to oil has turned the Niger River Delta into a sacrifice zone. This densely populated region of roughly 70,000 square kilometers has been polluted with petroleum since the 1950s, and at least 240,000 barrels of crude oil have been spilled into the delta each year, with attendant impacts on fishing, the ability to grow crops in the swamplands and human health...

Advertisement

HAZARIBAGH, BANGLADESH: Roughly 90 percent of the 270 registered tanneries in the country cluster in this neighborhood of Dhaka on roughly 25 hectares of land. Each day the tanneries dump some 22,000 cubic liters of toxic waste, including carcinogenic hexavalent chromium, into the main river, the Buriganga...

Advertisement

CHERNOBYL, UKRAINE: Despite the multiple meltdowns at Fukushima in Japan, Chernobyl remains the world's worst civilian nuclear accident. Nearly 30 years later 150,000 square kilometers of land remain contaminated with various radioactive isotopes such as cesium 137 or plutonium that were released when the reactor exploded, putting as many as 10 million people at risk...

AGBOGBLOSHIE, GHANA: Recovering precious metals and other components of computers and electronic devices accounts for the bulk of the pollution at this dump in the city of Ghana. For example, recyclers burn off the plastic sheathing on copper cables and wires, often using locally available fuels like Styrofoam...