The World's 10 Most Polluted Places [Slide Show]
The list includes locations suffering from toxic pollution as a result of everything from e-waste to chemical weapons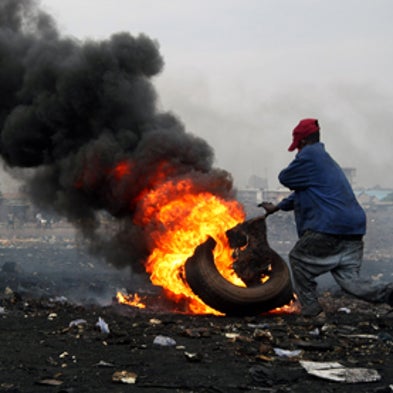 The World's 10 Most Polluted Places [Slide Show]
NORILSK, RUSSIA: This city above the Arctic Circle retains the world's largest metal smelting complex and, therefore, it's place on this list due to terrible air pollution. As a result of the haze, trees do not grow within 30 kilometers of the city, founded only in the 1930s. The bad air is also not good for people and life expectancy in the city of 135,000 is 10 years below the Russian average. Respiratory disease is common, along with cancers of the lungs and digestive system. Upgrades to smelter equipment could cut down on the air pollution. "There is a growing understanding that one has to deal with [these pollution problems], but it takes a long time," said Stephan Robinson of Green Cross Switzerland.

NIGER RIVER DELTA, NIGERIA: The global addiction to oil has turned the Niger River Delta into a sacrifice zone. This densely populated region of roughly 70,000 square kilometers has been polluted with petroleum since the 1950s, and at least 240,000 barrels of crude oil have been spilled into the delta each year, with attendant impacts on fishing, the ability to grow crops in the swamplands and human health. "People are breathing in a toxic mix and it's gotten into the food chain," noted David Hanrahan, Blacksmith's chief technical advisor.

RIO MATANZA–RIACHUELO, ARGENTINA: This 60-kilometer-long river basin in Buenos Aires is home to at least 15,000 small industries that pollute the river. As a result, soil along the banks hosts high concentrations of heavy metals. For example, chromium can be found at an average level of 1,141 parts per million, or more than 900 ppm higher than regulated levels in the U.S. The heavy metals also contaminate the drinking water for at least 20,000 people. "The problem is fundamentally an inadequate infrastructure," said David Hanrahan, the Blacksmith Institute's chief technical advisor. He added some hope, though, noting that "the World Bank is funding a major project there that will help the city of Buenos Aires deal with its problem in probably a matter of decades."

KALIMANTAN, INDONESIA: Here's how millions of small-scale miners get gold around the world: Liquid mercury is added to ore; the mercury forms an amalgam with the gold that is then burned off, releasing mercury into the air as small quantities of pure gold are left behind. Such artisanal gold mining is the second-largest source of mercury pollution in the world (after coal-fired power plants) and it is the reason this area of Borneo is included on the list. More than 1,000 metric tons of mercury enter the environment each year, despite the fact that mercury is a known brain poison, accumulating in water and fish.

Advertisement

KABWE, ZAMBIA: The second largest city in this southern African country was home to one of the continent's largest lead smelters as well as ubiquitous lead mines that have contaminated the entire city in lead dust. Young men still mine the leftover lead ore for profit, releasing yet more of the toxic heavy metal. As a result, some children in Kabwe have lead levels as high as 200 micrograms per deciliter, or 40 times higher than the safe limit proposed by the U.S. Centers for Disease Control. The average blood concentration is between 50 and 100 micrograms per deciliter. The city remains on the most polluted list "because very little is being done," noted Jack Caravanos, Blacksmith's research director.

HAZARIBAGH, BANGLADESH: Roughly 90 percent of the 270 registered tanneries in the country cluster in this neighborhood of Dhaka on roughly 25 hectares of land. Each day the tanneries dump some 22,000 cubic liters of toxic waste, including carcinogenic hexavalent chromium, into the main river, the Buriganga. Worse, at least 185,000 people live in Hazaribagh, although that may be an underestimate, thanks to informal settlements in the area. All of them may be being poisoned by the industry that employs between 8,000 and 12,000 people.

DZERZHINSK, RUSSIA: This city of 245,000 has been in the top 10 since 2006—and was dubbed the most chemically polluted city in the world by Guinness World Records in 2011—boasting a "white sea" in the middle of town that is the residue of Soviet-era chemical manufacturing. For more than 60 years at least 300,000 metric tons of chemical wastes were improperly buried in the region. Some 190 different chemicals have been detected in the groundwater, and life expectancy—47 for women and 42 for men—is 10 to 15 years lower than the already low average life expectancy in Russia. "Remediation is a huge task and will probably take decades," said Stephan Robinson of Green Cross Switzerland.

CITARUM RIVER, INDONESIA: At least nine million people live in the Citarum River Basin, which covers 13,000 square kilometers of the island of Java. More than 2,000 factories line the waterway, which also provides water for drinking and bathing as well as rice irrigation. Metal contamination has been found in the water above international safety standards, including lead, mercury and even the poison arsenic. But the Indonesian government has pledged to invest $3.5 billion to clean the river, including a $500-million loan from the World Bank. "We expect to see good things happen on the Citarum River in the future," said Bret Ericson, a senior project director at Blacksmith.

Advertisement

CHERNOBYL, UKRAINE: Despite the multiple meltdowns at Fukushima in Japan, Chernobyl remains the world's worst civilian nuclear accident. Nearly 30 years later 150,000 square kilometers of land remain contaminated with various radioactive isotopes such as cesium 137 or plutonium that were released when the reactor exploded, putting as many as 10 million people at risk. "It is not possible to relocate five [million] or 10 million people," notes Stephan Robinson of Green Cross Switzerland. "This is a pollution problem where there is no quick and easy fix, and probably even money cannot help." But a new sarcophagus contains the radioactive remnants of the exploded reactor and Green Cross Switzerland has been teaching residents how to farm in ways that lessen the radionuclides taken up in crops as well as new cooking techniques that can reduce the risk of ingesting the radioactive particles.

AGBOGBLOSHIE, GHANA: Recovering precious metals and other components of computers and electronic devices accounts for the bulk of the pollution at this dump in the city of Ghana. For example, recyclers burn off the plastic sheathing on copper cables and wires, often using locally available fuels like Styrofoam. As a result, heavy metals incorporated in the cables such as lead travel with the smoke before settling onto local homes and soils. Samples from the perimeter of the dump site where more than 40,000 people live have lead levels as high as 18,125 parts per million, or 45 times higher than the U.S. Environmental Protection Agency's lead contamination limit. Some workers have blood levels of heavy metals as much as 17 times higher than international standards. One solution might be to strip wires with hand tools but burning remains cheaper and easier—and the amount of e-waste both at Agbogbloshie and globally is only set to grow. "This is the tip of the iceberg with e-waste," said Jack Caravanos, the Blacksmith Institute's director of research. "Given the valuable metals in e-waste and the use of electronics in many more countries in future, there are many more toxic sites to come."