2008 Gadget Guide: 33 Technology Innovations [Slide Show]
Holiday gift list: 13 high-tech toys, plus 20 green gadgets and socially responsible inventions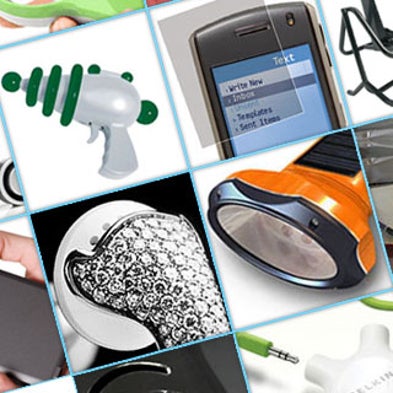 2008 Gadget Guide: 33 Technology Innovations [Slide Show]
Channel-Changer Ray Gun

: Don't just watch science fiction on your TV, become a part of it by adding this ray gun–shaped remote to your collection. Price tag: about $15 for the joy of disintegrating a heinous reality show or vaporizing a bloviating pundit. Image courtesy of prezzybox.com

DEOS Group, LLC's diamond-studded earbuds: Apple may offer about a dozen different types of iPod, but they all come with the same boring earbuds. DEOS is offering to add bling to your beat (and your iPhone) with three different styles of its diamond-studded covers (which slip over the standard-issue white buds). The different styles contain up to five carats of black or white diamonds. Price tag: between $1,200 and $15,000 per pair Image courtesy of DEOS Group, LLC

WowWee's FlyTech Bladestar

: The Bladestar is a helicopterlike flying toy that includes a navigation sensor to help keep it from slamming into walls and ceilings. (It's not made to be used outdoors.) Multiple Bladestars can engage in living-room aerial battles by exchanging infrared pulses. Price tag: $40 Image courtesy of WowWee Group Limited

Advertisement

3M Mobile Privacy Film

: This mobile phone screen cover works in a way similar to vertical blinds--the film features a microlouver technology that makes LCD screens appear dark when viewed at an angle. This helps prevent strangers (or even family, friends and acquaintances) from invading personal space and viewing sensitive or personal information. With a light matte finish, the privacy film also reduces glare as it maintains a high level of brightness. Price tag: $9 per sheet Image courtesy of 3M

BeamBox

: BeamBox's W-1 and B-1 (which come in white and black, respectively) are each about the size of two decks of cards and are able to display a 42-inch (106.7-centimeter) image, diagonally, from less than five feet (1.5 meters) away from the screen (a wall or any white surface). The projectors can display up to a 100-inch (2.5-meter) diagonal picture. Price tag: $350 Image courtesy of BeamBox

Mini projectors: Mini digital projectors (also called "pico" projectors) the size of an iPhone are sprouting up to provide "big-screen" viewing of movies, videos and other visuals stored on iPods, PCs, gaming systems and other devices. Here are some examples. Microvision SHOW--Microvision expects its mini projector will be available for iPods and PCs by mid-2009. The company plans to deliver a version of SHOW that can also project content from mobile phones. The company estimates the device will cost at least $300 on the low end. Image courtesy of Microvision, Inc.

Advertisement

Flight Motion Simulators, Inc.'s Dreamflyer

: The Dreamflyer is a three-foot (0.9-meter) by six-foot (1.8-meter) virtual-reality flight motion simulator with a black powder-coated aluminum frame and sports seat that faces up to three video monitors portraying images of flight. The Dreamflyer translates this sensation into motion through the seat and control stick, which respond to the views on the screen. Price tag: $10,500 Image courtesy of Flight Motion Simulators, Inc.

Hoverit, Ltd.'s Lounger

: Inspired by Luke Skywalker's hovering Landspeeder in the

Star Wars

films, Hoverit's acrylic Lounger uses repelling magnetic forces in both the chair and base to keep the chair aloft. The chair measures six feet (1.8 meters) long by 3.3 feet (one meter) high by 3.3 feet wide. Price tag: about $11,000 Image courtesy of Hoverit, Ltd.

Video eyewear: Virtual reality visors are challenging flat-screen plasma TVs to provide the best experience for watching movies, playing video games or surfing the Web. Here are a few examples. Vuzix Corp.'s latest entry in the video eyewear market is its iWear AV310 Widescreen, which fits over the wearer's eyes like a virtual reality visor should and replicates the effect of watching a 52-inch (130-centimeter) screen. The visor connects to PCs, portable media players, gaming consoles, cell phones and laptops. Vuzix offers five different visors that range in price between $200 and $400. Like Vuzix, Headplay Canada Inc.'s visor (not pictured) is designed to let the wearer surf the Web, play video games or watch movies through a video console that fits over the head like a tennis visor. The price tag for Headplay's device, which connects to XBOX, PlayStation and Wii gaming systems as well as PCs, DVD players, satellite TV systems and iPods: around $500. Image courtesy of Vuzix Corp.