SciAm's 2009 Gadget Guide: 10 Tech Toys You Deserve after a Tough Year [Slide Show]
This year will be remembered for the federal economic stimulus package, Wall Street bailouts, and just possibly a fun new gadget or two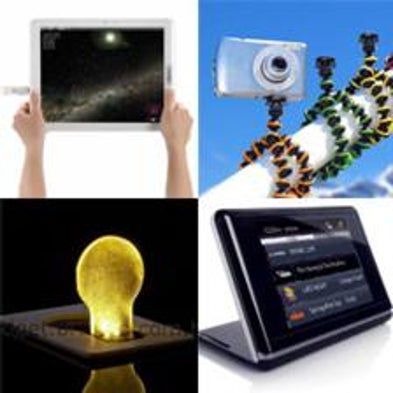 SciAm's 2009 Gadget Guide: 10 Tech Toys You Deserve after a Tough Year [Slide Show]
THANKO HEATED GLOVES Sometimes, no matter how much typing you do, you just can't get your hands to acclimate to a chilly office. Japanese gadget-maker Thanko has a possible solution: heated gloves. The heat comes from plugging in the gloves' mini heaters via USB connection to your computer (or an outlet via an AC adapter)... © THANKO CO. LTD.

JOBY BENDABLE CAMERA TRIPOD/FLASHLIGHT Joby, Inc., makes a variety of products that share the common theme of having bendable legs so that cameras, flashlights and other gadgets can be positioned properly. Rubberized ring and foot grips provide stability so the legs can be wrapped around poles, tree limbs, bike handlebars, etcetera... © JOBY INC.

Advertisement

ZEROFOOTPRINT TALKINGPLUG Ever wonder how much energy your hair dryer or toaster oven uses? Well, wonder no more. Zerofootprint, Inc., a company that offers services and software for people and businesses who want to lower their carbon footprint, says it can provide the answers via its TALKINGplug... © ZEROFOOTPRINT INC.

FAIRY DEVICES'S STELLARWINDOW All you need is a tablet PC. Fairy Devices, Inc., provides the celestial mapping software and a USB plug-in sensor that will turn that PC into a portal to the stars. By holding the StellarWindow up to the sky and adjusting viewing angle and distance of your eyes from the screen you can get an accurate map of the stars... © FAIRY DEVICES INC.

KOHJINSHA DUAL SCREEN NOTEBOOK The Kohjinsha Dual Screen DZ Series notebook lets users double the width of their video display by sliding apart the device's two overlaid 10.1-inch LED backlit screens. It comes with a low-power CPU (to save on battery life), Windows 7, up to four gigabytes of RAM, a fingerprint reader, an optical mouse, and weighs about 1.8 kilograms... © KOHJINSHA CO., LTD

Advertisement

ZEO PERSONAL SLEEP COACH The Zeo Personal Sleep Coach is designed to help wearers understand how they are sleeping and discover habits and behaviors that may be helping or hindering slumber. The product comes with a headband to be worn while sleeping that wirelessly sends brain-wave information to a bedside display... © ZEO INC.