SciAm's 2010 Gadget Guide: 10 Gizmos Taking Digital Learning and Entertainment to the Next Level [Slide Show]
Big pop-tech dominated the headlines this year, so we present an array of mainly pint-size products that may have sneaked under your radar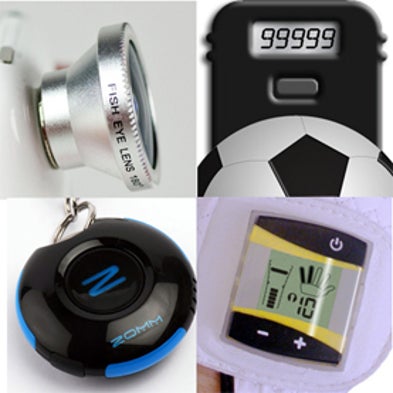 SciAm's 2010 Gadget Guide: 10 Gizmos Taking Digital Learning and Entertainment to the Next Level [Slide Show]
KIDS PEDOMETER GeoPalz, Inc., in July introduced a lineup of pedometers designed to appeal to children (thanks to some cool designs), plus a Web site that can be used to track each child's progress. The site awards points to GeoPalz users that can be traded for prizes. Basically, it turns exercise (walking or running, in particular) into a game, one that's healthier than hours spent in front of a television or computer.
Cost: $20 COURTESY OF GEOPALZ INC.

CAMERA PHONE LENS Cell phone cameras have become a viable alternative to pocket-size digital cameras, so why not start taking your cell phone photography seriously? Photojojo offers two lenses—one fish-eye and the other a combination wide-angle/macro—that connect magnetically around a cell phone lens. The lenses range between 15.8 to 25 millimeters in diameter by 6.5 to 15 millimeters in length. One drawback—although the lenses work with most smart phones, they do not fit to iPhones perfectly. Photojojo claims the lenses do work on the iPhone, but with some slight modifications.
Cost: $40 (for both lenses) COURTESY OF PHOTOJOJO

WIRELESS ALARM Are you sure you have your mobile phone with you each morning as you're rushing out the door to go to work? Attach ZOMM, LLC's alarm to your key ring and, assuming you haven't also forgotten your keys, the device—four centimeters in diameter—will start to flash and vibrate when it gets more than nine meters from your phone. (The two communicate wirelessly via Bluetooth.) Because of this Bluetooth connection, the ZOMM device can also act as a speakerphone with built-in noise cancellation, enabling you to answer your phone even when it's out of reach. A panic button feature lets you sound a 40-decibel alarm and call for local emergency assistance.
Cost: $90 COURTESY OF ZOMM LLC

INTERNET RADIO Livio Radio featuring the Pandora Internet radio service is a retro-looking music player that can access online music from any wi-fi (wireless) or ethernet (wired) connection without the need for a computer. In addition to accessing a user's Pandora account, Livio Radio can get music from more than 20,000 AM/FM radio stations around the Web. Livio also makes a device called the Carmen that can store Internet radio tunes and play them through a car stereo. (It plugs into the AUX outlet or cigarette lighter.) Grace Digital Audio also offers a lineup of Internet radios, including its own featuring access to Pandora.
Livio Radio featuring Pandora Cost: $200
Carmen Cost: $60
Grace Digital Audio featuring Pandora Cost: $170 COURTESY OF LIVIO RADIO

Advertisement

TALKING BOOK Literacy Bridge's Talking Book is a handheld, battery-powered device designed to help improve reading skills through a variety of pronunciation, vocabulary-building and reading-comprehension activities. Literacy Bridge, a Washington State–based charity, has been offering its Talking Book audio devices since February 2009 for people who cannot read and who live without electricity. The current general-consumer version of the Talking Book—12 by 12 centimeters—weighs 225 grams without its two zinc–carbon size-D batteries, which typically supply up to 15 hours of use. Power can be conserved using earphones, but a built-in speaker enables group listening. Content can be recorded onto the devices in a number of audio formats, including .wav and MP3.
Cost: about $10 each COURTESY OF LITERACY BRIDGE

TREADMILL DESK Wish you could walk and work at the same time? Well, TrekDesk's Treadmill Desk is designed to help you do just that with a 183- by 86-centimeter work surface that can handle up to 25 kilograms of work equipment and fits most standard treadmills. The desk's feet stand on the floor on either side of the treadmill and are adjustable from 118 to 144 centimeters off the ground.
Cost: $480 COURTESY OF TREKDESK

SENSOGLOVE Germany's Senso Solutions GmbH's SensoGlove is a golf glove with built-in digital sensors that continuously reads the user's grip pressure to provide instant feedback at all the points of the swing. SensoGlove's audio feedback issues a warning the moment one's grip becomes too tight, in an effort to help golfers learn to maintain correct grip pressure at every point of the swing. The glove available since September, features a sweat-proof three-centimeter LED digital monitor and can provide real-time audio and visual feedback at 80 times per second. The sensor can be removed when the glove wears out and placed into a new SensoGlove.
Cost: $90 COURTESY OF SENSO SOLUTIONS GMBH

ARCHERFISH SOLO Cernium Corp.'s Archerfish Solo Interactive Video Monitoring and Recording System, introduced earlier this year, records and analyzes video footage and can transmit video clips and notifications via a wireless router to a cell phone or other mobile device. The camera (11.5 centimeters tall by 5.7 centimeters wide) has a visual range of between three and 18 meters, can be used both indoors and outdoors, and operates in low light. The system also has a video search engine that enables clips to be found by event, date or time.
Cost: $400 COURTESY OF CERNIUM CORP.

Advertisement

FACECAM 1000 KYE Systems Corp.'s Genius FaceCam 1000 is a low-cost Web camera that supports 720p high-definition resolution, can rotate 360 degrees and comes bundled with CrazyTalk Cam Suite PRO software that enables you to upload video to YouTube and create animated on-screen avatars. Introduced in November, the FaceCam 1000 captures still images at up to 8.0 megapixels. The 720p format is one of three currently designated as high-definition television that comprises 720 vertical pixels and 1,280 horizontal pixels. The Webcam comes with an Image Protection Mechanism (IPM) feature for preventing unauthorized access to your computer. The IPM stores an image of your face and locks your computer when left unattended, unlocking only when you return to the computer and the camera sees your face again.
Cost: $35 COURTESY OF KYE SYSTEMS CORP.

SOULRA There is no shortage of ways to listen to your digital tunes these days, whether you're plugged into your iPod or Droid, playing satellite radio in your car or have Pandora Internet radio running on your computer. Etón Corp.'s Soulra portable sound system for iPods and iPhones adds a slightly new dimension, enabling you to more easily carry a speaker for your music files into the great outdoors. Introduced in June, the Soulra is a rugged, portable sound system powered by solar panels connected to a rechargeable lithium ion battery pack. The device features an aluminum and rubberized exterior that is rated "IPX-4" by the International Electrotechnical Commission, meaning its electrical components are "splash-proof" in all directions. The Soulra isn't waterproof, however, so don't leave it out in the rain or let it fall into the nearest lake or river while you're rocking out.
Cost: $200 COURTESY OF ETON CORP.