SciAm's 2010 Gadget Guide: 10 Gizmos Taking Digital Learning and Entertainment to the Next Level [Slide Show]
Big pop-tech dominated the headlines this year, so we present an array of mainly pint-size products that may have sneaked under your radar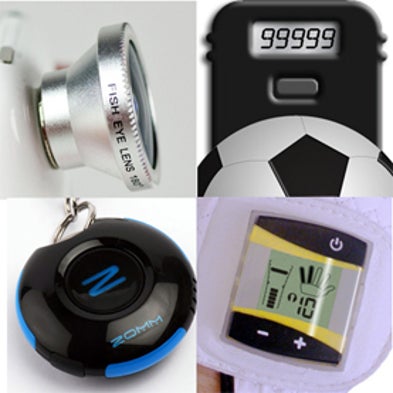 SciAm's 2010 Gadget Guide: 10 Gizmos Taking Digital Learning and Entertainment to the Next Level [Slide Show]
CAMERA PHONE LENS Cell phone cameras have become a viable alternative to pocket-size digital cameras, so why not start taking your cell phone photography seriously? Photojojo offers two lenses—one fish-eye and the other a combination wide-angle/macro—that connect magnetically around a cell phone lens... COURTESY OF PHOTOJOJO

WIRELESS ALARM Are you sure you have your mobile phone with you each morning as you're rushing out the door to go to work? Attach ZOMM, LLC's alarm to your key ring and, assuming you haven't also forgotten your keys, the device—four centimeters in diameter—will start to flash and vibrate when it gets more than nine meters from your phone... COURTESY OF ZOMM LLC

Advertisement

ARCHERFISH SOLO Cernium Corp.'s Archerfish Solo Interactive Video Monitoring and Recording System, introduced earlier this year, records and analyzes video footage and can transmit video clips and notifications via a wireless router to a cell phone or other mobile device... COURTESY OF CERNIUM CORP.

Advertisement

FACECAM 1000 KYE Systems Corp.'s Genius FaceCam 1000 is a low-cost Web camera that supports 720p high-definition resolution, can rotate 360 degrees and comes bundled with CrazyTalk Cam Suite PRO software that enables you to upload video to YouTube and create animated on-screen avatars... COURTESY OF KYE SYSTEMS CORP.