7 Gadgets to Watch for in 2014 [Slide Show]
SA examines emerging technologies that are almost here: Turn an ordinary table into a touch screen, monitor your kids' whereabouts and place the power of 3-D printing in the palm of your hand—and there's more. Read on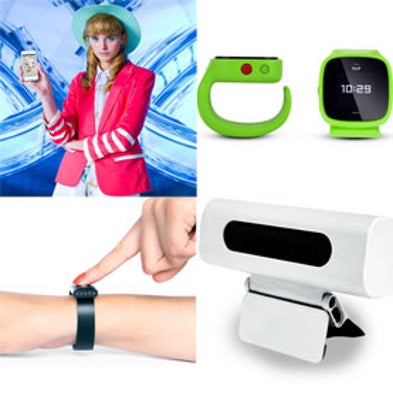 7 Gadgets to Watch for in 2014 [Slide Show]
Sunlight Exposure Sensor: Spending significant time outdoors poses a dilemma: How can a person maximize their production of vitamin D yet avoid harmful exposure to ultraviolet rays that can lead to skin cancer? SunFriend tries to address this quandary with its UVA+B wristband, designed to monitor exposure to harmful UV light and alert you when it's time to head indoors or apply heavier sunscreen. The company is walking a fine line here. It asks people to accurately assess their skin type—with help from the Skin Cancer Foundation's Web site—and program their sunlight sensitivity into the UVA+B. Based on this data, the wristband will monitor exposure, and its LEDs will flash when you've reached your limit. It doesn't take into account any history of skin cancer in your family or previous exposure, however, so a healthy dose of common sense is advisable if you try out the UVA+B, which will go on sale either in late March or early April.
Price: $50 Courtesy of SunFriend

GPS Jacket: Why take your eyes off the road to look at your GPS device when your clothing can guide you to your destination? That's the question posed, and possibly answered, by Wearable Experiments with their Navigate jacket, which has an embedded GPS and uses LED guide lights and haptic feedback to convey directions to its wearer. Stripes of LEDs along the sleeves convey information such as distance to the next turn whereas vibrations in one sleeve or the other would tell you which direction to turn. A smartphone app uploads these instructions to the jacket, which has been on display at fashion shows and tech conferences. Wearable Experiments now wants to commercialize its fashionable GPS, making a limited edition available by June 2014.
Price: $250–$500 (tentative, depending on design and materials) Courtesy of Wearable Experiments

3-D Printing Pens: In the past year desktop 3-D printers have become readily available and relatively affordable for basic product prototyping and hobbyists. But why set up a boxy MakerBot when you can create models and illustrate ideas literally from the palm of your hand? Several companies espousing this philosophy will introduce 3-D printing pens in 2014.
WobbleWorks's 3Doodler lets you create small structures using ABS plastic (the material used by many 3-D printers) in the air or on surfaces. As 3Doodler draws, it extrudes heated plastic, which quickly cools and solidifies into a stable structure. WobbleWorks is prepping it for availability beginning in February.
Swiss 3D Print's SwissPen likewise allows users to create 3-D objects as well as 2-D drawings that can be lifted right off whatever surface they're sketched on. SwissPen, which works with thinner plastic filaments than the 3Doodler does, was expected to be available this Christmas.
Price: $100 (3Doodler); $115 (SwissPen) Courtesy of WobbleWorks, Inc./Swiss 3D Print

Penlike Computer Mouse: For the past couple of decades the mouse has been an essential tool for bringing to life the graphical user interfaces that helped turn computers from office and data center workhorses into common household appliances. Although they've gone wireless and lost their rollerballs, not much has changed from Douglas Engelbart's original palm-rest design from more than 40 years ago. Gordon Steward, founder of design firm gnov8, is literally trying to stand this dated model on its head with the gStick, a mouse that you hold like a pen. The gStick works with both Macs and PCs, features a ceramic rollerball at its tip and is designed to appeal to users of software for painting, sketching, photo editing, 3-D CAD, design and gaming as well as photo and video editing and graphics design. The mouse is expected to be available as early as January.
Price: $27–$57 Courtesy of gnov8

Advertisement

Smartwatch Locator for Children: It's probably not practical to entrust small children with a smartphone that can easily be lost or broken. That's why FilLIP Technologies, Inc., has created a colorful wrist-worn device that can be used to call, text or locate children. Using the FiLIP app, parents can preprogram five phone numbers into what is basically a wearable GSM cell phone. FiLIP also includes GPS, GSM cell tower location and wi-fi hotspot triangulation capabilities to keep tabs on the watch's location whether it's indoors or outside. Parents can track their child's movement via an app on their own smartphone, assuming, of course, that the child doesn't take off the watch. FiLIP has been available only since November, so it probably won't gain traction until the coming year.
Price: $200 (plus $10 per month for AT&T's mobile services) Courtesy of FilLIP Technologies, Inc.

Cardiac Rhythm–Based Computer Security: Despite the introduction of the Touch ID fingerprint sensor in Apple's latest iPhone, biometric security technologies have danced around the fringe of consumer gadgets for years. Passwords still predominate. Bionym, Inc., is hoping to change this with its Nymi biometric wristband, which the company claims can recognize its wearer via cardiac rhythm recognition. The Nymi features an electrocardiogram, or ECG, sensor with two electrodes—one touching the wrist and other located on the dorsal side. The wristband captures ECG data when the user touches the topside electrode with the opposite hand's index finger. Once the Nymi has confirmed the identity of the person wearing it, the idea is for the bracelet to communicate wirelessly with any device or Web site that person needs to access, eliminating the need for PINs and passwords.
Bionym expects to launch its product in the summer of 2014. Working models of the Nymi—which features accelerometer and gyroscope sensors—exist and are being tested in the lab.
Price: $80 Courtesy of Bionym, Inc.

3-D Multitouch Surface Anywhere: Fast, easy-to-use touch screens have played a crucial role in the surging popularity of smartphones and tablets. Ractiv, Inc., is looking to bring that kind of user interface to any computer via its Haptix image sensor. Lay Haptix on a flat surface or clip it to your computer screen and you'll be able to control the action much like you would on a multitouch screen—by tapping, pinching your fingers or swiping your hand. The sensor tracks the 3-D coordinates of fingers and calculates their positions relative to the surface.
Ractiv plans to make Haptix available beginning in February or March, starting with its Kickstarter backers.
Price: $75 Courtesy of Ractiv, Inc.