Art as Visual Research: 12 Examples of Kinetic Illusions in Op Art
Art and neuroscience combine in creating fascinating examples of illusory motion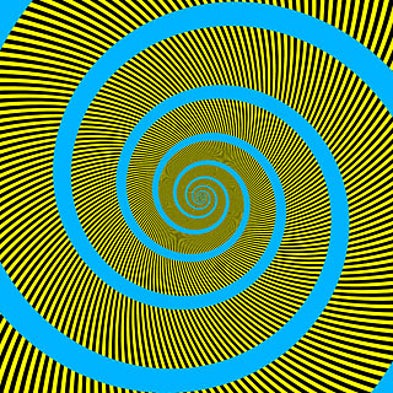 Art as Visual Research: 12 Examples of Kinetic Illusions in Op Art
Combination of the Rotating-Tilted-Lines and Enigma Gori and Hamburger's combination of the Rotating-Tilted-Lines and the Enigma illusion is both visually arresting and a powerful demonstration of illusory motion from a static pattern. The Enigma illusion, almost three decades after its creation in 1981 by Leviant, continues to inspire visual science as well the visual arts. ..

Advertisement

Bridget Riley's Motion Illusions In another tribute to Riley, vision scientist Nick Wade of the University of Dundee in Scotland created an example that features both streaming and shimmering motion, and it is reminiscent of various famous Riley artworks... © Nicholas Wade. Reproduced with permission.

Advertisement

Enigmatic Eye Look at the center of the pupil and you will see the surrounding purple rings fill with rapid illusory motion. Neuroscientist and engineer Jorge Otero-Millan's tribute to Leviant features the illusory motion seen in Enigma, and it also reflects the role of eye movements in the perception of the illusion...

The Enigma Illusion Op artist Isia Leviant unknowingly combined the MacKay Rays and the BBC wallboard illusion in the now classic Enigma illusion.  Several original Leviant paintings illustrating this effect hang in the San Francisco Exploratorium, including its very first version (known as the Traffic Illusion)... The image is courtesy of Jorge Otero-Millan

Advertisement

MacKay Rays This illusion, created in 1957 by neuroscientist Donald M. MacKay (then at King's College London in England), shows that simple patterns of regular or repetitive stimuli, such as radial lines (called "MacKay rays") can induce the perception of shimmering or illusory motion at right angles to those of the pattern...