Bridging the Gap Between Math and Art [Slide Show]
Annual conference shines a spotlight on mathematical art and artistic mathematics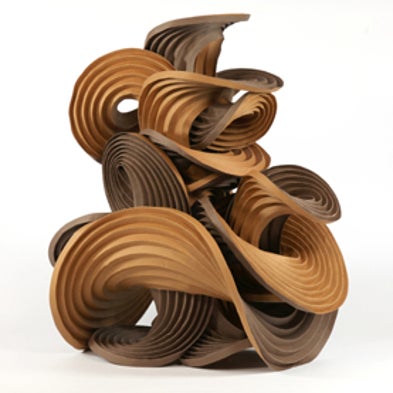 Bridging the Gap Between Math and Art [Slide Show]
"Dual Half 120- and 600-Cells," by Henry Segerman Segerman used 3-D printing to create these representations of regular four-dimensional polytopes, the four-dimensional analogues of three-dimensional polyhedrons—geometric solids with polygons as faces. The left and right objects are "dual" to each other, meaning the vertices of one correspond to the faces of the other. The center object is the combination of the two dual objects. This display won the "Best Use of Mathematics" award at the Bridges conference. Henry Segerman

"Pythagorean Proof," by Donna Loraine Contractor This tapestry shows a proof of a special case of the

Pythagorean theorem

. The blue and gray squares touching the short sides of the multicolored center triangle can be rearranged to create the square touching the triangle's long side. Donna Loraine Contractor

"Simple as the Number Nine," by Kerry Mitchell "This image presents a linear combination of four chaotic orbits of boundary points of the Mandelbrot set [one of the most famous fractals]. The individual orbits were weighted so as to approximate the first derivative of the orbit. Logarithmic scaling was used to convert the frequency of pixel visitation to a color. The title of the image was taken from a line in the song, "Burning Bush," by Earth, Wind and Fire."—

Kerry Mitchell

Kerry Mitchell

"Loopy Love," by Barry Cipra "The story, a dialogue presenting both sides (or is there only one side?) of a twisting love–hate relationship between two characters named Daniel and Danielle, was letterpress printed by Red Dragonfly Press in Red Wing, Minn., on Fabriano paper using the font FF Quadraat. Assembled by hand with tape, the resulting scrollable sculpture retains its shape yet remains flexible, so that the reader can easily read the story without ever having to turn the page. Viewers are invited to pick it up, play with the paper, and read the story from start to finish—except there is no start nor any finish!"—Barry Cipra Barry Cipra

Advertisement

"Mitered Fractal Tree I," by Koos Verhoeff and Anton Bakker (This sculpture was awarded Best of Show at the Bridges conference.) "Mitered Fractal Tree (designed late 1980s, first executed in wood), constructed from a beam with a rectangular cross section in the ratio 1:√2. When this beam is cut at 45 degrees, the result is a square cut face. When this beam is cut twice at 45 degrees, where the cuts are perpendicular, the result is a "roof" consisting of two smaller square panels. On this roof, two smaller copies of the entire tree are grown. No two branches point in the same direction. The result is an awe inspiring organic structure that is both highly structured and chaotic."—Koos Verhoeff Koos Verhoeff (design) and Anton Bakker (construction). Copyright Stichting Wiskunst Koos Verhoeff. Used with permission.