Bridging the Gap Between Math and Art [Slide Show]
Annual conference shines a spotlight on mathematical art and artistic mathematics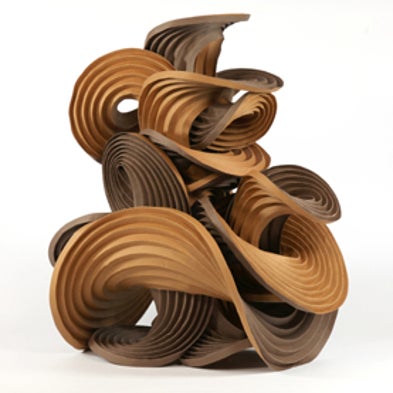 Bridging the Gap Between Math and Art [Slide Show]
"Pythagorean Proof," by Donna Loraine Contractor This tapestry shows a proof of a special case of the Pythagorean theorem . The blue and gray squares touching the short sides of the multicolored center triangle can be rearranged to create the square touching the triangle's long side... Donna Loraine Contractor

"Loopy Love," by Barry Cipra "The story, a dialogue presenting both sides (or is there only one side?) of a twisting love–hate relationship between two characters named Daniel and Danielle, was letterpress printed by Red Dragonfly Press in Red Wing, Minn., on Fabriano paper using the font FF Quadraat... Barry Cipra

Advertisement

"Mitered Fractal Tree I," by Koos Verhoeff and Anton Bakker (This sculpture was awarded Best of Show at the Bridges conference.) " Mitered Fractal Tree (designed late 1980s, first executed in wood), constructed from a beam with a rectangular cross section in the ratio 1:√2... Koos Verhoeff (design) and Anton Bakker (construction). Copyright Stichting Wiskunst Koos Verhoeff. Used with permission.