Buying Green: 9 Environmentally Inventive Products
Carbon-friendlier alternatives for your life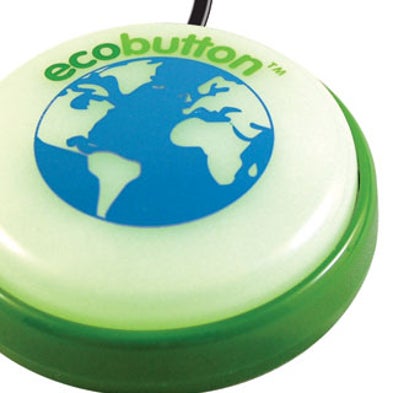 Buying Green: 9 Environmentally Inventive Products
Meet Your Sheep Organic clothing
www.icebreaker.com
Icebreaker's merino wool clothing comes with a fully transparent supply chain. Enter the "baacode" on your shirt's tag online and meet the New Zealand farmers who care for the sheep whose wool you are wearing. Then watch videos that trace the renewable fiber's journey into yarn, fabric and clothing to see the company's working conditions and environmental ethics for yourself. Prices vary with product.

Acre of Hair Fair-trade shampoo
www.saveyourworld.com
Save Your World sells all-natural, fair-trade bath and body products in accordance with a benevolent business strategy. The company saves one acre of South American rain forest for one year for each product sold, even if it's just a teensy tube of lip balm. It achieves this feat by supporting Conservation International's deal with the Guyana Forestry Commission to lease land for 15 cents an acre per year. To take part, you can lather up your mop with Save Your World's shampoos featuring nutrient-rich yerba maté and organic aloe vera. Then try the coconut and avocado oil conditioner. Hair products ($9.98 and up) available in rain forest, oasis fruit and regal blossom scents.

Burning Grounds Coffee firelog
www.java-log.com
Oh, the fire is so delightful, but the carbon dioxide is frightful. The Java-Log ($3.50) burns cleaner than wood and just as long as standard firelogs. Jarden Home Brands claims that its product produces only one fifth as much of the airborne particles and carbon dioxide as the traditional dead-tree variety does. The logs are fashioned from compressed wax and postindustrial coffee grounds that companies ditch after making coffee-flavored foods. And Java-Logs reportedly save 20 million pounds of coffee grounds from the garbage dump every year. No, they won't make your living room reek of espresso.

Pickin' Wheat Biodegradable music accessories
www.wheatware.com
More than 100 million guitar picks are made a year, and although their disposal might not kill the planet, there is no reason they should spend decades in landfills. Wheatware has turned to an American staple crop to make its biodegradable music accessories: wheat. The company's guitar picks ($4.20 for 12) and tree-free drumsticks ($14.99 a pair) are fashioned from a wheat resin and compost into plant fertilizer in about 90 days. Apparently, they don't sound bad either.

Advertisement

Think Globally, Hoop Locally Recycled basketball
www.wilson.com
Sometimes recycling knows no bounds. The cover of Wilson's Rebound ball ($14.99) is made from 40 percent recycled rubber. Together about 70 of the basketballs save the equivalent of one automobile tire. Extra shot: The ball's packaging contains 80 percent pre- and post-consumer recycled paper.

Pouch of Pouches Reclaimed tote bags
www.terracycle.net
Paper, plastic or drink pouch? TerraCycle turns junk into gems by recruiting community brigades to collect nonrecyclable materials such as wine corks, yogurt cups, cookie package wrappers and, in this case, drink pouches. These totes ($9.99) arise from more than 7,200 groups that collect some of the five billion nonrecyclable drink pouches thrown away every year. TerraCycle donates two cents per pouch to charity. Then the company sews the trash into bags, backpacks and pencil cases. Tote available only at www.Target.com

Bug Buster Ultraviolet sterilizer
www.zadro.biz
Why clean with chemicals when an ultraviolet (UV) light wand kills E. coli, Salmonella, staph and bird flu, along with the eggs of dust mites, lice and fleas? The Nano UV Wand from Zadro Products ($160), which measures 22 inches long when unfolded, uses a combination of UVA, UVB and UVC rays. Hospitals, water treatment plants, food-processing plants, air cleaners and toothbrush sanitizers all employ UVC light to help with cleaning. —Larry Greenemeier

The Sound of Music Power-free speaker
www.charlesandmarie.com
Amplify your music using no energy at all. Science and Sons' Phonofone II ($500), inspired by the days of yore, boosts the sound emanating from earphones using nothing but clever acoustics, requiring no batteries or wires. The ceramic horn takes design cues from the tuba and classic Gramophone to passively amplify sound waves up to 55 decibels—about as loud as laptop speakers. Just press play on any portable music player and place its earbuds into the Phonofone's earphone cradles. Expensive, yes, but perhaps a showpiece. Limited edition also available in black ($600).

Advertisement

Virtual Sleep Computer energy saver
www.eco-button.com
In the U.S. alone, computers that are left on while idle leave a footprint of millions of tons of carbon dioxide a year. The Ecobutton ($22) plugs into your computer's USB port to make power saving easy. Press the button, and the included software turns off everything in your computer except crucial memory, shrinking its power use to a mere 1.8 watts—a much deeper sleep than standby mode. Touch the keyboard, and all programs quickly return to normal. For an intriguing extra, Ecobutton software also tracks how much you have decreased your computer's
carbon footprint. Currently PC-compatible only.