Buying Green: 7 Ecofriendly Products
SciAm takes a look at new products, from environmentally friendly suede jackets to biodegradable toilet paper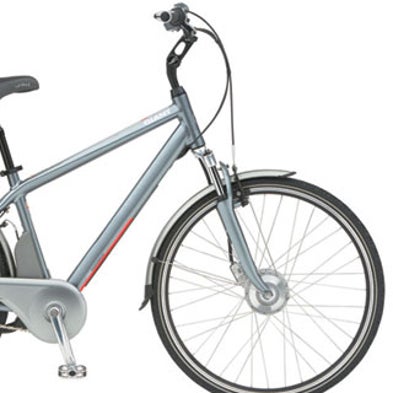 Buying Green: 7 Ecofriendly Products
SUEDE JACKETS Bernardo Green
http://www.bernardofashions.com
Traditional tanning processes produce considerable pollutants. Bernardo's new Green line of women's suede jackets is colored with biodegradable tanning agents and dyes. Of course, some people object to any clothing or accessories derived from animal skins, but Bernardo notes that its line is made with by-products from Hormel Foods, which raises animals for foodstuffs
according to the U.S. Department of Agriculture's "humane" standards. Bernardo says it also recycles the tanning wastewater within the tannery. The remaining solid waste is converted to fertilizer. (One amusing touch: the big, biodegradable garment tag is impregnated with seeds; stick the tag in the ground and watch the poppies grow.) Several models, from a bomber jacket to a funnel collar design (shown). Check the Web site for retailers.

DISPOSABLE CUTLERY Vegware
http://www.vegware.com
Eat your potatoes, using potatoes. Vegware forks, spoons and knives are made from 80 percent potato starch and 20 percent soy oil. (Can you say "spudoon"?) Vegware says the utensils are just as heat-resistant and strong as standard plasticware. They can be washed and reused, but once discarded they biodegrade in 180 days (unlike plasticware made from petroleum, which persists in dumps for years). If you find yourself still hungry after dinner, you can nosh on your knife. Sold online or under the brand name SpudWare in the U.S. Pack of 50, about $6.

NONSTICK COOKWARE Xtrema Nano-Glaze
http://www.ceramcor.com
Most "nonstick" pots and pans remain slick during cooking because they are coated with various chemicals, Teflon the most famous among them. Some consumers are wary of the coatings, and manufacturers do warn against ingesting the compounds if they start to flake off. Ceramcor's Xtrema Nano-Glaze products have what the company calls a chemical-free, ultrathin ceramic glaze engineered to repel foods and fluids. The black cookware also reportedly heats faster and retains heat longer than metal goods do, saving energy. Individual pieces, which are also microwave-safe, range from $40 to $100.

REUSABLE TOTES Acme Bags
http://www.reusablebags.com
Paper or plastic? It's nice to be given a choice at the store, but both types of bag waste materials and energy and add to refuse, even if they are recycled. A reusable bag is much more eco-friendly. The trick is remembering to bring the thing into the store with you, which many well-intentioned shoppers admit to forgetting routinely. ACME's reusable totes can help right-minded absentminders. The roomy bags are light and thin yet very strong. Best of all, they fold down so small they can fit in a purse or pocket; memory is no longer needed. Fittingly, the sacks are made from recycled soda bottles. One of our editors also considers them stylish. $6.95; four for $23.85. As an alternative, consider Flip and Tumble bags.

Advertisement

WATER-POWERED CLOCK Bedol
http://www.bedolwhatsnext.com
Why should your home's electrical timepieces drag on the environment by pulling current from some utility or by wearing down batteries that are notorious for leaching caustic chemicals into landfills? In August, Bedol began offering an alternative: its water-powered clock. The digital bedside model, about five inches across, has a reservoir that you fill with water. Then you add a dash of salt to the reservoir, which starts a chemical reaction with a set of electrodes that creates current. Salt has to be added once a week or so. Available in several colors. $16.

TOILET PAPER Marcal Sunrise
http://www.marcalpaper.com
For years Marcal has sold some of the most inexpensive paper products on the market. Part of the reason is because much of the stock is made from low-grade recycled paper. It turns out that the recycled content of the company's toilet paper has been rated as among the highest of all brands. Realizing what it's been sitting on, so to speak, Marcal has recently introduced a Sunrise line of toilet paper, paper towels and tissues as being "100 percent premium recycled." But its regular products can save money and the earth, too. Prices vary by product and store.

HYBRID BIKE Twist Freedom DX
www.giant-bicycles.com
Commuting to work by bicycle is enticing. Not only is the practice environmentally sound, it's healthy exercise and saves on gasoline and public-transit fares. But unless your office has a shower, showing up as a sweaty mess can make a cycling commute problematic. That's why the relatively new product category of electric-assist bicycles makes a lot of sense, especially if you face hilly terrain; batteries add a little power boost to each pedal stroke, making the entire trip easier. Giant's Twist Freedom DX urban cruiser is a notable addition to the market. The DX incorporates a battery-powered electric motor in the front wheel hub that almost seamlessly supplements your leg muscles to "smooth out" your ride. The Taiwanese company's Hybrid Cycling Technology is based on a torque sensor in the pedal crank that gauges how much pressure the rider exerts with each stroke. Software algorithms in the DX's computer take these force data and convert them on the fly into synchronized power-transmission commands for the quiet motor. The goal is to help you maintain nearly steady (and easy) exertion no matter what road you decide to take. Power is provided by a pair of four-pound lithium-ion battery packs that lock in neatly over the rear wheel. A full recharge via a standard home electrical outlet takes a maximum of six hours. The DX's suggested retail price is about $2,000. The bike is available from Giant's 20 top retailers around the U.S.