Cadavers and Curios from the Dawn of Modern Medicine [Slide Show]
Illustrations from the new book Dr. Mütter's Marvels chronicle the tools available to 19th-century Philadelphia doctor and medical innovator Thomas Mütter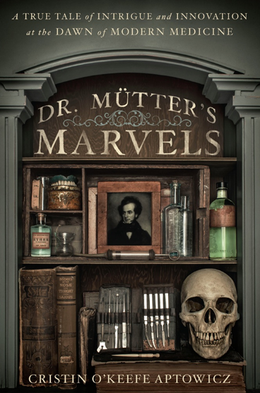 Cadavers and Curios from the Dawn of Modern Medicine [Slide Show]
Dr. Mütter's Marvels Thomas Dent Mütter was a 19th-century doctor in Philadelphia responsible for numerous medical innovations. He was mocked by peers for peculiarities such as sterilizing his tools and offering pre- and post-operative care, and was a trailblazer in the use of anesthesia. Author Cristin O'Keefe Aptowicz chronicles his life and work in Dr. Mütter's Marvels: A True Tale of Intrigue and Innovation at the Dawn of Modern Medicine (Gotham Books, September 2014). The following photographs from the book illustrate the 19th-century medical landscape.—Scientific American

The Muscle Man While to contemporary eyes this looks like a work of art, this image is actually a teaching tool used in the 17th century to show doctors where muscles were located and what body parts they served. In a time before photography and when access to cadavers was limited, images like this were an important reference—for students and doctors alike. Typically, these images appeared in groups of four, each one showing the same figure posed in the same way, but one where the figure had its skin on; one with skin off and muscles exposed; one with muscles also removed, showing organ placement; and one that was just the skeleton. Credit: Muscle Man. Attributed to Gaspar Becerra from Opera quae extant, omnia…, Johannes van der Linden, 1645. Courtesy of Thomas Jefferson University, Archives & Special Collections, Philadelphia.

Portrait of a Medical Student This portrait of a 19th-century Jefferson Medical College student gives us a vision into how different being a doctor was in that century. In a time before microscopes, x-rays or even companies that manufactured standardized medicines, a medical student's tools included textbooks and prepared medical specimens (like skeletons), along with a mortar and pestle, because doctors were frequently responsible for making their own medicines. Unidentified Jefferson Medical College Student. Hand-colored ambrotype by unknown photographer. Courtesy of Thomas Jefferson University, Archives & Special Collections, Philadelphia.

African-American Patient This woodcut image isn't just interesting for the brain surgery it portrays but also because of its subject matter. The patient is a young boy of African descent, and the image was published in Mütter's American surgical textbook in 1846—14 years before the start of the Civil War. At a time when the country debated whether or not African/African-American slaves were even biologically similar to their white owners, it was a bold statement for Mütter, a Virginia-born doctor teaching in the north, to present a patient of African descent as a biological equal to the white patients that dominate the illustrations in his book. Woodcut of the Operation of Trephining from Lectures on the Operations of Surgery, by Robert Liston, with numerous additions, by Thomas Dent Mütter (Lea & Blanchard, Philadelphia, Pa., 1946; 5:193–203); from the author's personal collection.

Advertisement

The Pit Another interesting look into the medical education of the 19th-century is this photograph of the surgical clinic at Jefferson Medical College, called "The Pit." Note the lack of surgical masks or gloves on any of the doctors and complete lack of women within the student population. Jefferson Medical College (now the Sidney Kimmel Medical College at Thomas Jefferson University) would not allow female students to study medicine at their institution until 1961, 70 years after this photo was taken. ​Credit: The Clinic in the Ampitheater of Jefferson Medical College. Photographer unknown. Courtesy of Thomas Jefferson University, Archives & Special Collections, Philadelphia.

Dissection Laboratory A generation after Joseph Pancoast made do with limited access to cadavers for his anatomical lectures, this photo of the anatomy dissection laboratory of Pancoast's son William shows us the changes that occurred in the late 19th century. With access to cadavers more widely accepted, and regulated more fairly by the U.S. government (thanks in part to legislation that was given the unfortunate nickname of "The Ghastly Act"), medical students now had ample hands-on training when it came to studying the human body. Dr. William H. Pancoast's Anatomy Dissection Laboratory, by unknown photographer. Courtesy of Thomas Jefferson University, Archives & Special Collections, Philadelphia.

Lecture Tickets Medical students of the 19th century learned largely by lecture, which they would attend for a year or two before being tested. Lecture tickets were frequently not areas for creativity, but this ticket to Philadelphia's Joseph Pancoast's anatomy class lecture looked like a work of art. It was not easy to be an early– to mid–19th-century anatomist in a time before the use of cadavers in medical schools was embraced by the public and regulated fairly by the government. In lieu of having consistent access to corpses for dissection, Pancoast would frequently use wax models, skeletons or jarred or dried anatomical specimens. Lecture Tickets for Joseph Pancoast's Course on Practical Anatomy. Courtesy of Thomas Jefferson University, Archives & Special Collections, Philadelphia.