Chasing the Geomagnetic Storm for a Nighttime Light Experience Like No Other [Slide Show]
Days of tracking solar flares, magnetic fields and solar winds pay off for skywatchers when the local weather and space weather cooperate to enable a glimpse of the breathtaking northern lights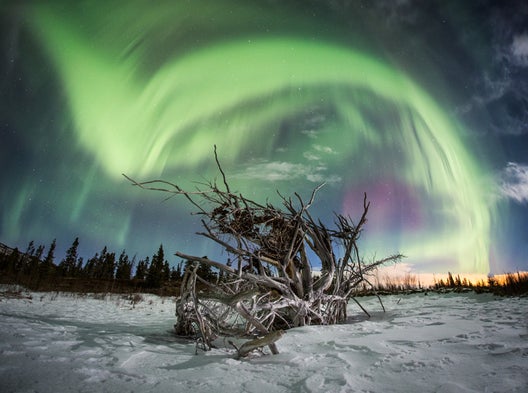 Chasing the Geomagnetic Storm for a Nighttime Light Experience Like No Other [Slide Show]
AWAITING ABDUCTION: Photographer and aurora chaser Paul Zizka says, "The best night that we had in 2013 was the first of June, when you could actually shoot the northern lights looking south here, which is very unusual"—but not unheard of: In 1958 a massive solar flare caused reports of the northern lights as far south as Mexico City.

DON'T SLEEP THROUGH THE SHOW! Aurora chasers look at images of sunspots, read graphs of magnetic fields and stare hopefully at prediction models. According to William Bristow of the University of Alaska Fairbanks, by far the most important factors are the strength of the interplanetary magnetic field (IMF) and the speed of the solar wind. Negative Bz values and solar winds exceeding 350 kilometers per second are what aurora chasers hope to see. Some websites use hourly fluctuations in Earth's magnetic field as an indicator of geomagnetic activity to boil these parameters down into one simple value: the likelihood in percent of seeing the aurora tonight. You can even sign up for an e-mail red alert when, local clear skies permitting, you are probably in for a show.

Advertisement

A DANCING RAINBOW AT NIGHT: Greens, reds, violets and blues: What causes the different colors? Two things: the energy of the electrons that create the aurora and the altitude where they occur. For instance, when atomic oxygen is excited at high altitudes, we see red higher up and green lower down, as Zizka saw this night. March 12, 2012

EMERALD HORIZONS: Aurora chasers in the western part of North America have the advantage of lead time over their eastern counterparts. Zizka says, "You find out pretty quick if people are seeing green out east. Then you just cross your fingers that the show's going to last until it gets dark where you live, and be ready."

Advertisement

FRONT-ROW SEATS: Interested in a front-row seat to your own aurora show? Check out these Web sites:
swpc.noaa.gov | gi.alaska.edu/AuroraForecast | spaceweather.com | solarham.net | aurorawatch.ca
Want to send your name into spaceon a new space weather satellite? Click here.
Thanks to William Bristow of the University of Alaska Fairbanks and Ian Mann of the University of Alberta for their input.