Crazy Military Vehicles That Died as Prototypes [Slide Show]
When it comes to transporting troops, no idea has seemed too outlandish to be considered by the military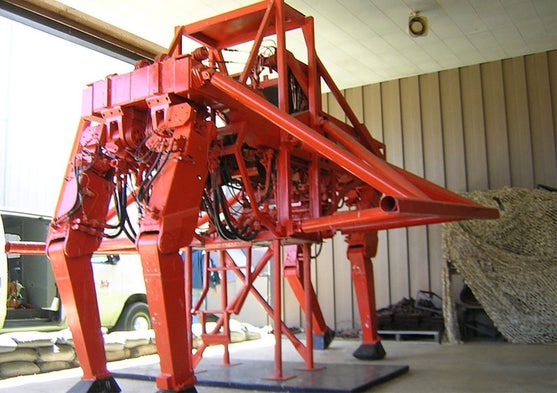 Crazy Military Vehicles That Died as Prototypes [Slide Show]
SPRUCE GOOSE: When German submarines threatened Allied shipping lanes during World War II, the U.S. government ordered a huge flying boat capable of carrying 750 troops or two Sherman tanks safely across the Atlantic Ocean. Hughes Aircraft Co. designed and delivered the world's largest flying boat in the form of the H-4 Hercules, a 180,000-kilogram behemoth aircraft nicknamed the "Spruce Goose" by unflattering media reports. The single prototype made just one short, historic flight over Long Beach Harbor in California in 1947, two years after the end of the war.

COLD WAR UFO: A flying saucer–shaped vehicle built by Canada's Avro Aircraft, Ltd., was originally supposed to become a supersonic, vertical takeoff and landing fighter-bomber for Canada. But the U.S. military took over the project to build a futuristic hover vehicle during the cold war after the Canadian government dropped the increasingly expensive program. The so-called Avrocar prototypes could float on a cushion of air by using a circular "turborotor" to generate downward thrust. The Army wanted to use the vehicle as an all-terrain troop transport and reconnaissance vehicle; the Air Force wanted a vertical takeoff and landing (VTOL) aircraft that could go supersonic. The project was canceled in 1961 after testing showed the vehicle suffered from stability issues when it rose more than one meter above the ground.

FLYING PLATFORM: Brave test pilots willing to stand on a flying platform above two counterrotating helicopter blades could fly the HZ-1 Aerocycle, an experimental vehicle designed to allow Army soldiers to scout future battlefields at more than 100 kilometers per hour. The pilot would steer the flying platform by simply shifting his weight. The Aerocycle impressed enough during its first 1955 test flight for the Army to order 12 more prototypes from the de Lackner Helicopter Co. but the concept was abandoned when it proved too unwieldy for ordinary soldiers to master.

WALKING TRUCK:

During the cold war the Army commissioned a cybernetic, four-legged walking machine that stood three meters tall, could move heavy loads over rough terrain and had enough power to push 450 kilograms across a concrete floor. On the downside, it also guzzled 190 liters of oil per minute through connected hydraulic lines. A human operator standing inside the walker used both hands and feet to control the machine's four legs. General Electric delivered the Cybernetic Anthropomorphous Machine (CAM) to the Army for testing in 1970, but the Army eventually turned to helicopters for heavy-duty lifting.

Advertisement

SCREWY AMPHIBIAN: The Vietnam War led to U.S. military interest in vehicles that could navigate Southeast Asia's marshy terrain and rivers. Such need gave rise to the Navy's experimental Riverine Utility Craft, a Chrysler-produced vehicle that moved around marshy environments by using two aluminum rotors resembling Archimedes' screws. Testing by the Army Corps of Engineers' Waterways Experiment Station showed that the unusual craft could reach impressive speeds of 15.7 knots on the water and almost 25 knots on marshy terrain, but just 3.6 knots on firm soil. The U.S. military ended up sticking with more conventional vehicles.

SEA SKIMMER: ​Boeing's Phantom Works proposed the world's largest aircraft as a sea-skimming plane capable of carrying up to 1.3 million kilograms of cargo, or the equivalent of 17 U.S. M-1 battle tanks. The Pelican Ultra Large Transport Aircraft could travel 18,500 kilometers at a cruising speed of 240 knots without refueling by flying as low as six meters above the water. Low-level flight takes advantage of the so-called ground effect that provides additional lift at low altitudes, an aerodynamic phenomenon harnessed by pioneering Soviet designers during the cold war. But the Pelican concept has not made noticeable public progress since Boeing publicized it in 2002.

INFLATABLE TANK TREADS: An amphibious transport vehicle with inflatable tank treads was designed to roam across both land and sea. A small experimental prototype of the Captive Air Amphibious Transporter (CAAT) used air-filled treads moving around a standard tank tread setup to float and swim to shore as well as move across beaches and climb over low walls. The vehicle came out of a project by the U.S. Defense Advanced Research Projects Agency (DARPA) that wrapped up in 2012. DARPA envisions using the program's lessons to help design future vehicles that could work well for humanitarian assistance or disaster relief scenarios.