Affordable Orbital: Tiny Satellites Make for Democratic Access to Space [Slide Show]
Low-cost spacecraft called CubeSats are helping bring open-source, DIY culture to spaceflight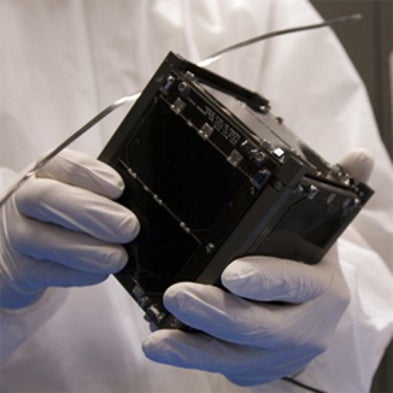 Affordable Orbital: Tiny Satellites Make for Democratic Access to Space [Slide Show]
JUNIOR HIGH FLYER: Even an eighth-grader can now build a satellite. Well, maybe not any eighth-grader, but Bryan Fewell of Honolulu did build one all by himself for his school's science fair. Bryan explains his project in this video. Here Bryan is working on some of the satellite's electronics. COURTESY RICH FEWELL

SPRINGBOARD: This mechanism was designed at Cal Poly to hold three CubeSats inside a rocket and deploy them in orbit.* The container uses a spring to eject the satellites.

*Correction (2/3/2011): The caption originally misidentified the place where the mechanism was designed. COURTESY SRI INTERNATIONAL

Advertisement

SCRAPS AND SPARES: Students at San Jose State University are designing a CubeSat tentatively named ReadySat Go, which will be little more than an "answering machine in space, made of Orchard Supply sheet aluminum and a second-hand Handy-Talky," team member Faith Chihil says. "Our goal was to keep it very simple," she adds, "because we want to prove that the standard really opens up the possibility of building and participating in space tech for anyone who's passionate enough." The challenge, Chihil says, will be to raise the tens of thousands of dollars needed for launch. COURTESY S.J.S.U.