How Renewable Energy and Storage Solutions Stack Up
The need to tackle global climate change and energy security makes developing alternatives to fossil fuels crucial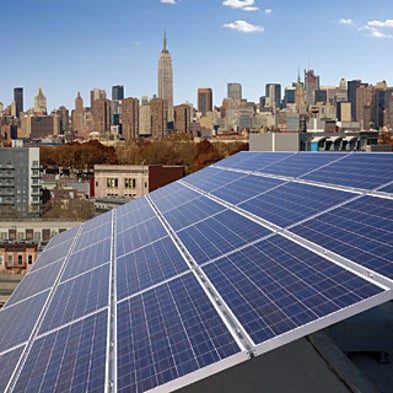 How Renewable Energy and Storage Solutions Stack Up
Electricity Transmission Intermittent sources are less troublesome if they feed a bigger grid; a region with 100 scattered installations of wind and solar could count on some average level of input. But the existing grid cannot handle bulk power transfers over huge distances. A solution could be a new high-voltage "backbone," akin to an interstate highway system for the grid, according to the Department of Energy last year. It would comprise about 19,000 miles of transmission, with 130-foot towers, at $2.6 million a mile. Voltage would be pushed up to 765,000 volts to reduce line losses. No new technology is involved, but the system requires two things that the U.S. does not now have: a national commitment to integrating the electricity system on a continental scale and about $60 billion to pay for it.

Ice Storage Ice Energy, a company based in California, sells equipment that yields 500-gallon blocks of ice at night, in building basements. Making ice at night is easier than doing so during the day, because the temperature of the outdoor air, to which the compressor must release the heat, is generally lower than it is earlier in the day. The resulting ice is used to cool the building during the daytime. The effect is to use energy produced at night, such as from wind power, to do work when it is needed during the daytime.

Compressed Air The Alabama Energy Cooperative opened a compressed-air energy storage plant in 1991, using coal plants that ordinarily would be idle at night, to pump air into a hollowed-out salt dome at a pressure of more than 1,000 pounds per square inch. When extra power is needed in daytime, compressed air is inserted into a combustion turbine fired by natural gas. Ordinarily the turbine compresses its own air, and the most efficient generator today requires 6,000 British thermal units (Btu) of natural gas to produce a kilowatt-hour. Compressed air storage, in contrast, cuts natural gas use by one third.

Stationary Batteries A Vancouver-based company, VRB Power Systems, sells "flow batteries," with tanks to hold hundreds of gallons of electrolytes. Run in one direction, the system absorbs energy; in the other, it gives it back, in megawatt-hour quantities. It costs $500 to $600 to store a kilowatt-hour, and the round-trip efficiency is 65 to 75 percent—meaning the battery loses 25 to 35 percent of the electricity put into it. This system would raise the price of the solar kilowatt-hour by 50 percent or more.

Advertisement

Fuel Cells Electricity from any source, such as solar, wind and even coal, can be used to break up water molecules into their hydrogen and oxygen components in a device called an electrolyzer. The hydrogen can then be run through a fuel cell to make electricity. A downside of fuel cells, however, is that they have a capital cost in the thousands of dollars per kilowatt of capacity, and the round-trip efficiency through the electrolyzer to the fuel cell and then back into current is less than 50 percent—meaning that for every two kilowatt-hours put in the bank, only one comes back out again.

Automotive Batteries Automakers want a lithium-ion battery that will endure 15 years and 5,000 charge cycles, far more than the familiar lithium ions in today's consumer devices. The goal is a price of $300 per usable kilowatt-hour of storage for a battery that would run a car for 40 miles, assuming a little more than three miles per kilowatt-hour. General Motors plans to market a plug-in hybrid in 2010; Ford's version is five years away. In this case, the voice in the car whining, "Are we there yet?" may not be the kid in the backseat; it may be the driver.

Solar-Photovoltaic Two layers of semiconductor materials, one with extra electrons and the other with extra "holes," are sandwiched together in photovoltaic panels. When the material absorbs sunlight, excess electrons move from one layer to the other, creating an electric current. The effect was first observed 169 years ago, but scientists and engineers are still working to optimize it. The first practical use was in the space program, and cells are widely used off the grid but are not now competitive with fossil fuel or even other renewables on the grid. Photovoltaics
can be incorporated into new construction, as roofing tiles or building
facade materials, at lower cost.

Ocean Wave Power Hydroelectric has been developed as far as it can go, given environmental concerns about dams. But the Pacific Northwest coast could produce 40 to 70 kilowatts per meter, according to the Department of Energy. Harnessing ocean power is a long way behind wind, solar and geothermal, however. Inventors have been filing for wave-energy patents for two centuries. One technique is to build a steel or concrete column, open to the ocean below the water line but closed at the top. The rise and fall with each wave alternately pressurizes and depressurizes the air at the top, which can drive a turbine; Wavegen in Scotland, partly owned by Siemens, the giant electrical company, recently opened a 100-kilowatt generator based on this system. Another design harnesses the energy of a rising and falling float.

Advertisement

Geothermal Unlike wind or solar, geothermal works on demand. "The heat in the earth is there; you can bank on it," says Steven Chu, director of Lawrence Berkeley National Laboratory and President Barack Obama's nominee for energy secretary. The plants generally run around the clock. Not every location has hot rock, but Hawaii generates a quarter of its energy that way and California, 6 percent. Geothermal installations use hot water that flows up by itself, but vast areas of the U.S. have "hot dry rock," proponents say, requiring only water injection through a deep well. Most systems use a heat exchanger to boil clean water for steam to spin a turbine.

Wind Wind is the most promising, most advanced—and perhaps most problematic of the renewable energy sources. In 2007 developers installed more than 5,000 megawatts in the U.S., raising the installed base by 46 percent. But the kilowatt-hour contribution was much smaller, because even on a good site wind produces only about 28 percent of the energy that would result from around-the-clock production. Worse, wind works best at night, when demand is low. Technology is trimming costs, partly by making wind machines bigger. The latest are six megawatts, which would run several shopping centers. On a machine that big, each blade is about 65 meters, the approximate wingspan of a Boeing 747. New models are highly efficient, capturing about half the energy in the air that passes through them.

Solar-Thermal In solar-thermal, a trough-shaped mirror that tracks the sun over the course of the day focuses light to heat an oil- or water-based fluid in a black pipe. The pipe snakes over miles to a heat exchanger, which makes steam to drive a turbine. The system can be built as an adjunct to a natural gas–fired plant, so that gas can make steam during cloudy periods or after sunset. Future models may substitute molten sodium as the working fluid, which would allow higher temperatures without requiring higher pressures. A variant is a "power tower," which looks a bit like a water tower but is filled with molten sodium and heated by a vast array of mirrors, some at a distance of a kilometer. The sodium can be connected to an insulated tank and can store enough heat to run around the clock or at least well into high-demand times.