NASA Tests Robot Surgeon for Missions to Moon, Mars
Extended missions to the moon or Mars mean that astronauts may need improved medical care and even the ability to perform surgery in space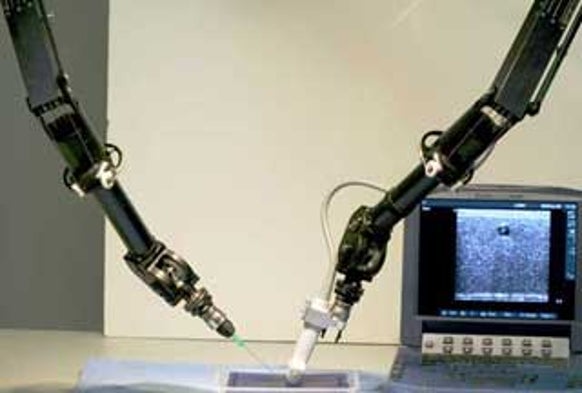 NASA Tests Robot Surgeon for Missions to Moon, Mars
UNDERSEA OPERATING THEATER: NASA previously tested the R7 in May as part of a 12-day NASA Extreme Environment Mission Operations (NEEMO) mission during which a six-member crew tested the M7's ability to conduct a variety of advanced medical technology experiments, including robotic telesurgery, in a laboratory located more than 60 feet beneath the ocean's surface.

SKIN DEEP: During this week's test flights, surgeons practice incisions and sutures both by hand and using the M7 on a special six-inch square of multilayer material designed to resemble human skin. The surgeons are trying to cut down to the layer called the fascia--a fibrous tissue network located between the skin and the underlying structure of muscle and bone--and then suture their incisions.

Advertisement

SPACE FLIGHT: Onboard a military C-9 aircraft flying in parabolic arcs over the Gulf of Mexico, four surgeons and four astronauts perform simulated surgery by hand and using a robotic device to determine if the robot's software can compensate for errors in movement that can occur in moments of turbulence and transition in gravity.