Life's Journey: 5 Tiny Organisms Hitch a Ride on Mission to a Martian Moon [Slide Show]
The Russian sample-return spacecraft will carry a zoo of microbes to Phobos and back to test whether life can survive the interplanetary journey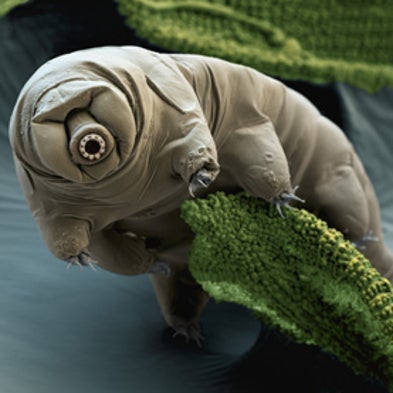 Life's Journey: 5 Tiny Organisms Hitch a Ride on Mission to a Martian Moon [Slide Show]
Tardigrades (multiple species): Carrying the banner for the animal kingdom are these 1.5-millimeter-long relatives of nematodes, known as water bears. They have already demonstrated their resilience in extreme conditions, including high levels of ionizing radiation and the vacuum of space. Photo Researchers, Inc.

Pyrococcus furiosus: This Archaea thrives in volcanically heated ocean sediments, at temperatures that can exceed 100 degrees Celsius. Scientists doubt it is analogous to anything that might live on frigid Mars, but they included it as an experimental control. If the return capsule overheats on reentering Earth's atmosphere, P. furiosus should survive. If all the other Phobos LIFE organisms die, that would indicate that the heat of reentry was the killer, not space radiation or other factors. Photo Researchers, Inc.

Advertisement

Deinococcus radiodurans: It is astounding what a lickin' this bacterium can take and keep on tickin'. D. radiodurans is famous for thriving under intense radiation; it can survive doses several thousand times stronger than would be lethal to humans. The bacterium is tough because it can repair the damage to DNA from ionizing radiation. Michael J. Daly/Photo Researchers, Inc.