Scientific American's Annual Gadget Guide: 10 Reasons to Fondly Remember 2011
Our picks for some of the coolest tech of the year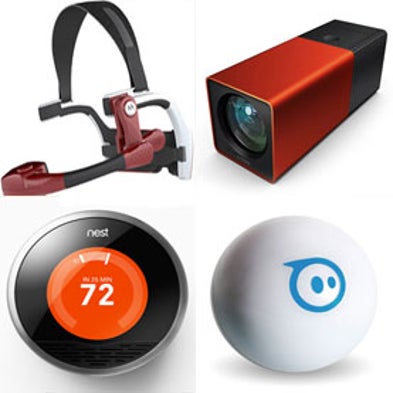 Scientific American's Annual Gadget Guide: 10 Reasons to Fondly Remember 2011
GoPro HERO2 HD Camera: Woodman Labs, Inc., which does business as GoPro, offers three different editions of its HERO2 high-definition camera—Outdoor, Motorsports and Surf. The HD HERO2 Outdoor Edition is the most advanced GoPro camera. It's wearable (mountable to a variety of helmet types), waterproof to 60 meters, capable of capturing professional full 170-degree wide-angle 1080p video and 11 megapixel photos at a rate of 10 photos per second.
Cost: $299 Courtesy of Woodman Labs, Inc.

Sifteo Game Cubes: Sifteo cubes feature a clickable, full color LCD display, a variety of motion sensors and a rechargeable battery—all in a 3.8-centimeter block. The cubes can be moved, shaken, flipped and rotated to play a number of classic games like chess, dominoes and jigsaw puzzles. More modern games let you use the cubes to make music, match patterns and test math skills. The cubes must connect wirelessly to a nearby computer via a compact USB radio link, and can hold up to four hours of play on a single charge.
Cost: $149 Courtesy of Sifteo, Inc.

Vectrix Personal Electric Vehicle: The Vectrix VX-1 Li+ is an awfully big (and awfully expensive) gadget, but this all-electric scooter stands out for its ability to max out at about 110 kilometers per hour and travel up to about 135 kilometers on a fully charged battery. Acceleration from zero to 80 kilometers per hour takes 6.25 seconds. The VX-1 Li+ has a multifunction throttle that lets riders accelerate or slow down depending on the direction they twist it. The scooter can be recharged by plugging into a 110/220-volt outlet.
Cost: $13,995 Courtesy of Vectrix

Fitbit Wireless Tracker: Fitbit, Inc.'s Tracker relies on an accelerometer and altimeter to measure motion patterns to indicate calories burned, steps taken, distance traveled and even sleep quality. The Tracker, which weighs about 11 grams, clips onto the wearer's clothes to measure physical activity and can also be slipped into a wristband before bedtime to gather information about how many times and how long you wake up during the night. All of the information stored in the Tracker can be sent wirelessly to the Web, where it can be accessed and analyzed via computer or smart phone.
Cost: $99.95 Courtesy of Fitbit, Inc.

Advertisement

Wacom Inkling: Wacom's Inkling digital sketch pen captures a digital likeness of a sketch. Use Inkling's ballpoint tip on any sketchbook or standard piece of paper and it will store drawings, which can be exported from Inkling Sketch Manager software into Adobe Photoshop, Illustrator (CS3 or newer), Autodesk Sketchbook Pro (2011 or newer) or Autodesk Sketchbook Designer. The ballpoint pen uses Wacom's pressure-sensing technology to detect how hard the pen is being pressed to the paper while sketching.
Cost: $199 Courtesy of Wacom

Orbotix Sphero: Sphero is a glowing white ball that can be maneuvered across the floor, sidewalk or track by tilting, touching or swinging an iOS or Android smart phone or tablet thanks to a combination of software and wireless Bluetooth connectivity. The ball, which is 7.4 centimeters in diameter (about the size as a baseball) and weighs about 168 grams, can be controlled within a range of about 15 meters. Sphero features an internal guidance system including a gyro, accelerometer and compass.
Cost: $130 (begins shipping in January) Courtesy of Orbotix

Kiga Bergmonch Backpack/Scooter: Although it technically debuted in mid-2010, Koga BV's Bergmönch—German for "mountain monk"—gained traction this year, combining hiking and mountain biking into a single piece of equipment. Uphill, it's a nine-kilogram backpack carrying a folded scooter with a built-in net for stowing a helmet and side pockets for provisions. Downhill, the scooter's spring-mounted wheels take over, turning the hiker into a rider. No pedals, just kneel on what had been the back of the rucksack and control your descent using the handlebar controls (equipped with disk brakes, thankfully).
Cost: $2,000 Courtesy of Koga B.V.

Nest's Learning Home Thermostat: Nest's self-programming thermostat programs itself by monitoring when and how much and how often its settings are changed. The thermostat, which also monitors weather conditions using a wi-fi connection, is accessible via a smart phone and makes suggestions for optimum heating/cooling temperatures. The device is about 4.5 centimeters in diameter and weighs about 0.2 kilogram. Nest founder and CEO Tony Fadell is an Apple alum who helped develop the iPod and the first three generations of the iPhone.
Cost: $249 Courtesy of Nest Labs

Advertisement

Kopin Golden-i Headset Computer: Kopin, Inc.'s Golden-i is a head-mounted computer that runs a version of the Windows operating system and can communicate with any operating system that supports Bluetooth and wi-fi. The voice-activated Golden-i can access desktops, laptops and other computers via the Web or by using remote desktop access software from GoToMyPC or Citrix. The headset computer features a one-centimeter display screen that can be adjusted to be used just a few centimeters in front of and below either the left or right eye. It can also be worn with eye- or safety-glasses, hard hat or helmet. Due to the display's proximity and resolution, however, it appears to wearers as if they are looking at a 38-centimeter screen. Golden-i features a built-in camera.
Cost: $2,500 Courtesy of Kopin

Lytro Light-Field Camera: Unlike a conventional camera that captures a single plane of light, the Lytro camera is designed with a special sensor to capture the color and intensity of the entire light field, which is all the light traveling in every direction in every point in space. The camera's software—for Mac OS only, although a Windows version is in development—lets you focus and refocus specific parts of an image even after the digital image has been captured. The 214-gram HD-quality digital camera resembles a small square telescope—4.1 centimeters in height and width by 11.2 centimeters long.
Cost: Starts at $399 Courtesy of Lytro, Inc.