Scientific American's Annual Gadget Guide: 10 Reasons to Fondly Remember 2011
Our picks for some of the coolest tech of the year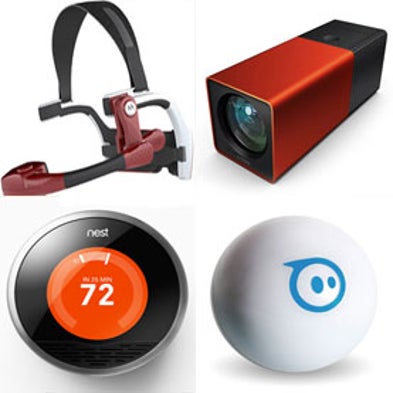 Scientific American's Annual Gadget Guide: 10 Reasons to Fondly Remember 2011
Sifteo Game Cubes: Sifteo cubes feature a clickable, full color LCD display, a variety of motion sensors and a rechargeable battery—all in a 3.8-centimeter block. The cubes can be moved, shaken, flipped and rotated to play a number of classic games like chess, dominoes and jigsaw puzzles... Courtesy of Sifteo, Inc.

Fitbit Wireless Tracker: Fitbit, Inc.'s Tracker relies on an accelerometer and altimeter to measure motion patterns to indicate calories burned, steps taken, distance traveled and even sleep quality. The Tracker, which weighs about 11 grams, clips onto the wearer's clothes to measure physical activity and can also be slipped into a wristband before bedtime to gather information about how many times and how long you wake up during the night... Courtesy of Fitbit, Inc.

Advertisement

Wacom Inkling: Wacom's Inkling digital sketch pen captures a digital likeness of a sketch. Use Inkling's ballpoint tip on any sketchbook or standard piece of paper and it will store drawings, which can be exported from Inkling Sketch Manager software into Adobe Photoshop, Illustrator (CS3 or newer), Autodesk Sketchbook Pro (2011 or newer) or Autodesk Sketchbook Designer... Courtesy of Wacom

Nest's Learning Home Thermostat: Nest's self-programming thermostat programs itself by monitoring when and how much and how often its settings are changed. The thermostat, which also monitors weather conditions using a wi-fi connection, is accessible via a smart phone and makes suggestions for optimum heating/cooling temperatures... Courtesy of Nest Labs

Advertisement

Lytro Light-Field Camera: Unlike a conventional camera that captures a single plane of light, the Lytro camera is designed with a special sensor to capture the color and intensity of the entire light field, which is all the light traveling in every direction in every point in space... Courtesy of Lytro, Inc.