Scientific American's 2012 Gadget Guide: Tech That Will Satisfy Your Inner Geek [Slide Show]
SA has combed shopping malls and Web sites for 10 of the geekiest gadgets that leverage science and technology in novel and surprising ways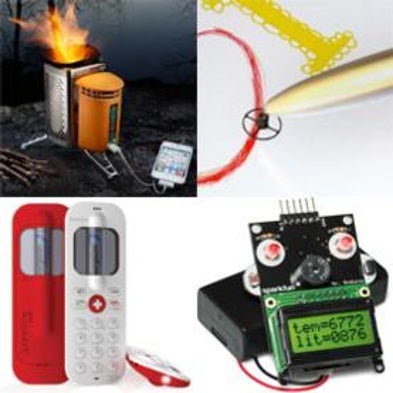 Scientific American's 2012 Gadget Guide: Tech That Will Satisfy Your Inner Geek [Slide Show]
Gravity-Defying Globe: The MOVA globe rotates silently using the energy of room light and the force of Earth's magnetic field. The MOVA globe consists of an inner globe that rotates and is contained within an outer shell made of clear acrylic, which does not rotate. The thin space between the inner globe and outer shell is filled with a clear fluid that buoyantly supports the inner globe completely out of contact with the outer shell. This inner globe, floating and turning in a virtually friction-free environment and energized by light, is analogous to the planet itself, according to TurtleTech Design, which makes the globes. Energy for the globe's drive mechanism comes from solar cells within the inner globe, illuminated by light passing through the graphic on the globe. The drive includes an element that reacts with Earth's magnetic field, much as a common compass does, to provide torque to drive the globe.
Price range: $135–$500 Courtesy of TurtleTech Design, Inc.

Emergency Mobile Phone: Natural disasters such as this year's Superstorm Sandy are a good reason to add the mobile phone to the household emergency preparation kit. Yet most cell phone batteries wouldn't be ready for action if zipped in a bag and left in a closet for several months. SpareOne's emergency mobile phone is powered by a single AA battery that can hold a charge, if unused, for 15 years. When used, this emergency phone has up to 10 hours of talk time per battery. More durable than the average cell phone, SpareOne's handset operates in temperatures between –30 and 60 degrees Celsius. It also features a mini LED flashlight. Users can contact emergency services without a SIM card; they can also insert an existing cell phone's SIM to continue sending and receiving calls from their original number after the primary phone has run out of power.
Price: Starting at $90 Courtesy of SpareOne PSL

Blood Glucose Monitor: Smart phones and tablets have become indispensable tools in the blood glucose self-monitoring kits that so many diabetics use to manage their health. Sanofi's iBGStar blood glucose meter, for example, allows users to plug the device into certain versions of the Apple iPhone or iPod touch to display, manage and communicate diabetes information. iBGStar comes with a lancing device for drawing blood, which is placed on a test strip inserted into the handheld monitor. The device automatically syncs data with the iBGStar Diabetes Manager app, which tracks glucose, insulin and carbs, and charts individualized glucose patterns over time.

Abbott Laboratories and Animas/J&J make portable blood glucose monitors, but neither plugs into a smart phone. Roche's ACCU-CHEK Smart Pix device reader can connect with a PC (but not a Mac) for uploading blood glucose information, although this cannot be done wirelessly.
Price: $70–$75 Courtesy of Sanofi-Aventis U.S., LLC

Portable Document Scanner: Improvements in imaging technology have sharpened document scanner resolution while enabling greater scanner portability. Most portable document scanners require the document being scanned be fed into the scanner or placed on a flatbed. PiQx Imaging, however, has developed a new approach with its thin, flip phone–like xcanex, which clips onto a computer screen or other object and snaps 300-dpi digital images of documents, book pages, and other text and graphics. Xcanex also includes post-processing software for cropping, rotation, orientation and shadow removal on scanned images. The device can even be used as an eight-megapixel digital camera. Xcanex will be launched in the U.S. during the first quarter of 2013.
Price range: $250–$300 Courtesy of piQx Imaging Ltd.

Advertisement

Tablet Styluses: The emergence of tablet computers has opened up new dimensions in artistic expression, if you have the right tool for expressing your creativity on a touch screen. There is no shortage of styluses to help tablet users unlock their artistic side through apps such as Autodesk's SketchBook Pro and PhatWare's PhatPad. A new entrant into this market is the GoSmart stylus, which aims to improve the dynamics of tablet drawing via precise pointing and an unobstructed view of the touch screen. GoSmart offers two versions of its stylus, each with a Teflon-coated metal capacitive-coupling tip in the shape of a crosshair attached to the device's shaft by a small, flexible spring.

Other tablet styluses offer slight variations on this design. The Adonit Jot Pro and LOGiiX Diamond styluses feature clear plastic tips. Whereas the Diamond also uses a flexible spring to connect the shaft and tip, the Jot Pro's tip is on a ball joint and can swivel freely in all directions.
Price range: $25–$35 Courtesy of GoSmart, Inc.

Self-Heating Gloves: These gloves use stored energy from a replaceable or rechargeable battery to generate heat disbursed to the hand's palm and fingers via wires or some other conductive material. Chaval's Response-XRT leather gloves use flat, flexible conductive sensors to transmit power inside the gloves and regulate the production of heat within each finger. This technology, referred to as alphaHEAT, relies on a paper-thin polymer film to regulate the gloves' temperature. As the hands get cold, the film gets denser, increasing its electrical conductivity; as they warm, the heat reduces the film's conductivity, reducing power consumption.

Other variations on the self-heating glove concept include the Seirus Heat Touch Xtreme All Weather Glove and the Mobile Warming LTD Max Heated Glove.
Price range: $200-$390 Courtesy of Chaval Outdoor Corp.

DIY Robot-Programming Kit: Budding electrical engineers and computer programmers will appreciate this educational tool in the guise of a do-it-yourself robotics kit. After young tinkerers assemble Sparkfun Electronics's Mr. Roboto's processor, sensors and LCD screen they can program its LEDs, buzzer and other components to come to life. Although this bot may not have the physical presence of a Transformer, it can capture the imagination in more profound ways by challenging users to learn and implement the programming language known as Arduino, designed specifically for controlling robots and other devices.
Price: $40 Courtesy of SparkFun Electronics

Self-Watering Flowerpot: If your houseplants suffer because you never paid attention to botany in science class, Click & Grow offers an electronic self-watering smart pot that measures and doses the exact amount of water, fertilizer and air, according to a plant's needs. Each flowerpot includes sensors, batteries, a pump and a water reservoir. The plants themselves grow from a cartridge inserted into the pot. Each cartridge includes seeds and nutrients for growing a plant. The pot features a light that blinks to indicate it needs more water or new AA batteries. Click & Grow offers a variety of plants, including lemon balm, mini tomatoes, painted nettle, thyme, lamb's ear, garden sage, French marigold and coriander.
Price: Starting at $40 (pot and starter kit); $20 (refill plant cartridge) Courtesy of Click & Grow

Advertisement

Portable Camping Stove/Device Charger: Hikers and campers tired of lugging heavy petroleum gas canisters to fuel their portable cook stoves and solar panels to recharge their electronics can now travel lighter. Fueled by twigs, pinecones or other biomass collected during an excursion, the BioLite CampStove converts heat from fire into electricity that can be used to recharge USB-connected phones, lights and other gadgets— all while dinner is cooking. Charge time varies based on the fire's intensity.
Price: $130 Courtesy of BioLite

Color Blindness–Correction Glasses: Color blindness typically doesn't mean that a person sees the world only in black and white, but it does rob some people of their ability to see the full spectrum. A new type of "smart" eyeglasses claims to correct for such color deficiency. EnChroma's Cx-D Super Color Enhancing (SCE) lens helps people suffering from a specific type of color blindness known as deuteranomaly—when certain cone cells in the eye are more sensitive to longer wavelengths—by allowing wearers to differentiate commonly confused colors such as shades of red, green, yellow, brown and pink. Meanwhile, the EnChroma Cx-PT is an SCE lens that helps those suffering from a different form of color blindness called protanomaly, when cone cells are more sensitive to shorter wavelengths. Protanomaly makes it difficult to differentiate shades of green, red, brown and purple. Both types of lenses feature coatings that modify vision to account for the spectral changes associated with these different color deficiencies.
Price: $600 Courtesy of EnChroma, Inc.