Scientific American's 2012 Gadget Guide: Tech That Will Satisfy Your Inner Geek [Slide Show]
SA has combed shopping malls and Web sites for 10 of the geekiest gadgets that leverage science and technology in novel and surprising ways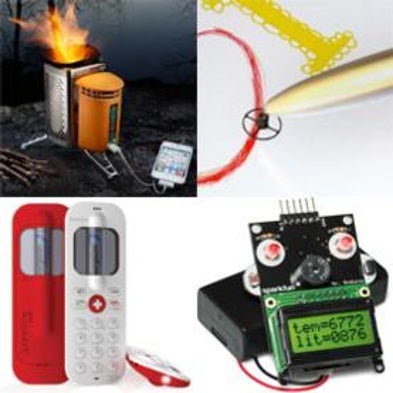 Scientific American's 2012 Gadget Guide: Tech That Will Satisfy Your Inner Geek [Slide Show]
Gravity-Defying Globe: The MOVA globe rotates silently using the energy of room light and the force of Earth's magnetic field. The MOVA globe consists of an inner globe that rotates and is contained within an outer shell made of clear acrylic, which does not rotate... Courtesy of TurtleTech Design, Inc.

Emergency Mobile Phone: Natural disasters such as this year's Superstorm Sandy are a good reason to add the mobile phone to the household emergency preparation kit. Yet most cell phone batteries wouldn't be ready for action if zipped in a bag and left in a closet for several months... Courtesy of SpareOne PSL

Blood Glucose Monitor: Smart phones and tablets have become indispensable tools in the blood glucose self-monitoring kits that so many diabetics use to manage their health. Sanofi's iBGStar blood glucose meter, for example, allows users to plug the device into certain versions of the Apple iPhone or iPod touch to display, manage and communicate diabetes information... Courtesy of Sanofi-Aventis U.S., LLC

Advertisement

Tablet Styluses: The emergence of tablet computers has opened up new dimensions in artistic expression, if you have the right tool for expressing your creativity on a touch screen. There is no shortage of styluses to help tablet users unlock their artistic side through apps such as Autodesk's SketchBook Pro and PhatWare's PhatPad... Courtesy of GoSmart, Inc.

Self-Heating Gloves: These gloves use stored energy from a replaceable or rechargeable battery to generate heat disbursed to the hand's palm and fingers via wires or some other conductive material. Chaval's Response-XRT leather gloves use flat, flexible conductive sensors to transmit power inside the gloves and regulate the production of heat within each finger... Courtesy of Chaval Outdoor Corp.

Advertisement

Portable Camping Stove/Device Charger: Hikers and campers tired of lugging heavy petroleum gas canisters to fuel their portable cook stoves and solar panels to recharge their electronics can now travel lighter. Fueled by twigs, pinecones or other biomass collected during an excursion, the BioLite CampStove converts heat from fire into electricity that can be used to recharge USB-connected phones, lights and other gadgets— all while dinner is cooking... Courtesy of BioLite

Color Blindness–Correction Glasses: Color blindness typically doesn't mean that a person sees the world only in black and white, but it does rob some people of their ability to see the full spectrum. A new type of "smart" eyeglasses claims to correct for such color deficiency... Courtesy of EnChroma, Inc.