Students Combine Arts and Science While Exploring "Transhumanism" [Slide Show]
Over the course of four weeks students developed prototypes of devices meant to bridge the gap between human and machine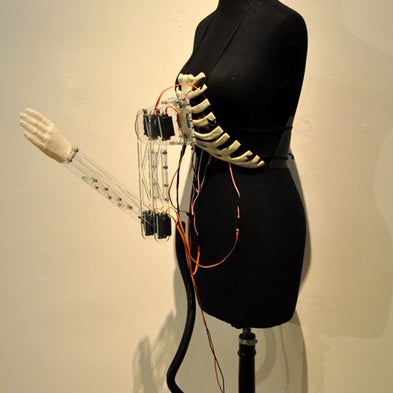 Students Combine Arts and Science While Exploring "Transhumanism" [Slide Show]
​"Thinking Cap," by Abubakar Abid, Joshua Bohar and James Hobin. Taking readings from electrodes attached to a person's head, the brain model shows areas of activity in real time by flashing embedded LED lights. "It's really weird…giving that brain to other people and having them hold it," says Ryan Mather, a workshop organizer. "It kind of felt like they had the key to your thoughts."

"Heartbeat," by Evan Brooks and Alexander Czulak. Worn on an ear, the device detects a heartbeat and can generate the same beat in another such device via a small vibration motor. The creators envision someone offering "their heartbeat as an intimate symbol of trust and vulnerability," Czulak wrote in an e-mail. But they also imagine the U.S. Transportation Security Administration using an elevated heart rate as a tool to detect what they call "emotional irregularity" in someone who is up to no-good. Image courtesy Alexander Czulak.

"Dream of Akinosuke," by Alex Ju and Kate O'Connor. More focused on "fantasy and fine art" than on "practical future applications," according to Ju, this piece is inspired by a Japanese folktale of the same name. To make some of the butterflies flap their wings, Ju and O'Connor used Flexinol, a wire that changes shape when electric current is run through it. Image courtesy Alex Ju.

"The Third Arm," by Daniel Goodman and Cynthia Xin Liu. Who couldn't use a third arm? Although we may be a long way from using a robotic arm as naturally as our biological limbs, Liu and Goodman imagine an extra limb handling everything from simple tasks, such as holding an umbrella, to highly specialized ones, like playing the drums. Pressure sensors on footpads control the arm.

Advertisement

"Blue Shift," by Celine Chappert and Bevin Kelley. In this enclosed, octagonal space Chappert and Kelley built an LED panel that uses motion sensors to respond to movement. Mirrors surrounding the panel "create a sense of infinity within the space," wrote Chappert in an e-mail. An arm-mounted light sensor also converts different light levels into different sounds.