Metropolitan Metamorphosis: The Creation of the City, 1870 to 1965 [Slide Show]
A visual tour of past efforts, many better left unrealized, that have shaped the way we live and work in cities—as seen in the pages of Scientific American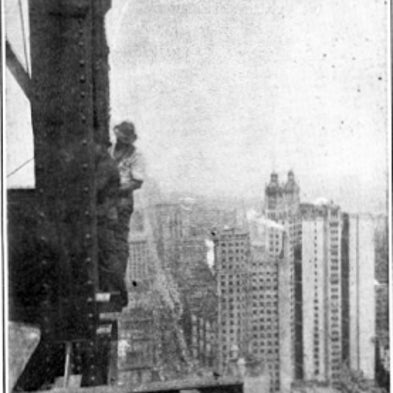 Metropolitan Metamorphosis: The Creation of the City, 1870 to 1965 [Slide Show]
Urban Renewal: New York City, 1965 This photo shows a street on Manhattan's now wealthy Upper West Side from 1965. At the time the photo was taken, the area was considered a slum. Renewal plans included forcing the current tenants out to sell the brownstones to those who could afford to renovate them...

Urban Renewal: Chicago, 1965 When cities of the future were imagined in the 1920s and '30s, they did not include areas of economic depression or racial and social segregation. Whereas many racial minorities and low-income families initially moved into cities because of the affordable rent, they began to be driven out in the 1950s and '60s as "urban renewal" projects got underway...

Alleyways, 1940 The landscape of a city creates spaces that are unique to urban environments, such as crosswalks, stoops, underground tunnels, bike lanes and alleyways. The "Camera Angles" photography section of the May 1940 Scientific American featured alleyway photography by subscriber Clarence Tolle of Cincinnati...

Future City: Apartments as Complete Habitats, 1932 City planning also took on new ideas, and developers began thinking in terms of convenience for apartment dwellers. Here, apartment buildings become self-sufficient communities, as needs of clothing, shelter, education, food and entertainment could all be met within a single windowless complex...

Advertisement

Future City: Windowless Offices as the Healthy Alternative, 1932 As our technological knowledge increases, our notions on living a healthy lifestyle also change. By the 1930s, many people spent significant time working in city office buildings. The commercialization of ultraviolet rays and fluorescent lighting led to new ideas on how to improve the working conditions within an office...

Future City: Stacked Roads, 1927 The congestion resulting from the increased number of vehicles and pedestrians caused many cities to begin rethinking the distribution of traffic. This design was presented in the September 1927 Scientific American and showcased an innovative way to address pedestrian traffic as well as both slow- and fast-moving vehicles...

Panic, 1925 What would happen if disaster were to strike a crowded city? In the September 1925 issue, Scientific American brought up that possibility, such as a fire or an earthquake, and surmised it would be the panic of people and the rush to the streets that would cause the most civilian causalities...

Advertisement

East River Bridges, 1901 With an increase in population and new modes of transportation developing, cities began to depend on roadways to move traffic. An island city like Manhattan needed several bridges to manage its growing commuter volume, which had reached such a high level in 1901 that Scientific American predicted an absolute "deadlock"] on roads running north and south if the bridges were not built...

Park Row Building: Tallest Office Tower in 1898 As the 20th century approached, the skylines of cities began growing taller and taller. Pictured above is the Park Row Building in New York City as it appeared in 1898 ( left ). At the time, it was the tallest office building in the world at 29 stories; at 120 meters tall, it compared favorably with the Great Pyramid of Giza ( right )...

Advertisement

The First Subway in the U.S., 1870 In 1870 Scientific American 's editor, Alfred Ely Beach, financed what was considered the first underground subway system in New York City. The "pneumatic tunnel" worked by means of air pressure from giant fans that pushed the car from one end of the track to the other...