Metropolitan Metamorphosis: The Creation of the City, 1870 to 1965 [Slide Show]
A visual tour of past efforts, many better left unrealized, that have shaped the way we live and work in cities—as seen in the pages of Scientific American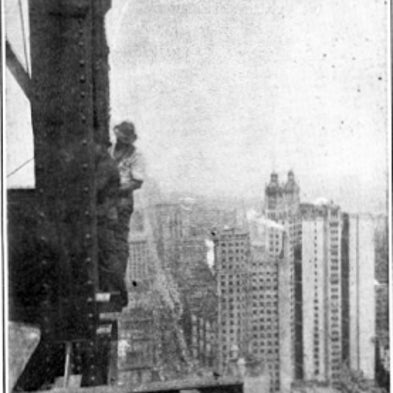 Metropolitan Metamorphosis: The Creation of the City, 1870 to 1965 [Slide Show]
Urban Renewal: New York City, 1965 This photo shows a street on Manhattan's now wealthy Upper West Side from 1965. At the time the photo was taken, the area was considered a slum. Renewal plans included forcing the current tenants out to sell the brownstones to those who could afford to renovate them. Although urban renewal has helped rehabilitate some communities, it has also left many people displaced or forced them to move into public housing projects, creating race and class divides that harm the city as a whole.

Urban Renewal: Chicago, 1965 When cities of the future were imagined in the 1920s and '30s, they did not include areas of economic depression or racial and social segregation. Whereas many racial minorities and low-income families initially moved into cities because of the affordable rent, they began to be driven out in the 1950s and '60s as "urban renewal" projects got underway. The Urban Renewal Commission, which grew out of the Housing Act of 1949, looked to improve conditions of cities by either maintaining or rebuilding properties. Often referred to as "slum clearing," urban renewal programs helped developers buy up land that often housed working class families and demolish their homes to rebuild newer, more expensive developments. The top photo shows a Chicago slum photographed in 1944. The bottom is the same street in 1965 after state and national housing agencies redeveloped it.

Alleyways, 1940 The landscape of a city creates spaces that are unique to urban environments, such as crosswalks, stoops, underground tunnels, bike lanes and alleyways. The "Camera Angles" photography section of the May 1940 Scientific American featured alleyway photography by subscriber Clarence Tolle of Cincinnati. The article suggested trying to take pictures in these short, narrow city passageways at different times of day to convey various photographic moods.

Future City: Apartments as Complete Habitats, 1932 City planning also took on new ideas, and developers began thinking in terms of convenience for apartment dwellers. Here, apartment buildings become self-sufficient communities, as needs of clothing, shelter, education, food and entertainment could all be met within a single windowless complex.

Advertisement

Future City: Windowless Offices as the Healthy Alternative, 1932 As our technological knowledge increases, our notions on living a healthy lifestyle also change. By the 1930s, many people spent significant time working in city office buildings. The commercialization of ultraviolet rays and fluorescent lighting led to new ideas on how to improve the working conditions within an office. These images from the February 1932 Scientific American show a windowless office where all light is produced by UV rays and all air is chemically treated to be purified and then pumped in through air vents. The removal of windows would prevent germs and impurities in the city air from entering the room and help regulate the temperature.

Future City: Building Plans for Brighter Blocks, 1927 As buildings grew higher, it became necessary to widen streets to accommodate the increase of population in those tall buildings. Planners also suggested measures to lessen the amount of blocked sunlight caused by the high-rises. This diagram shows plots on a typical 60- by 275-meter city block. The center shows the placement of buildings, surrounded by the elevated walk. Shaded areas are buildings that would have no height restriction, whereas those left blank would not be allowed to grow more than four stories to permit natural light to pass to all buildings.

Future City: Stacked Roads, 1927 The congestion resulting from the increased number of vehicles and pedestrians caused many cities to begin rethinking the distribution of traffic. This design was presented in the September 1927 Scientific American and showcased an innovative way to address pedestrian traffic as well as both slow- and fast-moving vehicles. Pedestrian walks would be elevated to the second floor of buildings, slower moving traffic would be at ground level, and faster vehicles would travel along an elevated road down the center of the street.

Panic, 1925 What would happen if disaster were to strike a crowded city? In the September 1925 issue, Scientific American brought up that possibility, such as a fire or an earthquake, and surmised it would be the panic of people and the rush to the streets that would cause the most civilian causalities. The above photo was taken on Armistice Day in New York City. They show the mob of people who took to the streets to celebrate. The article asked what would happen if the mentality of this mob were to change from celebratory to fearful. Below, the illustration shows that the number of people rushing to the streets from subways below and skyscrapers above would amount to a street filled and about three persons deep. Given the 9/11 World Trade Center disaster in the city's not so distant past, it is eerie to read the suggestion in the article that higher the buildings "the safer people will be in them," because the height would put them farther away from street-level mayhem.

Advertisement

Bedbug Extermination, 1924 From rats to roaches, pests have always been a part of city life. Bedbugs made headlines back in 1924 not for their presence (they've been with humans for centuries), but because they were thought to spread disease and therefore had to be chemically exterminated. Poisonous gas was in high demand. Although fumigators took some safety precautions, fatalities did occur from the fumes by those who did not evacuate the premises in time.

Singer Building: Tallest Skyscraper in 1907 At the time of its completion in 1908, the Singer Building was the tallest in the world. These incredible images from the September 7, 1907, show workers installing the steel beams crucial to the skyscraper's stability in high winds. Building upward posed new challenges for workers, who managed by using derricks and moving materials up floor by floor as they were constructed. The photo at the right shows the men at the 46th story of the 56-story skyscraper. In 1964 U.S. Steel bought the building and demolished it three years later, before it could receive landmark designation.

East River Bridges, 1901 With an increase in population and new modes of transportation developing, cities began to depend on roadways to move traffic. An island city like Manhattan needed several bridges to manage its growing commuter volume, which had reached such a high level in 1901 that Scientific American predicted an absolute "deadlock"] on roads running north and south if the bridges were not built. Pictured: the Brooklyn Bridge [above left] and a projection of the forthcoming Manhattan Bridge [right]. The image [bottom] shows a bird's-eye view of lower Manhattan and the three different suspension spans (the Brooklyn, Manhattan and Williamsburg bridges) that are used to cross the East River. All were built to provide lanes for motorcars, trolleys and pedestrians.

Park Row Building: Tallest Office Tower in 1898 As the 20th century approached, the skylines of cities began growing taller and taller. Pictured above is the Park Row Building in New York City as it appeared in 1898 (left). At the time, it was the tallest office building in the world at 29 stories; at 120 meters tall, it compared favorably with the Great Pyramid of Giza (right). Although it may be considered a relatively attractive building compared with many office buildings we see today, its height made it seem more of a shock and eyesore when it was erected, especially in contrast to its surrounding buildings. "The modern office building, however, is not to be judged by the usual architectural standards. It professes to be nothing more or less than it is—a strictly utilitarian structure, admirably adapted to its purpose of housing the greatest possible number of businessmen upon a limited area in the city's busiest center."—Scientific American, December 24, 1898

Advertisement

The First Subway in the U.S., 1870 In 1870 Scientific American's editor, Alfred Ely Beach, financed what was considered the first underground subway system in New York City. The "pneumatic tunnel" worked by means of air pressure from giant fans that pushed the car from one end of the track to the other. The tube ran down Broadway one block from Warren Street to Murray Street, a distance of about 95 meters. After the pneumatic system failed to catch on with municipalities, Beach's tunnel was sealed up, and aboveground trains were constructed instead. It was rediscovered in 1912 when workers digging out lines for the BMT Broadway subway line (today's N, Q and R lines) ran into the tunnel and found remains of the car and tunneling shield.