Was Einstein Wrong?: A Quantum Threat to Special Relativity
Entanglement, like many quantum effects, violates some of our deepest intuitions about the world. It may also undermine Einstein's special theory of relativity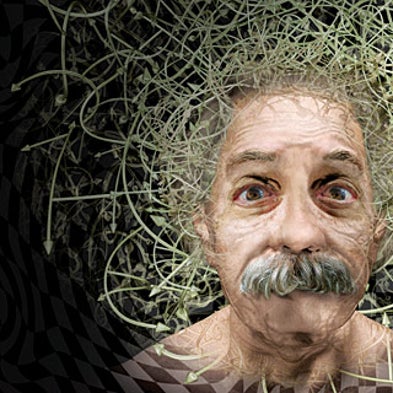 Was Einstein Wrong?: A Quantum Threat to Special Relativity
1981 to present: Experiments using entangled states of light (right), in particular by Alain Aspect and his co-workers, verify that the world follows the predictions of quantum mechanics even in those situations in which quantum mechanics violates Bell's inequalities. The world is nonlocal after all. Paul Kwiat and Micheal Reck/University of Vienna

1964: John S. Bell extends the "EPR" reasoning to cases in which spins are measured along nonparallel axes and shows that no local theory can possibly reproduce all of quantum mechanics's predictions for experimental results. The predictions of any local theory must always satisfy mathematical relations known as Bell's inequalities. CERN, Courtesy of AIP Emilio Segrè Visual Archives

1935: Einstein, Boris Podolsky and Nathan Rosen argue that because quantum-mechanical calculations involve nonlocal steps, quantum mechanics cannot be the full story. Niels Bohr (far right) insists we must accept quantum mechanics and instead give up old notions of "reality." Paul Ehrenfest, Courtesy of Emilio Sergè Visual Archives, Ehrenfest Collection

Advertisement

1831: Michael Faraday introduces the idea of magnetic lines of force. Physicists at this time use a notation involving electric and magnetic fields that fill space. The forces on a particle become, at least formally, a local action of the fields on them. But these fields are viewed as convenient calculational tools, not as things that are real. Cordelia Molloy Photo Researchers, Inc.

Advertisement

Changing Views of "Reality" Our intuition is that the world is local: we can move a rock only by touching it directly, or by touching a stick that touches it, or by creating some unbroken chain of such direct, local connections. Yet since the beginnings of modern science in the 1600s, apparent nonlocalities have been challenging scientists. 1687: Isaac Newton's law of universal gravitation, the first modern scientific description of gravity, involves "action at a distance." Newton is sure there must be an account of gravity without this nonlocality and even tries an unsuccessful theory in which tiny invisible, jiggling particles fill all of seemingly empty space. B. Sanerson/Photo Researchers, Inc.