Last year was the fourth-warmest on record.
It's not an official finding because the partial government shutdown has prevented NASA and NOAA from making that determination. But the data show that 2018 stacks up as one of the warmest years since the Civil War era, according to researchers from Berkeley Earth. Just three years were warmer: 2016 is first, followed by 2015 and 2017, according to NOAA.
Last year, global temperatures were 1.16 degrees Celsius, or 2.09 degrees Fahrenheit above the average temperature of the late 19th century, from 1850-1900, researchers at Berkeley Earth found. Some parts of the globe, including Europe and the Middle East, set records for highest average temperatures. Europe experienced its warmest May to October ever, causing drought in many areas. Notably, 2018 is the warmest year on record for ocean heat content, a sharp increase from 2017.
Though temperatures dipped slightly compared to the previous three years, last year's readings continue a clear trend of significant warming, researchers found.
Annual Temperature Anomaly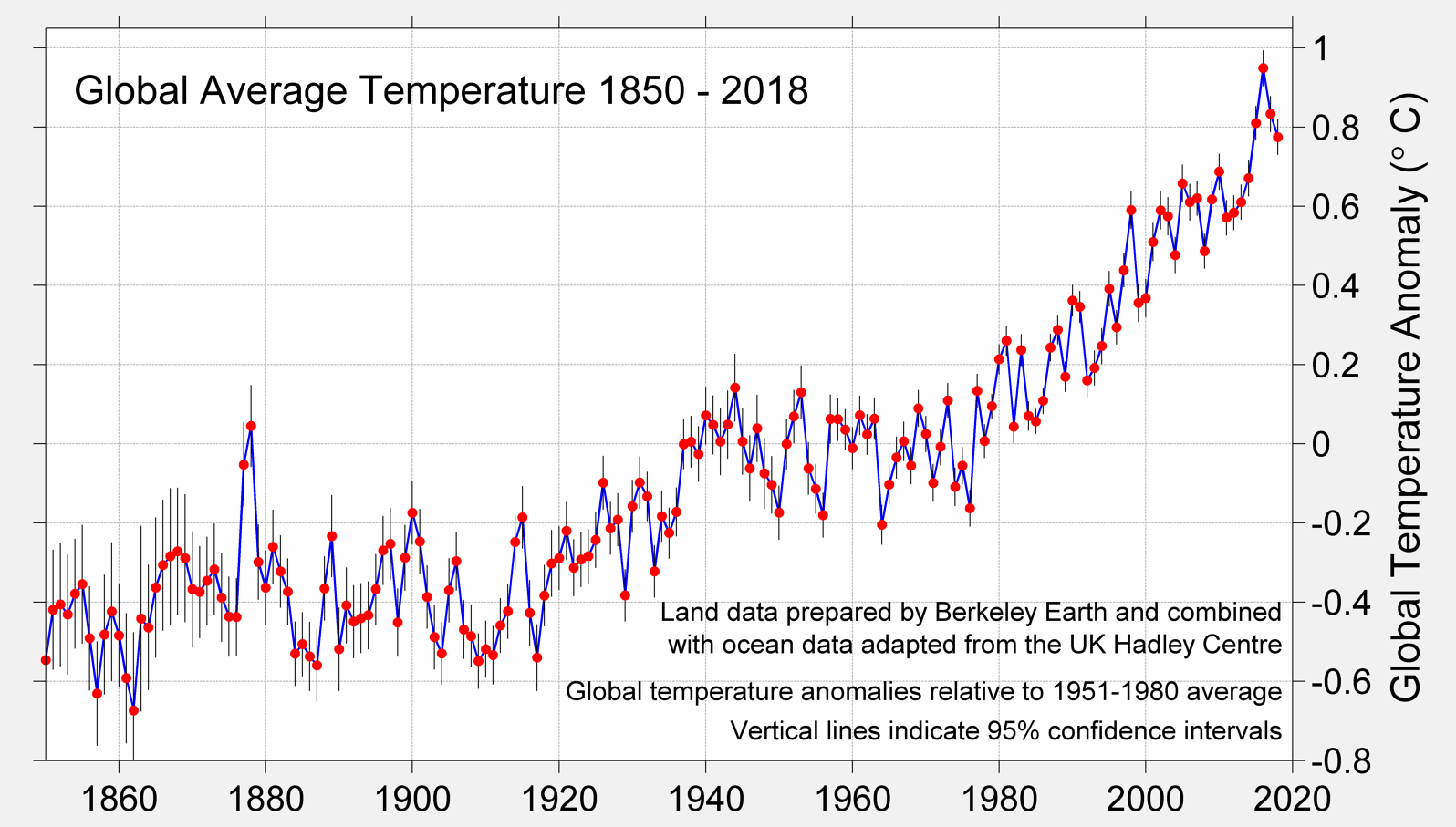 "The slight decline in 2018 is likely to reflect short-term natural variability, but the overall pattern remains consistent with a long-term trend towards global warming," the Berkeley Earth researchers wrote.
Temperatures in individual years can be effected by natural weather patterns, even as they're being driven upward over decades by the burning of fossil fuels. In 2015 and 2016, during a period of extreme El Niño, one of the strongest ever recorded, temperatures catapulted upward. By contrast, 2018 began with a weak-to-moderate La Niña, and that caused a slight dip in temperatures.
Many countries saw their warmest year ever, since modern record-keeping began. They include: Albania, Armenia, Austria, Bahrain, Belgium, Bulgaria, Bosnia and Herzegovina, Croatia, Cyprus, Czechia, France, Germany, Greece, Hungary, Italy, Kosovo, Liechtenstein, Luxembourg, FYR Macedonia, Monaco, Montenegro, Oman, Poland, Qatar, Serbia, San Marino, Slovakia, Switzerland, and the United Arab Emirates.
Antarctica and the Arctic experienced significant warming, which has consequences for sea-level rise as land ice melts.
This year will likely be warmer than 2018, but it probably won't break the record set in 2016, the researchers found.
"At present it appears that there is roughly a 50% likelihood that 2019 will become the 2nd warmest year since 1850," the researchers wrote.
The results were set to be announced by NOAA and NASA last week, but the government shutdown pushed it to some point in the future, likely a few days after the government reopens, according to Gavin Schmidt, director of the NASA Goddard Institute for Space Studies.
Reprinted from Climatewire with permission from E&E News. E&E provides daily coverage of essential energy and environmental news at www.eenews.net.