Evolution
Could they speak, too? Did they proposition modern humans in an interspecies creole language?
Evolution
When the sun disappeared, tiny coccoliths turned to hunting
Biology
The evidence mounts that bacteria can be effectively immortal
Special Report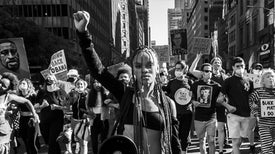 Policy & Ethics
What began as a call to action in response to police violence and anti-Black racism in the U.S. is now a global initiative to confront racial inequities in society, including environmental injustice, bias in academia and the public health threat of racism.
Videos
Last week's pinpoint touchdown of NASA's Mars Perseverance rover in Jezero Crater was historic for many reasons, chief among them the epochal nature of the mission's task of seeking signs of ancient life—and caching relevant samples for eventual return to Earth...