No, no and no.
—In the past three months have you had ear or body piercing?
—From 1980 to the present, did you receive a blood transfusion in France, Ireland, England, Northern Ireland, Scotland, Wales, the Isle of Man, the Channel Islands, Gibraltar or the Falkland Islands?
—In the past three months have you received money, drugs or other payment for sex?
Those are just three of a blizzard of questions to which I respond by clicking the "no" button on the screen.
It's the seventh time that I've raced through the same queries at the New York Blood Center in Elmsford, N.Y., where I go to donate convalescent plasma.
One Saturday in mid-March I had felt slightly hot and fatigued when I was supposed to go to my mother's to relieve her caregiver, who had to leave suddenly because her husband was hospitalized with COVID-19.
Testing at the time was a huge hassle. My mild, flulike symptoms meant my daughter got the assignment. My mother has a debilitating, chronic lung condition and there's no telling what would have happened if I had gone and infected her with whatever was ailing me—whether the novel coronavirus or even just a common cold. During the few days I was sick, my son, a physician at New York–Presbyterian who was helping prepare for the onslaught of cases to come (read his blog post), kept calling and asking how my breathing was. Fine, fine and fine again.
In mid-June, when The Great Quiet had begun to lift from my northern Manhattan neighborhood as the lockdown abated, I walked to a CityMD storefront clinic a few blocks away. I went more out of curiosity than any conviction that I had shared the same illness that afflicts millions of others.
About two weeks after the antibody test, I called the clinic. An attendant said on the phone that I had come up positive. She then declared: "You're immune." The first thought I had was that my pandemic was over. I didn't have to fret anymore about risk factors that included being male, older and the possible hazard of having an A blood type.
That train of thought was immediately countered by another voice in my head. I knew that antibody tests sometimes give erroneous results, having been schooled at work in the relevant terminology about "sensitivity," "specificity," "community prevalence" and what they mean for testing accuracy. And then there were questions of how long exactly immunity lasts or how good my antibodies are. I waded back again and again into the endless "it's this—no that" internal dialogue that overwhelms everyone who has been exposed to what are global daily tutorials on coronavirus epidemiology.
The next comeback line to myself was that, after hundreds of millions of years of evolution, our immune system—second in complexity only to the brain—could not have been some biological spandrel, a useless byproduct of the natural selection process.
If I had been sick, then what about my wife, who tried to keep her distance but with only partial success? I fantasized for a few seconds about the two of us in our recovered household, our own family immunity pod, in which we would be able to fearlessly board a subway, bus, take a trip to Latin America and maybe furtively invite our daughter and her also-recovered boyfriend over for dinner. My wife immediately went for an antibody test and her results came back negative. How could that be? It seemed like some sadistic practical joke by the proto-life-form that has upended the existence of the entire human race for the better part of a year.
After months in lockdown, though, I felt I needed to do something besides constantly work, attend virtual meetings, watch Cuomo's daily press briefings and relax with Netflix.
I had seen all the public service announcements and decided to donate convalescent plasma that might help in treating COVID-19 patients.
Giving plasma, which may contain antibodies that block entry of the virus into cells, takes about 50 minutes or so after plopping down in a dentist-style recliner. A donor specialist (a nurse or phlebotomist) pokes you with a particularly thick needle that induces a more noticeable sting than an annual flu shot. A noisy machine with rotating knobs begins to suck blood out of my arm and then proceeds to separate red cells from the plasma, after which the former gets pumped back into my body. The blood center keeps the "straw-colored" plasma, which it describes in a handout as the liquid in which blood cells circulate—composed of 92 percent water, 7 percent proteins—among them, albumin, gamma globulin (antibodies) and clotting factors—and 1 percent nutrients, sugars, fats, hormones and vitamins.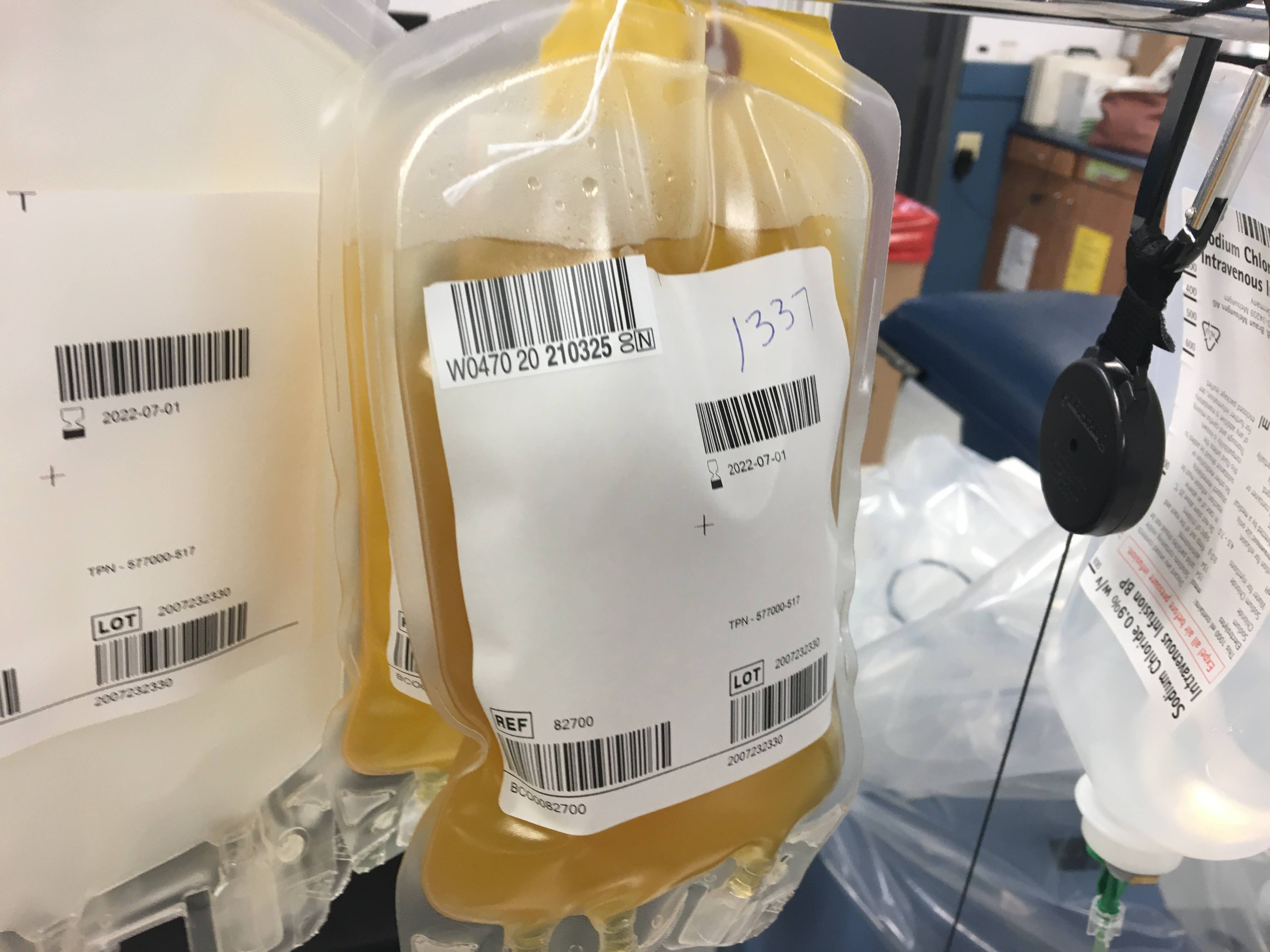 Not much happens during the better part of an hour. Donors, all masked, mostly immerse themselves in their phones, but I spend enough time with my device as it is. It occurs to me that 50 minutes is the span that the typical therapy session lasts. So, I take it as an opportunity to think about what's siphoning out in the tube connected to my arm.
Actually, I sit there and wonder whether I'm wasting my time.
Something like convalescent plasma has a long history dating back more than 100 years, and not just to the 1918 flu. One of the first Nobel Prizes went to Emil von Behring in 1901 for serum therapy, as convalescent plasma was called at the time. Von Behring had taken serum from sheep exposed to diphtheria and used it to treat a child infected with the bacteria. Convalescent plasma was used more recently against Ebola. And my friend Debbie Poncher, who ran the Scientific American Español site, wrote for Scientific American about Costa Rica trying to use an approach like von Behring's in which horses produce antibodies to SARS-CoV-2 to treat human patients.
Plasma has been administered for months to tens of thousands of patients on an experimental basis, but the Trump administration rammed through emergency approval that will broaden its use without waiting for definitive results from randomized controlled trials. It is still unknown whether it works for COVID-19 patients. "Currently, there are insufficient data from well-controlled, adequately powered, randomized clinical trials to evaluate the efficacy and safety of convalescent plasma for the treatment of COVID-19," says the NIH's COVID-19 Treatment Guidelines Panel.
Trump is not a data-oriented kind of guy, and the president came to his own conclusion: "Your blood is very valuable," he proclaimed. His eagerness to push forward also stems from fantasies of a "deep state" conspiracy that is trying to hold up approvals of new treatments to hurt his chances on Nov. 3. I wonder to myself while lying on the recliner during one session whether I and other convalescent plasma donors are being entangled unwittingly into a follow-on chapter to the hydroxychloroquine saga in which Trump recommended without any evidence that the malaria drug was an effective treatment against the virus.
After it was announced that Trump had been infected with coronavirus, I continued my musings, asking myself whether my plasma might be used to treat Trump, as it's one of the few treatments approved (on an emergency use basis, allowed during a public health crisis) against the virus. But then I realize, not a chance. Trump is special. He got access to the still experimental monoclonal antibodies, highly optimized against SARS CoV-2, being developed by Regeneron, a company located only a few miles away from the Elmsford blood center where I give plasma. Then I wonder whether, in a perverse turn of events, the plasma might be used for my own treatment, if immunity fades and I get sick with COVID-19 after a year or so.
There are other things to think about on the recliner. I had a particularly mild case, so the immune response—the amount and type of antibodies—might not be the best to treat a patient with COVID-19. But blood center staffers assure me that they continue to test what I donate, and I'll be notified if my antibodies peter out.
When the 50 minutes are up, I usually go with my wife to a Greek restaurant in nearby Tarrytown. Invariably, as we enter the establishment, she looks at my T-shirt and tells me to "take that thing off." She is afraid that our welcome will be abruptly shortened by the yellow (plasma-colored) sticker, affixed to my clothing before each session, that spells out in big letters: COVID PLASMA.
I'm allowed to donate eight times at one-week intervals. So, I can still make one more trek to Elmsford or another New York-area blood center. Even if my doubts are real, I'll probably make that last contribution when I receive the call, whether or not it really helps.