While most people were doing what they could to avoid the epicenter of the new coronavirus outbreak, W. Ian Lipkin quietly flew to China to get closer.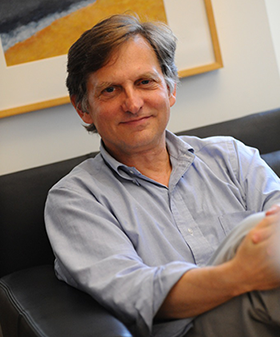 Lipkin, a professor of epidemiology at Columbia University's Mailman School of Public Health, also traveled to Saudi Arabia in 2012 to investigate the first cases of Middle East respiratory syndrome (MERS). And he went to China in the early 2000s to study severe acute respiratory syndrome (SARS), which killed nearly 800 people. This time, he says, his main goal during his weeklong stay in the nation was to figure out which local public health officials and researchers he could best collaborate with in efforts to unravel what triggered the current outbreak of the novel coronavirus—now called COVID-19—and to determine what can be done to prevent a repeat.
Lipkin spoke with Scientific American from his home in New York City, where his university has asked him to undergo a 14-day quarantine and report his temperature twice daily until the virus's incubation period has elapsed. He says he is getting stir-crazy and frustrated at not being able to pursue his research and is planning his next trip to China—possibly as soon as his quarantine ends.
[An edited transcript of the interview follows.]
What did you hope to accomplish during your recent trip?
When I go someplace in an outbreak, I really have an opportunistic approach: You go there; you take an assessment of the situation. You sort of walk around like [the TV forensics drama] CSI and try to figure out whatever you can about the origins of the outbreak.
What do you look for?
You try to figure out who, among the people you meet, is really knowledgeable and sincere, [as well as] who's sincere but not capable of [acting] because of either organizational challenges or a lack of resources. You also try to get some sense of the arc of leadership—who is going to be able to have the impact that you want.
What are some of the key questions you and experts on the ground are trying to answer?
How do you assess who is infected and who is not? How valuable is temperature screening? How do you ensure that you've got quality control—so if somebody tells you they're negative or positive [for the virus], you know what that means? How are you going to make decisions about what tests you're going to use to find out if someone is or is not infectious? How long does the virus persist on a surface? How can people be infected? Is the blood supply safe? How are you guys doing with personal protective equipment? Do you have enough? If everything is shut down, how do you get food? These are really the key issues that came to the fore.
You spent the week in Beijing and Guangzhou, a city in the second most affected province, but not in Wuhan, where the outbreak began. Why?
I did not go to any hospitals or to Wuhan, because if I did, I fear I would not be able to return. I went as far as I could go and still be allowed back into the U.S. [Editor's Note: U.S. citizens who have been to China's province of Hubei, where Wuhan is located, within the past two weeks may be subject to 14 days of federal, state or local quarantine.]
Were you in touch with U.S. officials while you were there?
On a daily basis, I'd call my colleagues at the [National Institutes of Health and the Centers for Disease Control and Prevention] and tell them what I was learning. I would get more accurate information than these agencies had about the number of cases and what was known and not known and who was doing what.
They don't have the access you do?
I have a different reputation, and I can go pretty much anyplace I want. I just can't [necessarily] come back.
A recent study suggests that the pangolin—an endangered, scale-covered anteater—might be the animal that passed the virus to people at a public market in Wuhan. Does it even matter right now which animal was the crucial link between bats—where many coronaviruses are thought to originate—and people?
I don't think there's a whole lot of pangolin eating right now, but some women in China think it's good for you if you're breastfeeding. And people with a lot of medical conditions think it's good for them, too. If we can, in fact, convince people that there's a wildlife source for the new virus and identify the source, and they can't dispute it, it has two benefits: I read something that said 70 percent of pangolins carry this virus. If that's the case, that's good for the pangolins—it makes the argument for not consuming them.
It also reinforces this point, which I was making to everybody while in China: I said, "Look, guys, I talked to you about this in 2003 and 2004 and 2005 and every year since. We cannot have these wildlife markets." I'm thinking that, finally, we're going to get some traction. This outbreak may be the thing that allows us to make this point unequivocally, because it is so expensive for the Chinese government.
From what you saw, do you think the government is handling this crisis as well as can be expected? Or was this disaster avoidable?
There are very good people working there—very dedicated. I ask myself, If we had an outbreak like this here in the U.S., how many people do we have who would be working around the clock? I don't know. I hope we never have to answer that question.
There were officials in the Chinese municipal government who clearly were either asleep at the switch or in some denial mode, because the outbreak should not have gotten to this point. There were signals early on that were ignored. I don't know how high up the chain that went.
You've been to Guangzhou many times before. Was the vibe different this time?
It has no vibe now. It's basically sterile. There was nobody on the streets. Everybody's wearing masks. Almost everything was shut. If you want to get a table at a restaurant that is open, no problem—there's no wait.
Were you nervous that you might catch the new coronavirus?
I would say that I'm not complacent. I have concerns. You can use that to your advantage. It makes you more aware of your surroundings and more careful about what you do and how you mitigate the risk.
What kinds of precautions did you take while in China?
I washed my hands frequently, and I wore a mask—that's really all I could do. I had N95 masks. I brought them with me. And of course, I left some for colleagues in China, where masks are in short supply. I wore gloves a lot—not surgical gloves but leather gloves when I was on the tram, and so forth, and in the airport. It's just prudent to do that. I do that on the subway here in New York.
Are there lessons we can learn for next time, assuming there will be a next time?
We should have appreciated earlier that there was something unusual going on in this area. I've been trying to put together an [international collaboration] that will proactively address these sorts of issues. The idea is that this group will commit to sharing resources, sharing data and posting results to a common Web site—so that as emerging infections are found, people will crowdsource identification of risks and say, "Ah, here's something we can address. What can we do? What does it look like?" I've been trying to get this program funded, and it's very, very difficult. This is something I think would make the world a safer place.