Coffee shops where patrons can cuddle with a cat or pet a dog have sprung up in cities around the world in recent years. But some venues have gone beyond typical domesticated pets: during a visit to Japan, Sharne McMillan heard about otter cafés. She happened to be researching a rare Eurasian otter population for her Ph.D. at the University of Hong Kong, and her interest was piqued, so she investigated further. She found that babies of a different species than she studied, Asian small-clawed otters, could be bottle-fed or walked on leashes at some cafés, while adult otters might be available to play with or feed.
Many humans see otters as furry, squeaky, cartoon-cute creatures that love to play—something like aquatic kittens. But they are also wild animals. McMillan was concerned because the small-clawed otter is designated as vulnerable on the International Union for Conservation of Nature's (IUCN's) Red List, which tracks the extinction risk of thousands of species. "It has a declining population in the wild, and the latest emerging threat to that species is the pet trade," she says, adding that otter cafés might bolster the animals' appeal as exotic pets. And the issue is not limited to otters. In follow-up research covering a broader swath of Asia and published this fall in Conservation Letters, she and her co-authors found these cafés keep a broad range of exotic animals, from iguanas to owls to raccoons. The businesses "influence the accessibility and exposure of these exotic species to the visitors" and thus could fuel the overall exotic pet trade, McMillan says.
To find these cafés, the researchers did online keyword searches, using English and local languages, in 10 regions in Asia. Of the 406 shops they turned up, 27 percent advertised having exotic animals encompassing 252 species of mammals, reptiles and birds. The IUCN classifies 234 of these as threatened—including potential threat from the wildlife trade—or as declining in wild populations. McMillan says the study likely underestimates the number of such cafes because they may not all have an online presence or appear in search results.
Exotic animal cafés are a relatively recent phenomenon. The first appeared in 2011 in Japan, according to McMillan's research, so she thinks they likely have not yet played a substantial role in driving the pet trade. But by providing in-person animal interactions, as well as social media accounts and Web sites that reach a wider audience, she says these cafés could be contributing to the perception of exotic species as acceptable and safe pets—without providing the context of their imperiled status. Some of the shops even offer animals for sale. McMillan's research shows the number of these cafés has grown rapidly, notably in Japan, where more than 60 opened between 2011 and 2018. (Japan's Ministry of the Environment did not respond to requests for comment.) Elsewhere, those in search of an unusual coffee break can also hang with water lizards in Vietnam, prairie dogs in Thailand and African grey parrots in South Korea. The IUCN already considers all of these animals to be under threat from the pet trade.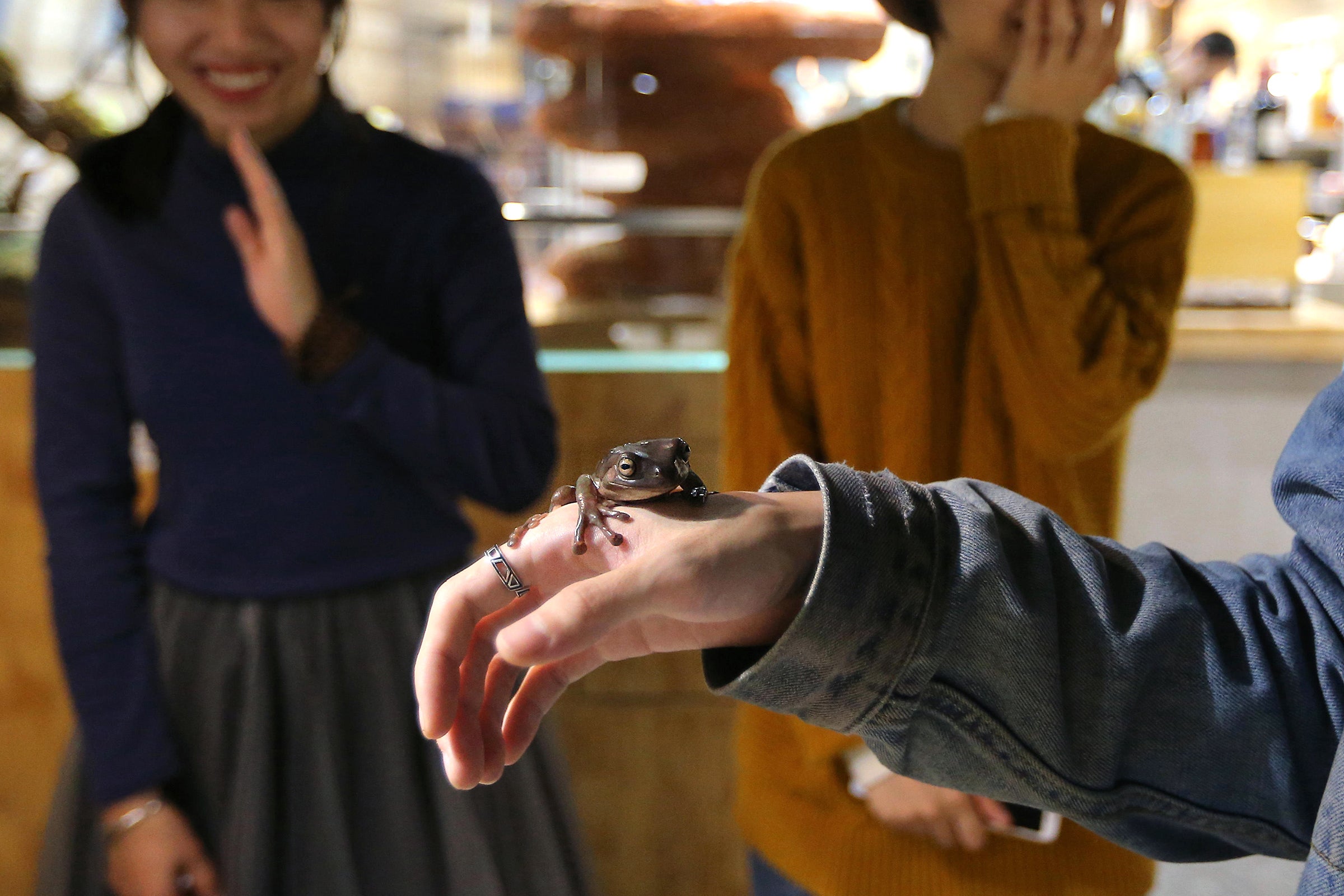 Brett Scheffers, a conservation biologist at the University of Florida, who was not involved with the study, agrees these cafés could normalize exotic animals as pets and help raise demand. "There's lots of misconceptions that these animals are domesticated," he says. "Fundamentally, they are not."
Exotic animals often need special diets, housing and medical care that owners may not be willing or able to provide, according to a 2017 study in Animals. And even in more conventional environments such as accredited zoos, much remains unknown about the effects of visitor interactions on animals, according to a 2019 review in Animals that examined the types of animal-visitor interactions offered globally.
It is also unclear where cafés are obtaining their animals. Some claim to get them from legitimate captive breeders, McMillan says. But research by the nonprofit conservation group TRAFFIC found that, at least in the case of otters, they are part of the illegal wildlife trade. TRAFFIC's investigation traced their origins and found incidents of wild otters being smuggled into Japan—but no evidence of legitimate, regulated breeding operations (as required by CITES, the body that regulates the international wildlife trade). Animal sourcing is a very "blurry area," McMillan says. "We need to be thinking about that. Where are these animals coming from? How are they being impacted? And how does it link into the broader exotic pet trade issue?"
Scheffers's own research has found that almost a fifth of terrestrial vertebrate species are traded, both legally and illegally. It is difficult to determine the sources of many of the animals involved, he notes, because there are "enormous information gaps," even in the legal exotic and wild animal trade. Every species in trade should automatically be regulated "because of how quickly populations become depleted when demand increases," he says.
There is also the possibility that café animals could escape—or be dumped or abandoned—and establish invasive populations, both McMillan and Scheffers say. A 2019 study in Frontiers in Ecology and the Environment found the exotic pet trade is a significant contributor to nonnative species invasions. At least three of the species McMillan found in cafés are highly invasive—and 45 of the 406 cafés her search found had closed—raising questions about the fate of those animals.
There is also the risk of diseases being transmitted to native animal populations—and, in some cases, to humans. The wildlife trade contributed to the spread of the H5N1 virus, monkeypox and other diseases, according to a 2007 study in the Journal of Wildlife Diseases.
Some of the cafés' Web sites say they offer education to patrons, as well as safe and comfortable homes for animals, McMillan says. But more research is needed on local wildlife trade regulations, the pet trade and captive animal welfare to see if those claims hold up, she says.
She adds that any regulations and management should be implemented on a regional basis because the trade in wildlife and popular exotic animals varies greatly by area, as evinced by the different species kept in cafés in different regions. Local economic and cultural contexts should also be considered in future investigations to make it more likely that rules will be followed.
McMillan hopes her research fuels these discussions and helps potential café visitors, including international tourists, make informed decisions. "In a lot of people's minds, it's just an innocent visit," she says. "But there is the potential that you are having an impact on wild populations."