On a chilly January morning in 1964, Russell Culbreath, a U.S. government hunter, trapped a jaguar on the broken hills above the Black River, on the White Mountain Apache Indian Reservation in Arizona. In pictures that appeared in local papers shortly thereafter, Culbreath was shown cradling the head of the sagging corpse. After a few days on display at Fort Apache, the cat was skinned, its skull and remains sent back to a museum in Washington, D.C. As far as we know, this was the last jaguar to inhabit the mountains north of Tucson.
Nearly six decades later, there is an opportunity to bring America's great cat back to the United States for good.
When they think of jaguars at all, many Americans probably think first of football players in Florida or luxury cars from England, but the jaguar Culbreath slew was a gorgeously patterned, heavily-muscled feline, cousin to the lion, leopard and tiger. While many of its American cousins live in the Amazonian rainforest, this jaguar and his kin had inhabited the dry cedar breaks and rugged pine-oak woodlands of the American Southwest for centuries.
Proof of jaguars in North America is ample. In the 19th century, Texas Rangers shot one north of San Antonio. Sam Houston proudly wore a vest made out of jaguar skin. Harder-to-believe but nonetheless intriguing observations come from California, Colorado, Oklahoma and Louisiana—and even Virginia and North Carolina.
The historical evidence for jaguars is strongest in Arizona and New Mexico, especially in the ancestral homelands of the Apache, Yavapai, Tohono O'odham, Pueblos, Hopi, Navajo and Zuni peoples. As the Arizona Territory was settled, Americans hunted jaguars in the mountains north of Tucson to the Grand Canyon, east of the Rio Grande River in New Mexico, and in the "sky island" ranges south to the international border. Ranchers shot and poisoned jaguars, along with Mexican wolves and other predators, to protect livestock that the arid terrain didn't kill first.
When the U.S. Fish and Wildlife Service (USFWS) first listed jaguars on the U.S. Endangered Species Act in 1972, they were protected only in Central and South America. Court cases and scientific papers encouraged a more expansive view.
Policy about jaguars swayed back and forth between dismissive and supportive, depending on who was in charge in Washington. But the arguments were mostly theoretical: jaguars, always elusive and magnificently camouflaged, were practically nonexistent north of the human line that demarcated the U.S. and Mexico.
That changed in 1996, when a rancher hunting for mountain lions found himself face-to-face with a jaguar in Arizona's Peloncillo Mountains. Warner Glenn's photographs of an unmistakable jaguar in unmistakably arid terrain intensified interest in the species. They were the first photographs of a live jaguar ever taken in the U.S. He later wrote movingly of the "eyes of fire" of that utterly self-possessed cat.
Over the last two decades, motion-sensitive camera traps have photographed other jaguars in the mountains south of Interstate 10, including pictures taken as recent as March of this year. For some, such as the USFWS, I-10 has been taken as the natural northern boundary of jaguars in the Americas, despite the historical records to the contrary and even though the road wasn't built until 1956.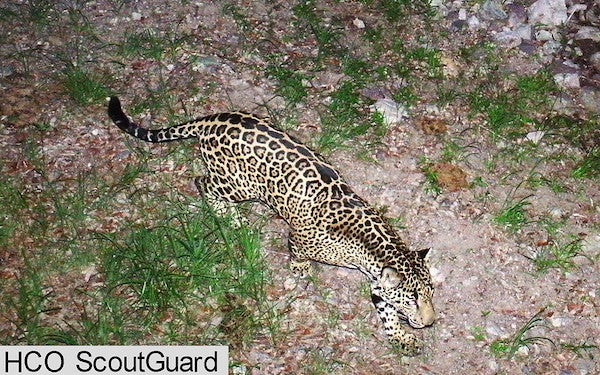 The detection of jaguars in the United States excited the public and generated a flurry of scientific activity. Over the last 25 years, researchers created nine models to predict the species' potential distribution in Arizona and New Mexico, using a variety of different inputs, techniques and starting presumptions. My colleagues and I contributed three additional models, including extending the service's own habitat model north of I-10, to show that jaguars potentially could find enough prey, water, cover and freedom in the central mountain ranges of these two states, between Flagstaff, Ariz., and Silver City, N.M.
This block of suitable habitat is vast, over 20 million acres, an area the size of the entire state of South Carolina. The U.S. Forest Service manages most of this land (68 percent) for the public good, including the health, diversity and productivity of its ecosystems, with several declared wilderness areas. Native American tribes, which have sovereign rights to manage wildlife on their lands, care for another 13 percent.
Before our work, the best available science was that the U.S. could only harbor six jaguars south of I-10. After our work, the new estimate is 90–150 jaguars, a potentially self-sustaining population.
But the jaguar needs our help. Habitat destruction, transportation infrastructure, natural constrictions in the landscape and the border's walls and barriers mean that natural reestablishment of female jaguars from source populations in Mexico 300 miles north to central Arizona and New Mexico is unlikely. A more active approach is needed. Jaguars have been successfully reintroduced to lost range in Brazil and Argentina, and the same could happen here.
Russell Culbreath did a terrible thing, but he was not a villain. It is said that late in life he regretted killing that male on the breaks. Rather, the death of this jaguar is a symbol of the injustices that Americans have meted out to wildlife for over 400 years.
We have forgotten how to live in a respectful and reciprocal relationship with our wild relations. Our forefathers destroyed habitat and took the lives of millions of creatures with hardly a second thought, impoverishing our native fauna, undermining fragile ecosystems and diminishing us all in the process.
But we can make amends. Many Americans in the 21st century want to make amends. Nature is ready, as always, to help and to heal. Let us begin with justice for the jaguar, America's great cat.
This is an opinion and analysis article.