Deep in Texas hill country, about 120 miles southwest of Austin, Joseph Kopser is working voters in a tiny town that calls itself the "Cowboy Capital of the World."
Bandera was a post–Civil War starting point for cattle drives, and one of Kopser's stops as he runs to be the U.S. congressman from Texas's 21st District. On this mid-February morning he seems to be hitting all the right notes. He's an Iraq war veteran. He's a successful businessman. He talks about the vital role of border security for the U.S.
There's one problem: Kopser, a 47-year-old former college professor with an engineering degree who became a millionaire tech entrepreneur, is a Democrat—and this is fertile Republican territory. "You sure you're on the right ticket?" a man in the back of the room shouts.
Later that day Kopser gets a similar reaction from the opposite party. Delivering a short speech to Democrats at an urban community center in northeast San Antonio, he has to defend his progressive bonafides. "I heard you were a Republican in the past?" a retired teacher in the crowd asks.
The exchanges highlight a key point in one of the most symbolically significant races in the 2018 midterm elections. Kopser is trying to replace retiring U.S. Rep. Lamar Smith, a Republican climate change denier and one of the most notorious antiscience figures in Congress. Backed by the science community, Kopser says that at a time when scientists and researchers are increasingly under attack by the White House and some in Congress, the country needs politicians that believe in data and evidence-based policy-making, not ideology-driven policies.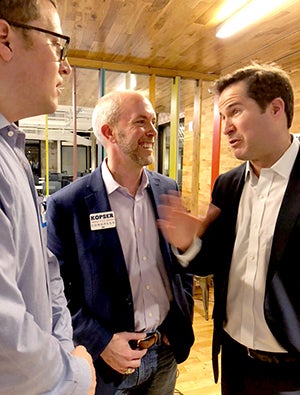 Yet to voters, Kopser has been positioning himself not as the science campaigner but as the crossover candidate. His science positions—Kopser believes in climate change and renewable energy—often take a backseat as a result of his need to play to both audiences in the district's sprawling geography. The 21st includes pockets of the most liberal voters in the state in Austin, moderate Republicans in San Antonio and some of the most conservative in all of Texas in the rural Hill Country.
On one hand, Kopser has the support of a national advocacy group called 314 Action, which helps candidates with science backgrounds run for office. He also has a big war chest, support from local and national Democrats, and has emerged as the presumed front-runner in a field of four Democrats in Texas' first-in-the-nation primary on March 6. On the other hand, he is also the most moderate candidate in that Democratic race. Kopser's upbringing in a Republican family and his admiration for Pres. Ronald Reagan have become fodder for ultraliberal opponents to label him out of touch with progressives.
The candidate says he is not at all out of touch. "All four of us, on so many issues that matter to Democrats, line up 90 to 95 percent," Kopser says."The difference is a path to victory in November. I'm the only one who can reach those voters in the middle."
That reach, or lack of it, is crucial. The district has historically voted Republican for decades and the boundaries have been drawn to keep it that way. Smith held the seat for 30 years. But Donald Trump in 2016 won the 21st by only 10 points, a substantially slimmer margin than previous GOP presidential candidates. Democrats are banking on an anti-Trump midterm wave to make things competitive—a wave rolling out of both parties. "To win this race, it's going to take somebody who can not only win Democrats but can pull in some Republicans who are looking to find common ground and don't like the hostility in Washington," says Joe Trippi, a veteran national Democratic consultant advising the Kopser campaign and 314 Action.
WHAT MATTERS TO VOTERS
Some of that pull showed in Bandera. Bo Mansfield, a 44-year-old land surveyor, was part of a crowd of about 60 people who came out to hear candidates speak. Buzz cut and burly, Mansfield regularly votes Republican but walked away from Kopser's pitch impressed with the pro-military, pro-business and tough border security tone. "I liked what he had to say and his military background," Mansfield said, adding Kopser will get his consideration if the candidate makes it through the primary and onto the November ballot.
But then, at a San Antonio community center, Democratic party regulars—the people Kopser needs as campaign volunteers, donors and voters—had those sharp questions about his true affiliation. Lucille Briseno, 75, a retired teacher, was the person who asked about Kopser's Republican history. She said in an interview afterward she wants someone elected to Congress who "thinks up-to-date with science," but it's not going to be Kopser. "I don't know too much about Kopser but I had heard he's a Republican," she said, "and I'm a staunch Democrat."
Moments earlier, Kopser had explained he was raised in a family of Republicans during the Ronald Reagan era but strayed from the party long ago. Extreme political views underscored by the Tea Party and birther movements, he says, have only fractured the country. Now his values "line up very nicely with the Democratic Party of today," Kopser said.
What he talked about with the group are issues like health care (he wants universal coverage), gun safety (he says he can reason with Republicans on the issue because of his military background), labor laws (companies should be stopped from classifying full-time workers as contractors), along with his military record and work with veterans. Science-related topics such as climate change and carbon emissions were hardly mentioned.
Smith, the retiring Republican, had been chair of the U.S. House Committee on Science, Space and Technology, which gave him a bully pulpit from which he attacked the work of climate scientists and other researchers. His replacement will not inherit the coveted title. Factors such as seniority and standing in the victorious party will determine that.
Kopser said in an interview, however, that the race to take Smith's place in Congress does have powerful implications for society, science and the future of public office. "When you have a president and a Congress badmouthing science, calling things fake, creating alternative facts, dismissing scholarly work—that's like going back to the day and age when people refused to believe the Earth was not flat," Kopser said. "It's just so counterproductive when you lose a generation of kids who think…that scientists for some reason are these make-it-up, agenda-focused, partisan people."
THE LONG RUN
For Kopser and other Democrats, the 21st District is still an uphill battle. Earlier this month Washington, D.C.–based The Cook Political Report, which forecasts elections, moved its race outlook from "Solidly Republican" to "Likely Republican," saying there is a "a shred of hope" Kopser could knock off a "flawed" Republican.
Mark Jones, a political scientist at Rice University's Baker Institute for Public Policy, says the district has always been a bit of a pipe dream for Democrats, although "Lamar Smith's retirement and Donald Trump's unpopularity raises a very distant hope of victory." Kopser's other Democratic competitors, however, are too extreme to appeal to many local voters, he says. "Hope would be quashed if anyone other than Kopser wins the primary."
The candidate himself is convinced the hardcore Democratic progressive base will coalesce around him if he wins the primary and secures more than 50 percent of the vote to avoid a May runoff. Then it will be onto November and the Republicans. Outside of his last campaign stop for the day, a union shop in East Austin, Kopser says he is taking first things first. "Everything is going in the right direction," he says. "My mission now is to communicate to the primary voters that I am sincere in wanting to help."