HIV/AIDS is a primary cause of death in sub-Saharan Africa. It is no longer always a death sentence, thanks to lifelong antiretroviral therapy, but getting treatment to patients is a challenge. Now researchers have conducted one of the most geographically specific analyses to date of HIV prevalence in 47 sub-Saharan countries. The study could help authorities better target treatment and prevention efforts.
"We hope that it will be useful to people on the ground who are in one particular area and add to what they already know about their community," says lead author Laura Dwyer-Lindgren, an assistant professor of health metrics sciences at the University of Washington. "We also hope it will be useful more centrally, at the country level, for figuring out places where the number of people in need is not matched by the resources."
Dwyer-Lindgren and her colleagues created a database of HIV prevalence based on population surveys and data gathered from clinics where women are seeking prenatal care. They used these data to estimate the proportion of people (aged 15 to 49) with HIV from 2000 to 2017 in five- by five-kilometer geographical grids (maps), as well as the number of people living with the virus.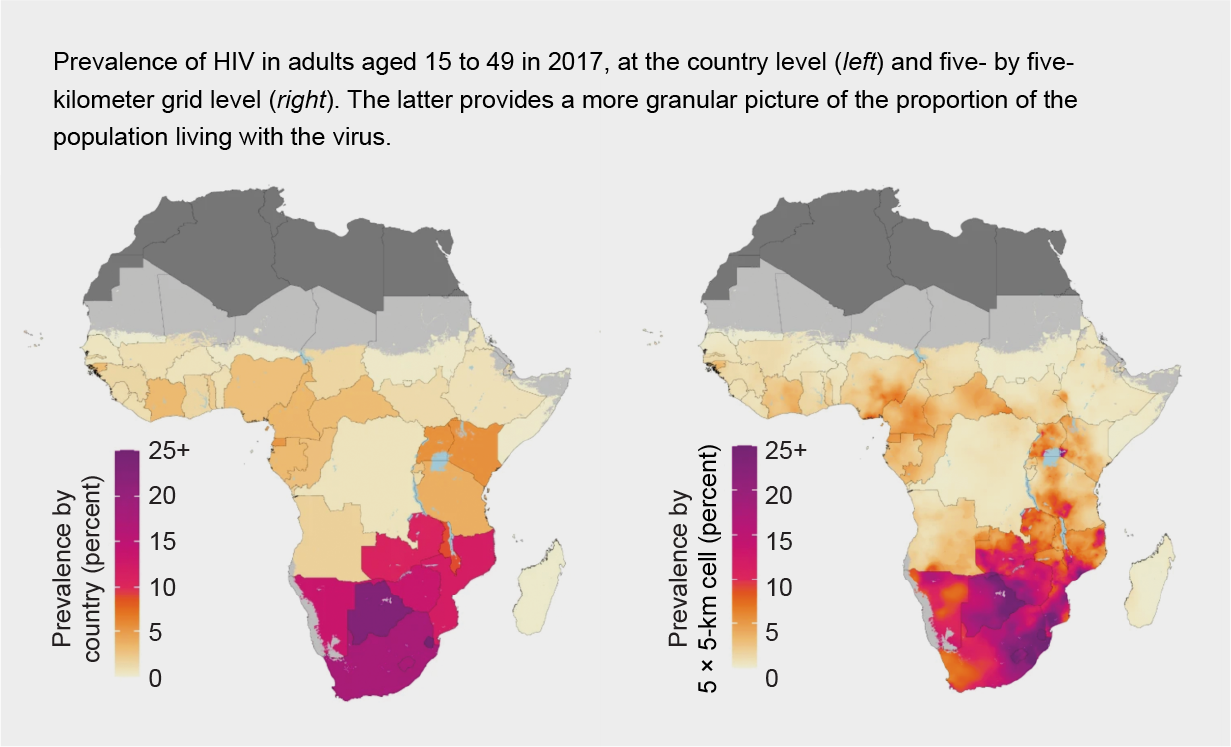 HIV prevalence varied widely from region to region—for example, from 15 percent in Botswana's Ghanzi district to 28 percent in its North-East district in 2017. Prevalence also decreased in some areas, such as Mozambique's Manica district, and increased in others, including its Guijá district.
Having this level of statistical granularity is useful for directing treatment and prevention. "It's a really neat study in that it has synthesized the data over the years that we've been trying to grapple with," says Ayesha Kharsany, a senior scientist at the Center for the AIDS Program of Research in South Africa (CAPRISA), who was not involved in the new work. "We've been very successful making sure that people go on to treatment," she says, but "we need to make sure that treatment is scaled up" and targeted to areas that need it most.
The ability to map at this level is "very exciting," adds Sten Vermund, dean of the Yale School of Public Health, also not involved in the new work. He thinks the World Health Organization and the Joint United Nations Program on HIV/AIDS (UNAIDS) should adopt such methodology for their own reports.
Increases in prevalence are not necessarily evidence of new HIV cases; people with the virus may simply be living longer or moving to different areas. But, Dwyer-Lindgren says, "it's also apparent that many people are not receiving treatment." Getting better estimates of new cases is an important next step, she adds: "There's a lot of work still to be done."