Meeting the Paris climate agreement's targets could prevent thousands of heat-related deaths in cities across the United States, scientists say.
The carbon-cutting pledges nations have already submitted to the Paris Agreement are consistent with global warming of about 3 degrees Celsius above the world's preindustrial temperatures. The ultimate goal is to keep those temperatures within a 1.5 or 2 C threshold—meaning stronger pledges and faster action are needed.
Now, new research suggests that meeting those targets will save lives.
A study published yesterday in the journal Science Advances found that a difference of 1 or 1.5 C of extra warming packs a punch. Led by Eunice Lo of the University of Bristol, the researchers examined temperature data and model simulations of 15 cities across the country. In each one, they found that extreme daily temperatures will be higher under 3 C of warming versus 1.5 or 2 C.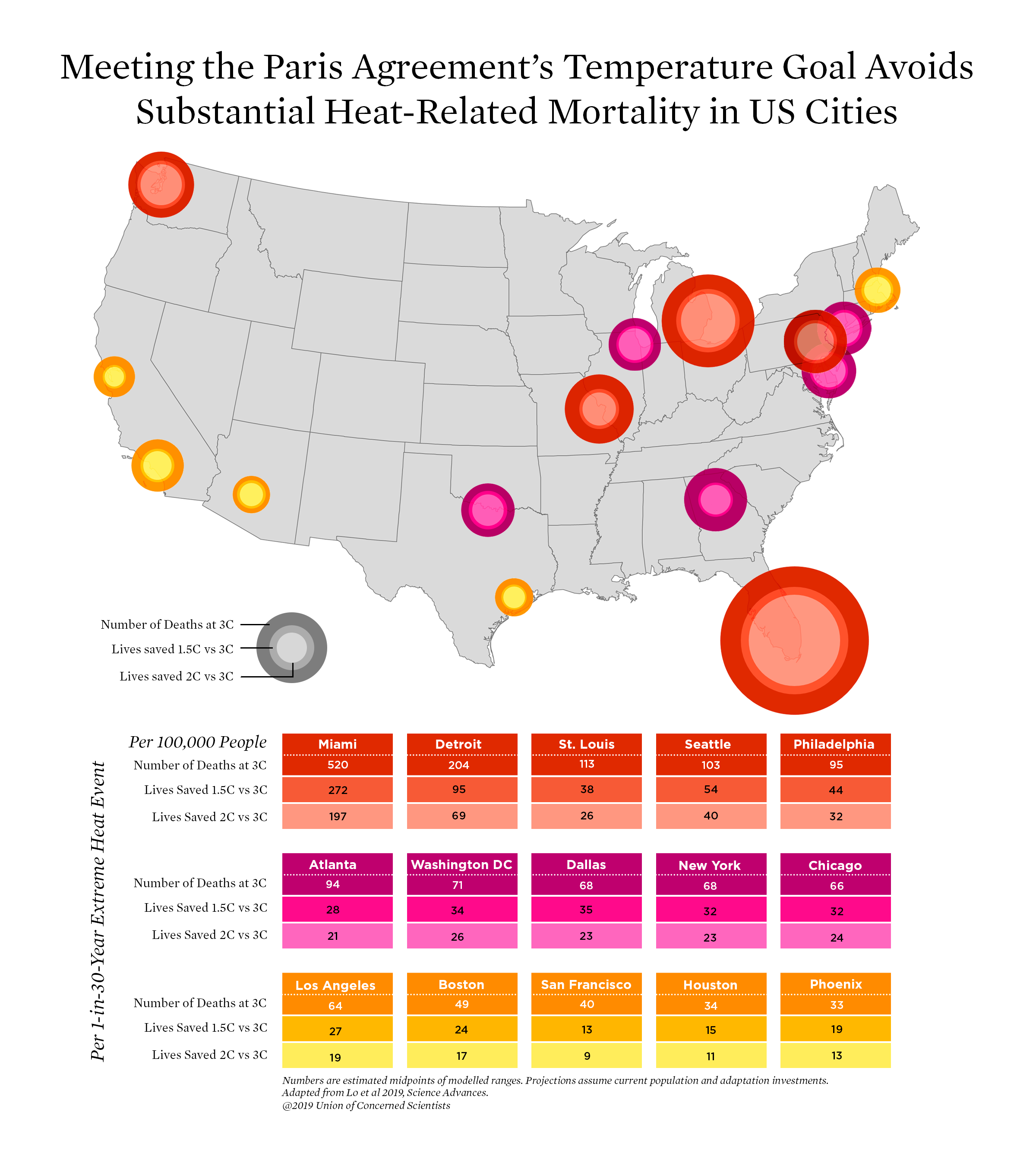 Human health research has consistently demonstrated that heat and humidity can have deadly effects once they pass a certain threshold. The new paper builds on previous studies of the relationship between temperature and mortality.
The researchers chose to focus on the potential consequences of a hypothetical "1-in-30-year" event—an extreme heat wave that statistically should only be expected to occur about once every 30 years. These types of events are already dangerous and would be expected to become deadlier as the climate continues to warm.
The study found that keeping global temperatures within a 2 C threshold, as opposed to 3 C, could prevent anywhere from 75 to 1,980 deaths per extreme event, depending on the city. New York, for instance, is likely to see the highest number of deaths avoided. Limiting warming to 1.5 C could prevent anywhere from 114 to 2,716 deaths per 1-in-30-year event.
Some cities may experience stronger effects than others. New York, which has the largest population of any U.S. city, faces some of the highest number of potential heat-related deaths, and thus the highest number of lives saved with stricter climate action. Los Angeles, Miami, Chicago and Philadelphia also stand to see at least 500 lives saved per 1-in-30-year event by limiting global warming to at least a 2 C threshold.
On the other hand, Miami may face the highest proportion of deaths per 100,000 people, even if the total number of fatalities is lower.
The study is published amidst rising concern about the dangers extreme heat events pose to human health. Last summer, a spate of severe heat waves around the world drew global attention to the risks of rising temperature extremes. From Europe to Japan, dozens of deaths were attributed to the heat.
In some places, researchers are finding that heat-related deaths have already increased in recent years. Another new paper, also published this week, focused on the Las Vegas metropolitan area in the blistering Southwest—a part of the country where concerns about extreme heat are already high. The researchers examined temperature and humidity data from 2007 to 2016 and found that heat waves have become more frequent and more severe over time, although they're also becoming slightly shorter in duration.
The researchers also analyzed data from the county coroner's office on heat-related deaths during the same period. They found that these deaths had increased over time, and the increase seemed to be correlated with the changes in heat.
Notably, the researchers also found that the way heat waves are defined by the authorities, which decide when to issue warnings about them, may be significant.
Lead researcher Erick Bandala of the Desert Research Institute in Nevada pointed out that there's no single standard definition for a heat wave, although many scientists choose to define them as events with temperatures above the 95th percentile of typical daily temperatures, lasting for a few days or longer. This is how Bandala and colleagues chose to define heat waves in their new study—but they found that while many deaths seemed to be occurring during these events, there were still quite a few deaths occurring outside of those boundaries, as well.
After conducting a few more statistical tests, the researchers found that slightly relaxing the definition of a heat wave to include the 90th percentile of average temperatures, rather than starting at the 95th, would mean that many more of the reported heat-related deaths would fall during events classified as "heat waves."
The point is that a significant number of heat-related deaths may occur at a time not recognized by local governments as a heat wave. So they may not issue warnings, Bandala said. By lowering the standards for heat advisories, it's possible that some lives may be saved, he said.
The study generally highlights the fact that heat-related deaths aren't just a risk for the future—they may already be on the rise.
The new projections for U.S. cities are "just in the same line [of findings] that we are reporting," Bandala told E&E News. "That we need to do something about that, otherwise there will be a lot of lives lost if we don't pay attention to this."
Reprinted from Climatewire with permission from E&E News. E&E provides daily coverage of essential energy and environmental news atwww.eenews.net.