Hiral Tipirneni spent nearly a decade working in emergency medicine in Arizona. She started out 23 years ago at Banner Good Samaritan Hospital in downtown Phoenix, treating patients with broken bones, failing hearts and a lot of other problems. Then some health tragedies hit home. "Our family suffered a great loss to cancer: my mom and nephew," she says. Tipirneni felt she should do something to combat the illness that took her loved ones. In 2010 she accepted a position as a scientific review officer for the Society of Research Administrators International, a global research management group overseeing cancer studies.
But when Donald Trump was elected U.S. president in 2016, "I was terrified of the threats of 'repeal and replace' of the Affordable Care Act," she recalls. "After years spent in the ER seeing thousands of families come through with no access to health care..., it was too much to stand by. That prompted me to throw my hat into the ring."
Following a failed bid for a seat in the House of Representatives during a 2018 special election, Tipirneni, a Democrat, is running for the state's sixth congressional district in the November 3 election. The district includes part of Maricopa county and some Phoenix suburbs. She is challenging Republican incumbent David Schweikert, a former businessman now serving his fourth consecutive term in that seat and his fifth overall in the House.
Republicans have held this seat since 1995. But in the middle of a pandemic that has killed more than 5,700 Arizonans—more than 3,400 of them in Maricopa County—Tipirneni is hoping her medical background will carry weight with voters. "We see decision after decision being made not based on data, not based on science, but rather on political expediency, partisanship—or based on the election calendar," she says. "That's blasphemy for a scientist or physician."
Tipirneni is one of several candidates with a scientific background running for federal office this fall. The election will serve as the political climax to a year that saw raging wildfires fueled by climate change, devastating hurricanes and the COVID pandemic, which has claimed the lives of more than 216,000 Americans—a death toll medical experts say has been driven high by politicians who have ignored public health guidelines. Given these catastrophic outcomes, Tipirneni and another physician-politician, Barbara Bollier, who is running for an open U.S. Senate seat in Kansas, hope voters will be swayed by candidates who tout respect for science when making policy decisions.
Both races are incredibly close, with recent polls showing Tipirneni and Bollier either ahead or behind their opponents by only a few percentage points. The stakes are high. If Democrats manage to flip a Senate seat in Kansas, along with achieving a few other wins, they will gain control of the Senate. And Tipirneni winning in Arizona could help them hold onto their majority in the House. Both outcomes would put Democrats in charge of the two houses of Congress, ending the current split with Republicans.
"After a big military conflict, you often see a surge in military veterans running for office," says Eitan Hersh, a political scientist at Tufts University. "Following the 2016 election, more women ran than ever before [in the midterms.] And after COVID-19, it's not surprising that some physicians would run for office, feeling like their voices need to be heard. If there's a big surge in doctors running, some will get in."
Grand Battle in the Grand Canyon State
In Arizona, Tipirneni has raised more than $1 million more in campaign funding than Schweikert. Generally, a September poll by the Arizona Policy Lab found that science-based approaches to fighting COVID, including mask mandates, were popular among Arizonan voters in both parties. "There is really strong disapproval for how Donald Trump and how Republican governor Doug Ducey have handled COVID-19," says Samara Klar, a political scientist at the University of Arizona. Ducey, for instance, pushed hard for the resumption of activities with few restrictions in the spring, only to see a surge in COVID cases that forced another shutdown. Klar adds that polls show that "at the same time, there's been strong support for how local mayors have dealt with it." This, she says, could hurt the Republicans' chances in Arizona.
Schweikert did not respond to requests for comment from Scientific American. He has been a vocal supporter of the use of masks, however. In a July tweet, he encouraged his constituents to "continue wearing our face coverings when out in public, or when in close proximity to others." He also advocated for increased access to federal resources to purchase items such as personal protective equipment (PPE). "We ... ask the U.S. Department of Health and Human Resources (HHS) and the Federal Emergency Management Agency (FEMA) for an immediate influx of federal resources to combat the virus, through increased testing, contact tracing, personal protective equipment (PPE), staffing support, and emergency funding for local initiatives to respond to and mitigate further spread," he and four other Arizonan congresspeople wrote in a letter in August. But despite Schweikert's support for public health practices, his messages may be tainted by the president's handling of the pandemic. Recent polls show that Republicans have begun to drift away from Trump. Biden currently leads Trump, 49 percent to 41 percent, in Arizona.
On energy policy, Schweikert and Tipirneni's messaging diverges. "Arizona should be leading the charge on a renewable energy economy," Tipirneni says, adding that those energy sources are key to reducing the impacts of climate change. "But we have leaders like my opponent, who has stood at every opportunity to block those kinds of initiatives because he is someone who still takes money from fossil fuels and is driven by party leadership to invest in other forms of energy."
Schweikert's platform promotes an "'all of the above' energy solution," tapping into "traditional energy reserves" but also expanding renewable energy resources. In his time in the House, however, he has taken dozens of antienvironmental positions, including voting against protecting Chaco Canyon from oil and gas drilling, banning offshore drilling in the Atlantic and Pacific Ocean, and implementing methane pollution safeguards.
The Kansas Contest
Democrats have not cornered the market on physician candidates. In Kansas, Roger Marshall, a Republican representative in the House and an ob-gyn, is running against Bollier, a Democratic former anesthesiologist, creating a rare doctor-doctor duel. But despite sharing a medical background, the two appear diametrically opposed on issues pertaining to science.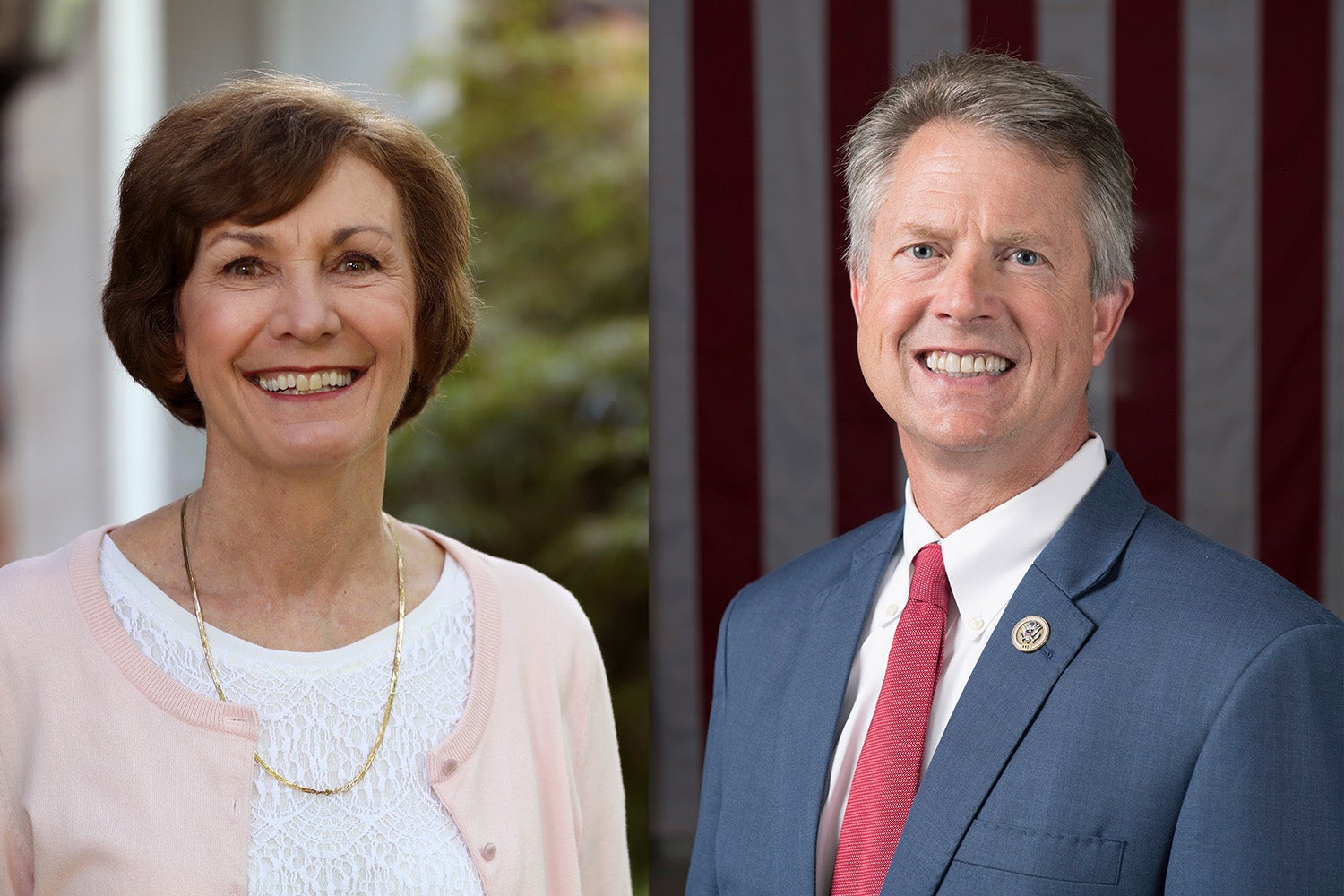 Bollier had been a Republican until she switched parties in 2018 and has served in the state's legislature for a decade. She acknowledges that climate change is caused by people and has committed to greatly expand wind energy in the state. In contrast, Marshall has rejected the scientific consensus on climate, stating, "I'm not sure that there is even climate change" in 2017. His campaign Web site makes no mention of the issue.
Bollier "is a scientist and data nerd at heart," says her communications director Alexandra De Luca. "Barbara follows science. She always listens to the experts. Roger Marshall does not. If Roger Marshall followed science, he wouldn't be holding events indoors, shaking hands with vulnerable Kansans." Bollier's campaign, De Luca says, held more than 40 virtual town halls on Zoom this summer. And Bollier only began in-person campaigning in late August—always outdoors and physically distanced.
Marshall did push for additional coronavirus testing kits for Kansas in April, saying that more testing could keep workers at large meat processing plants on the job—processors in Kansas had already had big outbreaks of the virus. But Marshall differed from much medical research in May, when he told the Wall Street Journal he was taking the antimalarial drug hydroxychloroquine as a preventive measure against COVID-19. Though touted by President Trump as a possible cure, the data supporting the medication was always sparse, and emergency authorization for it was revoked by the U.S. Food and Drug Administration in June. In the May article, Marshall added that he "would encourage any person over the age of 65 or with an underlying medical condition to talk to their own physician about taking hydroxychloroquine." In September Marshall wrote a Facebook post suggesting that most COVID-19 deaths were from other ailments; Facebook deleted the post. His campaign did not respond to Scientific American's requests for an interview.
Marshall regularly plays up his medical credentials: he has given himself the nickname "Doc," and his Twitter username is @RogerMarshallMD. He also has used his medical skills to help in the pandemic, he says. In late April, Marshall tweeted, "Today, I began treating COVID-19 patients on a volunteer basis in Wyandotte County, KS. I began the process of onboarding several days ago, and have started in the clinic today."
Thus far, polls show the race between Bollier and Marshall "as surprisingly close for a Republican state," with all of them falling within the margin of error, says Don Haider-Markel, a political scientist at the University of Kansas. Despite electing a Democratic governor in 2018, he says, the state still leans conservative, and to have a competitive Democrat in the running is "not typical, to say the least." After the economy and jobs, Haider-Markel observes, Kansans care most about the handling of the pandemic in this election cycle—ranking that issue ahead of education and civil unrest. In the final days of campaigning, Democrats are trying to focus attention on health care, he adds, but "it's not clear that voters are prioritizing that more than last month."
Bollier is likely succeeding at picking up moderate Republican and independent voters, Haider-Markel says. Trump's election alienated many Republican women in the suburbs in eastern Kansas and around Wichita who have likely switched to supporting the Democratic candidate, he explains. "I think Bollier's messaging on evidence-based policy will resonate with them—but they were already going to be more attracted to her to begin with."
Patti Doll, a 67-year-old former social worker who lives in Wichita, has been following the Senate race closely. She is a Democrat and says the pandemic has made her pay greater attention to candidates' adherence to scientific guidelines. Marshall, she notes with dissatisfaction, is still campaigning without a mask in October. "It's his job to lead and show people that this is important," she says. "If it was switched, and it was Bollier who was a Republican, and Marshall was a Democrat, I would vote across party lines in this situation. It doesn't matter to me. Follow the science."