Aruna Miller entered June's Democratic primary for a highly prized Maryland seat in the U.S. Congress with several advantages. She had seven opponents, but Miller had pulled in the most money from outside donors, was already a state lawmaker and had locked down endorsements from more than two-dozen of her colleagues, and had gender on her side—women in 2018 are outperforming expectations in U.S. federal election primaries across the country.
But Miller, a civil engineer running to represent Maryland's sprawling 6th District, ran into a daunting obstacle: a business magnate who spent more than $10 million of his own money on the campaign, dwarfing the roughly $1.3 million that Miller raised. David Trone's big money helped innundate voters with his name and his messages, and Miller lost by 10 percentage points.
Candidates with science and technical backgrounds like Miller are running for Congress this year in unprecedented numbers, prompted by Trump administration policies on the environment and health that run counter to scientific evidence. Roughly midway to November's general election, the candidates have reaped a mixed bag of wins and losses. Seventeen people backed by 314 Action, a group recruiting and training such candidates, have been in a primary or special election so far. Eight advanced and nine lost. Four primaries are upcoming in August.
The results show that many factors decide primary outcomes, not just a candidate's support of evidence-based policies or their background in a STEM field. But some of these people have already proven quite capable on the campaign trail and election handicapping experts predict several candidates have good odds of winning in the big election in November.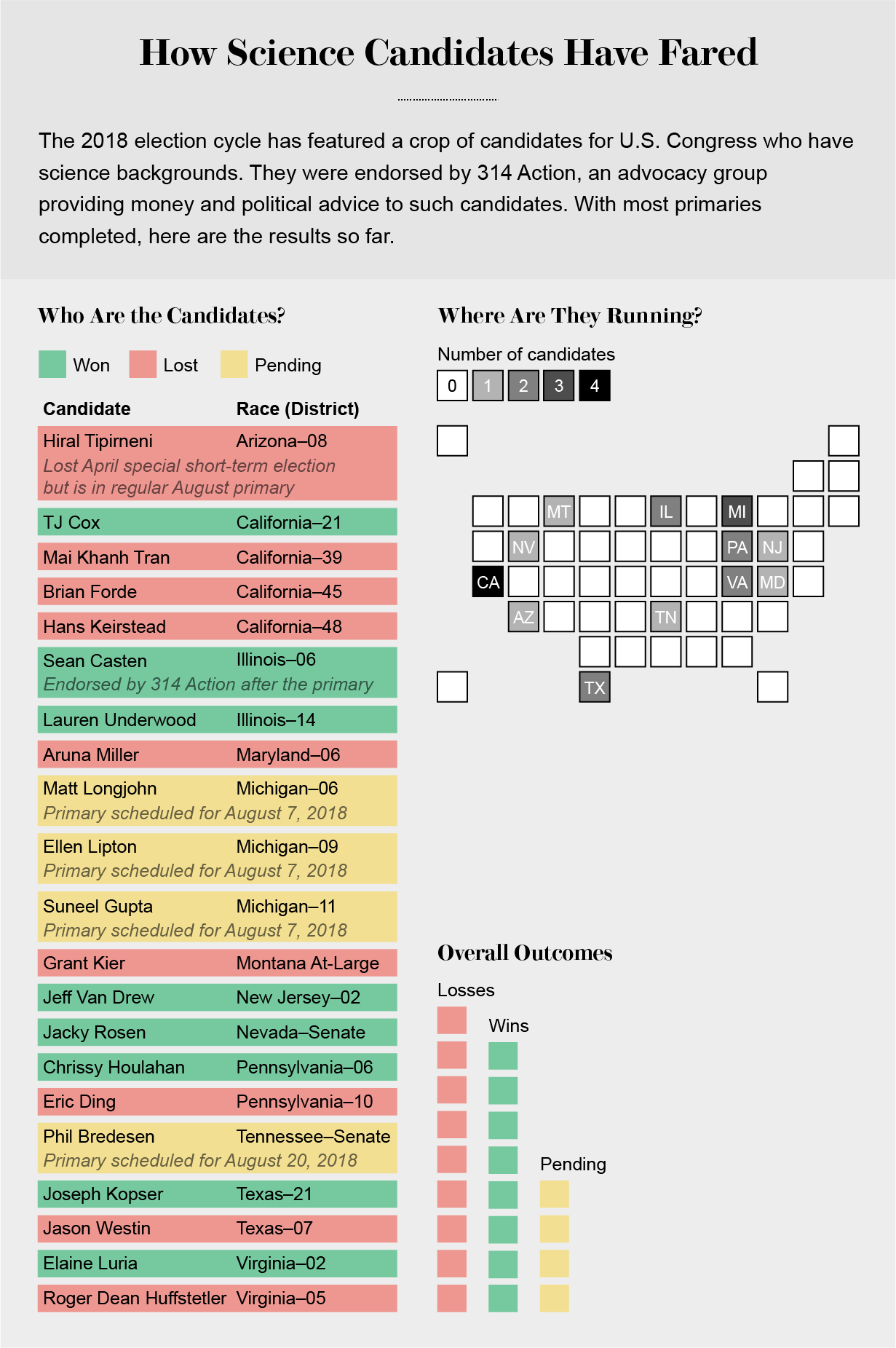 "Rome wasn't built in a day," says Josh Morrow, executive director of 314 Action, which plans to spend $5 million to $7 million to elect people with scientific training in 2018, and is named after the first three digits of pi. "We knew we weren't going to get 100 percent of our candidates through the primaries, but we got a number through and that's success."
This is the first election cycle where there has been an organized effort led by a group spending millions of dollars to attract engineers, researchers, techies and physicians to run for public office. 314 Action has endorsed around 20 congressional candidates—all Democrats. Most are running for the U.S. House, and will factor into the minority party's chances of retaking that chamber and the U.S Senate.
Overall, 314 Action says it has trained about 1,500 people in politics. Some are running in state and local races, while others are becoming activists. Morrow says the number of STEM candidates challenging for congressional seats this year shows "this is not an experiment, but a real movement among the scientific and STEM community."
The movement has had setbacks, including losses in two high-profile Southern California House races, where the group spent about $600,000 total to help a stem cell researcher and a former senior technology advisor to Pres. Barack Obama, who both came up short. Successes include candidates such as Navy-trained nuclear engineer Elaine Luria in Virginia and dentist Jeff Van Drew in New Jersey, who handily won their primaries.
Van Drew, along with Stanford University-educated engineer Chrissy Houlahan in Pennsylvania, are currently two of the 314 Action candidates most likely to win in November, according to some experts who forecast elections. Several other House districts could also produce winners with science and tech backgrounds, and the group's two U.S. Senate candidates are expected to run close races against Republicans in November.
"If we get three, four or five wins on the electoral side that will be incredibly successful for us," Morrow says. "Even if the scientists are losing they're adding to the national discourse in this election. They might help recruit other scientists or inspire a scientist to step out of the lab and run."
During the primaries, obvious science-based issues such as taking action on climate change did not push any candidate over the top; Democratic contenders all support that position so it did not help distinguish one from another. Nathan Gonzales, editor and publisher of the nonpartisan Inside Elections newsletter, which forecasts elections, says being a Democratic candidate focused on science isn't enough to tilt a competitive primary. But he says it can help do other things, such as raising money or getting campaign volunteers. "Instead of trying to make science a winning issue in a Democratic primary, it's probably better to try and leverage that issue into fundraising within the scientific community and win on other points of distinction," he says.
In November's general election, Gonzales thinks that science candidates with no political background—like most endorsed by 314 Action—may have a different kind of advantage. They will be able to position themselves as outsiders to appeal to voters fed up with the status quo of Washington politics, he says. In addition, issues such as climate change and research funding could play a larger role when Democrats face Republicans who have embraced Pres. Donald Trump's anti-science agenda.
One 314 Action-endorsed candidate who has already tested those waters is Hiral Tipirneni, a physician and cancer research advocate running in Arizona's 8th Congressional district. Tipirneni won a Democratic primary and then ran in an April special election to fill a vacancy left by a retiring Congressman. She went up against a Republican in a GOP-leaning district that Donald Trump carried by 21 percentage points in 2016. Tipirneni lost by just six percentage points. The closer margin has ignited Democratic hopes she could flip the district in November, when the seat is up for grabs again, and Tipirneni is the party nominee one more time.
She is seeking a rematch against the same Republican opponent from April, who is now the incumbent in Congress. Tipirneni says mentions of formal science do not permeate her spiel in front of voters, but talking about an evidence-based approach to policy making has become the cornerstone of her campaign. That, Tipirneni says, has resonated with Arizonans. "In this district they have always been fed rhetoric and ideological talking points, rather than hearing factual information that should be guiding our policy decisions," she says. "We have seen enough failures in policies that are purely based in ideology."