When ballots were tallied from Election Day last week, science-oriented candidates for U.S. Congress looked like real winners. Seven Democrats with degrees in science, technology, engineering, and medicine are headed to the House of Representatives; one won in the Senate. In addition, two Republicans with science backgrounds won House seats. The Democrats were endorsed by a science advocacy group, 314 Action, but the Republicans were not. It was not a clean sweep for science, though: Five other candidates who did get the group's backing failed in their bids.
The overall winning record, supporters say, shows science can succeed at the polls, and there is now a base of donors and activists ready to support similar candidates in the future. The new legislators say they will bring a fact-driven approach to public policy. "I'm going to be taking my background in science and medicine and really leveraging that," says Kim Schrier, a pediatrician and Democrat from Washington's 8th District who won a closely contested race. "We need to be making decisions that are evidence based."
Schrier says she is ready to hit the ground running to make good on a campaign pledges to expand the Affordable Care Act, lower prescription drug costs and fight the opioid epidemic. Schrier also says climate change is going to be a focus. In addition to the pediatrician, the new federal lawmakers include a biochemist and clean energy entrepreneur, a nurse, a former computer programmer and several engineers.
Newcomers like Schrier are a small part of the overall Democratic takeover of the House majority. The switch could alter how Congress's lower chamber deals with science. The main House committee overseeing science policy will now be controlled by Democrats and is expected to be chaired by a lawmaker who has already vowed to break with the prior GOP leadership's antiscience positions.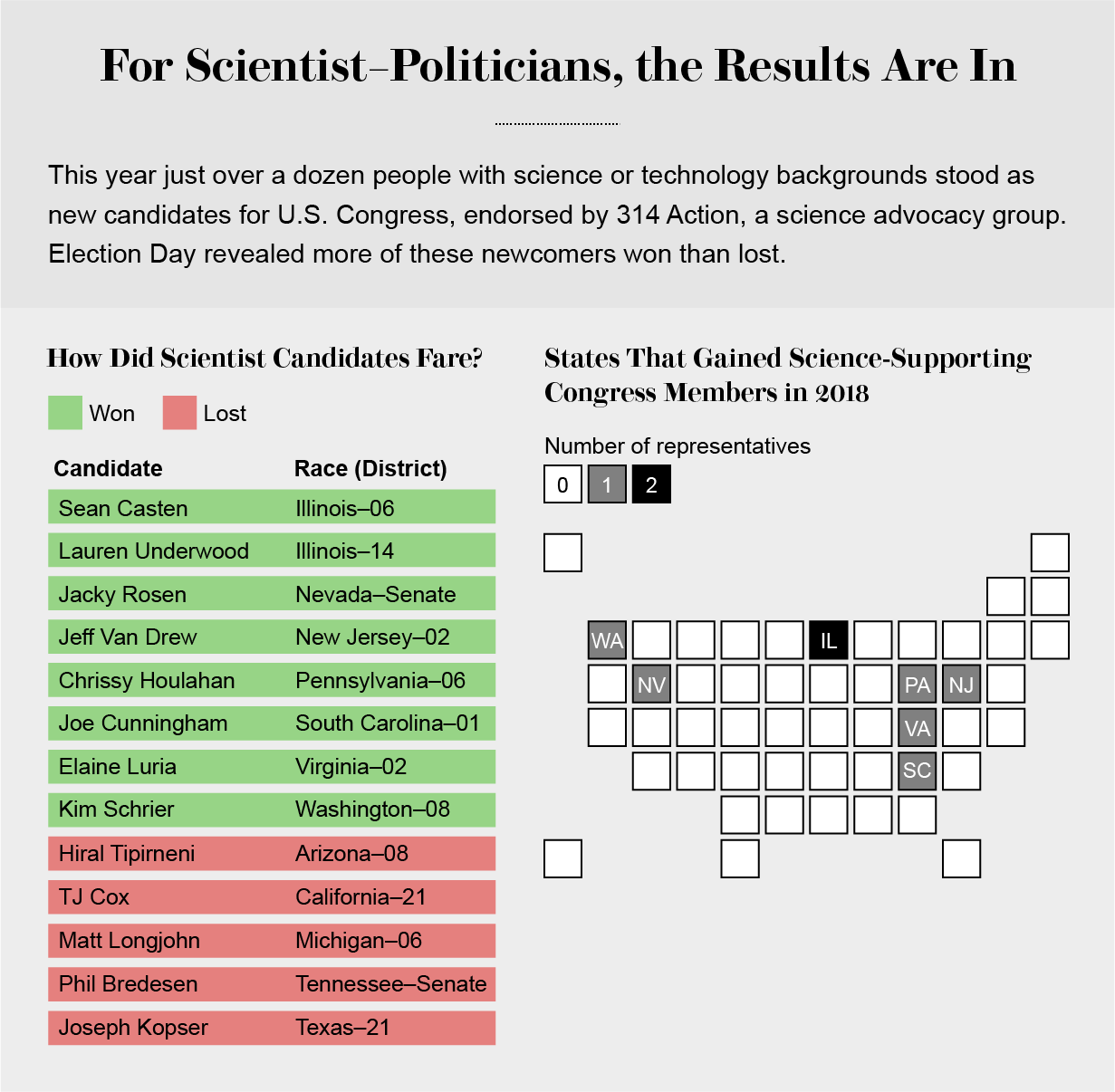 One of the newly elected representatives, Elaine Luria, a former Navy officer and engineer who operated nuclear reactors, won a Virginia House race where climate change was a key campaign issue. In Virginia's 2nd District, a coastal area where sea level rise and flooding is a major concern, Democrat Luria supported clean energy and opposed offshore drilling. Quentin Kidd, director of the Wason Center for Public Policy at Christopher Newport University, says climate concern "was a constant part of her campaign." Her platform also included proposals for more affordable health care, and Kidd says "health care was probably the more important theme but climate change was right behind that." Luria attacked her opponent, Republican incumbent Scott Taylor, for past support of offshore drilling in the region. (He later announced he was against it.) She also hammered his votes to repeal an Obama-era clean water regulation and other environmental protections.
In Illinois's 6th District, Democrat and former biochemist Sean Casten, who beat an entrenched Republican, also made climate change a central component of his campaign. Casten, who had been the CEO of an energy efficiency company, called climate change "the existential threat of our time" on the campaign trail and criticized his opponent over a lackluster environmental record.
But Casten benefited from other factors, says Kent Redfield, professor emeritus of political science at the University of Illinois Springfield. He notes millions of dollars in outside money from a variety of liberal groups—such as the Democratic Congressional Campaign Committee, the House Democrats' campaign arm, and the League of Conservation Voters—flooded the race. There was also deep local disapproval of Pres. Donald Trump and Illinois' GOP Gov. Bruce Rauner. Also in Illinois, Lauren Underwood, a registered nurse and Democrat who won the 14th District, campaigned heavily on health care and benefited from a similar big outside spending push by national groups and voter angst aimed at Trump and Gov. Rauner, Redfield says. "The 14th and the 6th were supposed to be safe districts for Republicans," he adds. "These two races turned out to be good gambles on the Democratic side and for national groups. They had two fresh faces running against incumbents and their messages did resonate with voters."
314 Action, the advocacy group pushing for more scientist–politicians, spent about $2.5 million through its political action committee this cycle. Shaughnessy Naughton, president of 314 Action, says the eight wins by its endorsed contenders for Congress exceeded her expectations. "One thing it really drives home is these candidates can leverage their STEM backgrounds to win races and talk about issues that are important," she says. Her group also claimed more than 30 endorsed winners in state and local races. Along with the political newcomers, two veteran Democratic federal lawmakers with science backgrounds also kept their seats last week. That includes Rep. Bill Foster from Illinois, a former physicist, and California Rep. Jerry McNerney,who has a PhD in mathematics.
Not every new politician with a science or technical background wound up a winner, though. Democrat Joseph Kopser, a former college professor with an engineering degree who became a tech entrepreneur, lost in solid Republican central Texas territory, though he came close. Running to fill the open seat of retiring Rep. Lamar Smith, a veteran Congressman regarded by science advocates as one of the most antiscience lawmakers in the House, Kopser lost by about three points. That is the slimmest margin in decades in Texas' 21st district.
One reason he did well, Kopser says, is that he ran a campaign based on facts and science. "We didn't talk about the politics of division. We didn't talk about fear mongering," Kopser said during his concession speech. "Instead we used facts, and we used science and we tried every chance we had for truth—and because of that we brought the race so much closer together"
Two Republican candidates with science or tech backgrounds won House seats. In Oklahoma Kevin Hern, who has a bachelor's degree in engineering and worked in the aerospace industry, campaigned in part on repealing the Affordable Care Act. He is replacing another Republican, former Rep. Jim Bridenstine, who stepped down earlier this year to become NASA administrator. In Kansas Steve Watkins, an engineer who worked for the U.S. Army, moved into a seat vacated by a retiring Republican representative.
Because Democrats are now in the majority, they will take control of the House Committee on Science, Space and Technology, which had been used by Republicans in recent years—under the leadership of Lamar Smith—to attack and undermine scientists. Rep. Eddie Bernice Johnson of Texas, the top Democrat on the committee and a former chief psychiatric nurse, is already jockeying to become the next chair. In a statement following last week's election, she said the committee under control of Democrats will focus on addressing climate change, "defending the scientific enterprise from political and ideological attacks" and reestablishing the "the credibility of the Science Committee as a place where science is respected and recognized as a crucial input to good policymaking."
Rush Holt, CEO of the American Association for the Advancement of Science and a former congressman—and physicist—says the election of new science-oriented lawmakers will bring a fresh focus on evidence-based thinking to policy discussions on Capitol Hill. He says he is happy to see that, but cautions that actions will prove the best way to judge the group: "We'll have to see now that Democrats are in the majority whether they rise to leadership on issues advancing science."