The southern half of the United States is far less resilient than the northern half, according to a groundbreaking federal study that analyzed factors such as income inequality and religious affiliation in every county.
But one of the least resilient counties, oddly, is New York County, better known as Manhattan, which suffers because residents eschew personal automobiles.
The study, done for the Federal Emergency Management Agency, takes a unique approach to studying resilience by measuring individuals' financial stability as well as their connection to their community. There is no mention of typical resilience measures such as the quality of infrastructure or physical protection from natural hazards. Nor does the study consider risk factors such as exposure to flooding and hurricanes.
"It's knowing your neighbors," said Kyle Burke Pfeiffer, one of the study's authors and leader of the National Preparedness Analytics Group at Argonne National Laboratory in Illinois. "Having relationships allows you to do many things, such as provide care and share flashlights. It helps one think about checking on your neighbors, maybe even building communities with a resilient mindset."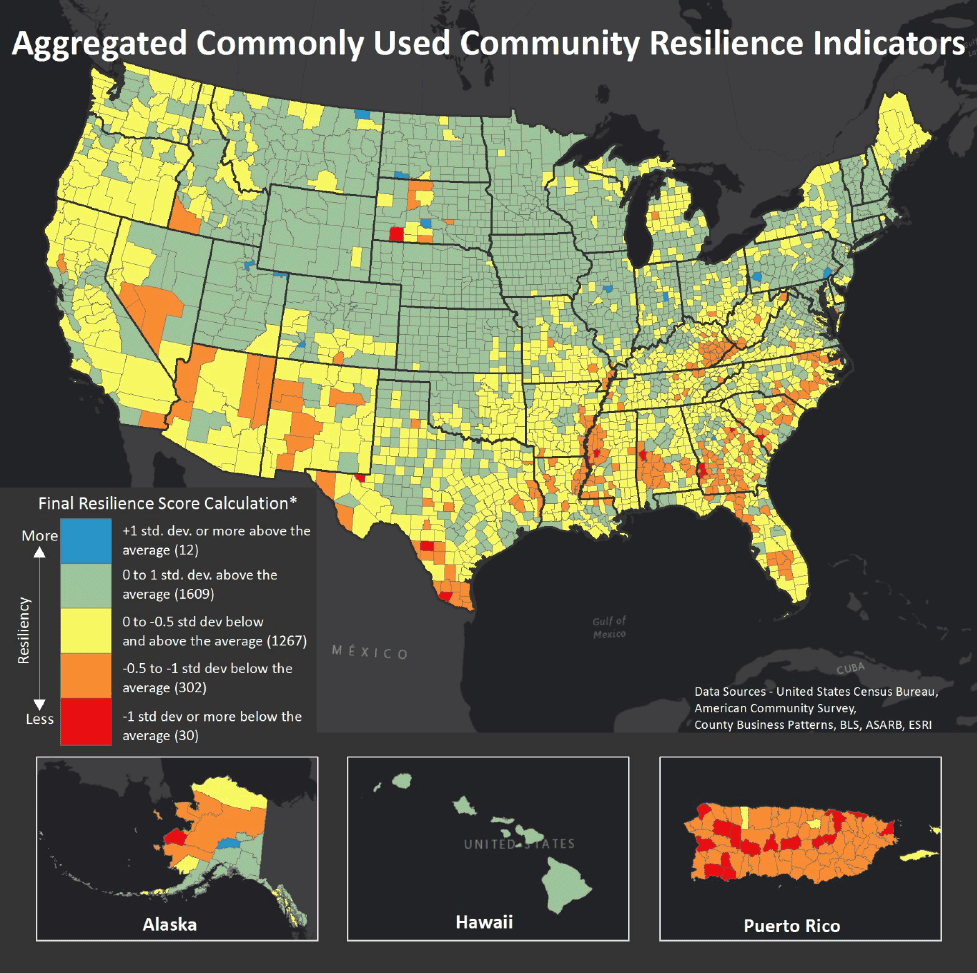 The states with the lowest resilience are roughly the same as the states in which the most number of federal disasters have occurred since 1953, according to an E&E News analysis of FEMA records.
Texas, Louisiana, Alabama, Kentucky and Mississippi all rank in the top 10 in the total number of disasters. Yet in each of those states, a majority of the counties received low or mediocre resilience rankings.
Argonne Lab researchers used publicly available data to compare each of the 3,141 counties in the United States in 20 social and economic categories. Many of the categories are predictable, such as unemployment and homeownership rates, median household income, and the percentage of high school graduates. But many are less obvious.
The study rates each county on income inequality, which, research shows, can hinder a cohesive response to disaster. "When income inequality is present, earnings tend to be distributed in a way that does not support broader community goals," the study says.
"Circles of wealth tend to congregate with other circles of wealth and they create ... an informal class system, particularly in urban areas," Pfeiffer said.
Income inequality is highest across broad swaths of the Southeast and Southwest and lowest in the Midwest and the Washington, D.C., area, where many residents work for the federal government.
The study is part of a growing body of research on resilience that seeks to determine the factors that influence how well a community recovers from any disruption. A 2017 study said there was no "common, agreed definition of community resilience." But the researchers found general agreement that resilience involves community networks, communication, health, governance, preparedness and mental outlook.
The Argonne study counts the number of civic and social organizations in each county relative to population and the percentage of residents who adhere to a religion. Civic, social and religious groups are important during disasters because of the support they provide individuals and the social networks they build for spreading information and mobilizing resources, the study says.
Religious adherence was highest in Utah and in the central United States, from North Dakota and Minnesota to Texas and Louisiana. It was lowest in the Northeast and Northwest. Civic and social organizations were sparse throughout the country, with pockets of strength in Massachusetts, Pennsylvania and southern Florida.
But many of the categories that researchers studied—including hospital capacity, health insurance coverage and vehicle ownership—are tied closely to wealth, which results in a huge geographic divide in the United States.
Rating each county on its overall resilience, the study shows that 89% of the lowest-rated counties are in the South. Georgia, Texas, Kentucky and Mississippi have particularly high numbers of counties with low resilience scores. Puerto Rico also has very low resilience.
"Wealth certainly correlates to being able to afford things like insurance and the ability to pull yourself up after a disaster and get a hotel room," Pfeiffer said.
The study aims to help local emergency managers understand the challenges their communities face in responding to a disaster, and to help FEMA work with localities to improve their resilience, a FEMA spokeswoman said.
The study acknowledges shortcomings. Analyzing data at a county level can "mask pockets of communities or neighborhoods that have significant challenges to resilience, such as migrant communities," Pfeiffer said.
The study also does not analyze county emergency response plans, which could compensate for weaknesses such as a lack of hospital capacity or low numbers of medical professionals.
A few county rankings are anomalous, particularly Manhattan's rank as the 55th least-resilient county in the United States, just ahead of Claiborne County, Miss. Manhattan's per-capita income of $111,386 is the highest in the United States—substantially higher than Claiborne County's $13,095—and it has an enormous number of hospitals, medical professionals and other attributes that add to its resilience.
But Manhattan has famously low rates of home and vehicle ownership, a transient population, and a notoriously small number of vacant apartments, all of which make it less resilient.
The study was published in December and is being updated with recent Census Bureau data.
Reprinted from Climatewire with permission from E&E News. E&E provides daily coverage of essential energy and environmental news at www.eenews.net.