Damage assessments of flood-ravaged communities used to rely on post-disaster surveys.
That's changing.
Scientists at one of the nation's leading climate research consortiums last week released an "augmented reality" smartphone application that simulates how floodwater would inundate specific houses under varying storm surge conditions.
While AR simulations are still an emerging technology, experts say they could help fill a long-standing knowledge gap around flood risk, flood-zone mapping and flood mitigation, experts say.
The "Storm Surge AR" app, developed by the University Corporation for Atmospheric Research in Boulder, Colo., allows users to visualize flood impacts from a bird's-eye view over a property, explore a home's condition under different flood conditions and assess the outcomes of flood mitigation strategies like sandbagging.
By using location services, the app allows users to evaluate their own homes, with floodwaters graphically superimposed over the property.
The technology "will help people visualize the risks, see the possible impacts and then take action to prepare" for flooding, said Tsvetomir Ross-Lazarov, who led the research effort for UCAR's COMET program, a technology advancement initiative composed of university and government experts.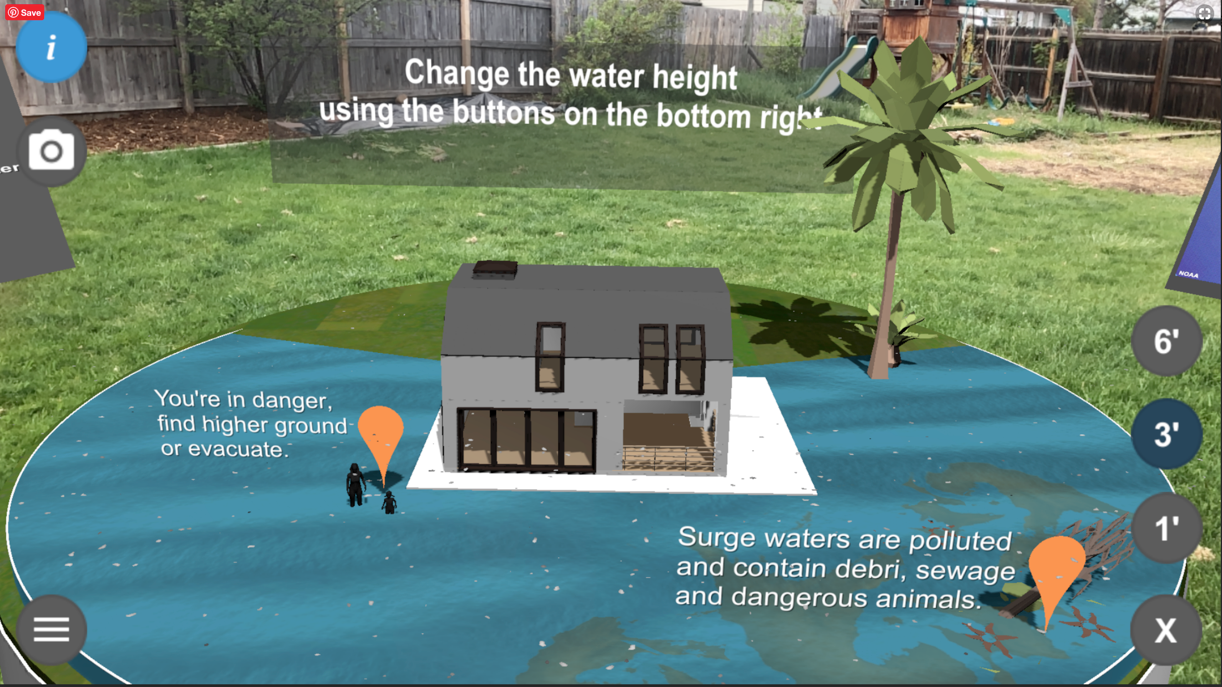 "When you see your house underwater, it creates an emotional reaction," Ross-Lazarov said in a statement. "It's not just theoretical possibilities anymore. You can visualize the real impacts."
Experts say the app could spur homeowners to protect their properties and steer prospective buyers away from properties with high flood risk.
"It is very difficult for people to visualize that a hazard event could even happen to them and nearly impossible for them to understand how severe it could be," said Chad Berginnis, executive director of the Association of State Floodplain Managers. "One feature that is particularly exciting to see is the ability to visualize a flood at your house. Inasmuch as it establishes an emotional response to reduce their flood risk, then it is definitely worth it."
Coastal homeowners have long relied on flood hazard maps produced by the Federal Emergency Management Agency to gauge a property's flood risk. But the maps often fail to reflect real flood risk because they don't account for changing conditions over time, including from sea-level rise and other climate warming impacts.
Such maps "are strictly backward-looking and are out of date as soon as they come out," said Larry Larson, director emeritus of the Association of State Floodplain Managers and an expert on flood mitigation. Yet they are the primary instrument for identifying whether a community is eligible for FEMA's National Flood Insurance Program.
A FEMA spokesperson said officials were unable to comment on the technology due to the ongoing COVID-19 emergency. But the agency has developed its own virtual reality software, called IMMERSED, that "puts users at the center of a flood crisis, allowing them to assess damage in a community and see the benefits of mitigation first-hand."
Private-sector firms like Jupiter Intelligence Inc., Four Twenty Seven Inc., One Concern Inc. and the Rhodium Group also provide simulations of climate change damage scenarios using artificial intelligence, machine learning and other predictive technologies (Climatewire, April 23, 2019).
Reprinted from Climatewire with permission from E&E News. E&E provides daily coverage of essential energy and environmental news at www.eenews.net.