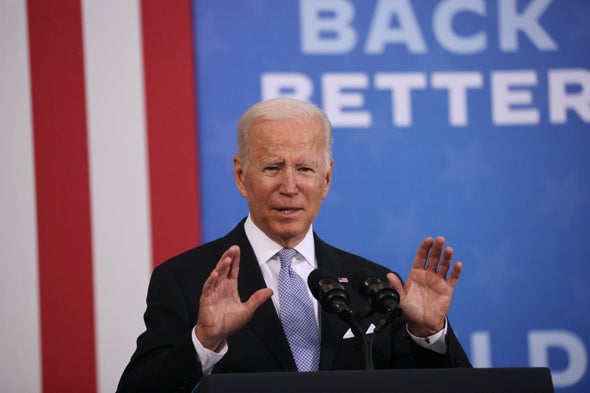 President Joe Biden speaks at an event at the Electric City Trolley Museum on October 20, 2021, in Scranton, Pa. Credit: Spencer Platt Getty Images
I witnessed Hurricane Sandy up close and personal. In Morris County, N.J., we were without power for 10 days following the superstorm's main blast on Oct. 29, 2012. Other areas had it even worse, with the final cost to my home state reaching nearly $30 billion. Sandy still casts a long shadow in the eyes of many families and communities in New Jersey. Sadly, this wasn't a once-in-a-lifetime storm either, which became clear recently with Hurricane Ida. Ida cost over a billion dollars in damages for our state and killed 30 New Jerseyans.
As in New Jersey, the climate crisis is hitting Americans everywhere—our communities, our health and our wallets. This summer alone, one in three Americans experienced a climate disaster. Extreme heat, drought, fires and floods forced people to change their plans and their lives in ways they could not imagine. By some estimates, weather turbocharged by climate change has led to school closures that impacted more than a million students in recent months. Smoke chokes the air, crops shrivel, city officials scramble to develop resiliency plans, and small towns wonder if they can even survive.
As Americans, and others around the world, experience these climate impacts, greenhouse gas concentrations in the atmosphere are hitting a record high. Just this week, the World Meteorological Organization (WMO) announced that carbon dioxide levels surged to 413.2 parts per million in 2020 in its annual report on heat-trapping gases in the atmosphere. This is a 149 percent increase from preindustrial levels, increasing at a faster rate than the annual average over the last decade despite a temporary dip in emissions during COVID-19 pandemic lockdowns. This means that we can continue to expect more events like Hurricane Sandy and Ida—all of which will have far-reaching socioeconomic impacts within the United States and beyond.
In Glasgow, Scotland, starting on November 1, these types of everyday stories must be the focus of the 2021 United Nations Climate Change Conference (referred to as COP26), where leaders will gather to discuss the fate of our planet. The price of climate inaction is only getting higher each year. This is the last, best chance we have to act. The stakes couldn't be clearer.
The question that will be a part of panels, speeches and negotiations will revolve around one simple fact, about which the science is clear: to have a livable world for generations to come, we need to reduce emissions now. Policies and plans entrenched in science can get ahead of still largely avoidable climate change impacts, but will require global cooperation and collective action. America can and must lead on this. COP26 will eventually be described as the most critical negotiations of our generation and beyond. In order to ensure a genuinely productive meeting where countries truly step up and invest in global proactive preparedness for the impacts of climate change, America must be able to showcase efforts undertaken at home.
President Biden and Democratic members of Congress are on the verge of taking action on a Build Back Better Act that would give Americans the critical investments needed to create millions of well-paying jobs, cut pollution that is fueling climate disasters, lower energy costs for working families, and begin to bring justice to communities on the front lines of climate change. In sum, it could meet the "Climate Test" put forward by a consortium of environmental groups, including Climate Power, for which I am an advisory board member. This test asks whether climate actions will put the country on the path to cutting greenhouse gas emissions in half by 2030.
What sort of investments are we talking about? Tax credits for clean energy and lots of them. This is a foundational policy that is a launching point for so much more, and as Jordan Weissman in Slate recently put it, "would be a firehose of cash for renewables." The political debate is also a corporate one. Prominent groups like the Business Roundtable are twisting themselves into pretzels to say they support climate action, while funding efforts to block key provisions of the administration's plan. Meanwhile, major companies like Patagonia, Salesforce, Netflix and Walmart are asking Congress to act, because the United States needs these investments. And, with truly historic climate legislation so close, and a major political party united around it, Big Oil is 'leaving everything on the field' when it comes to fighting the proposed climate rules, an American Petroleum Institute spokesperson told CNN.
It's imperative that the majority in Congress remains resolute and determined to finish the job, even in the face of misinformation campaigns from fossil fuel companies. This can be America's climate moment. The Build Back Better Act will meaningfully tackle climate change and put us on the right path to cut pollution in half by 2030. We must meet this moment and then keep fighting to build an equitable, clean energy future.
Congressional action can send a signal to the rest of the world that America is back at the vanguard for adapting to a warmer planet while staving off more negative warming scenarios. It also shows the world that investing now in climate is better for individuals, communities, businesses, security and health.
The costs associated with the Build Back Better Act pale in comparison to the costs of inaction. Places like my home state of New Jersey are still reeling from the impacts of Sandy and Ida, but could soon see thousands of new jobs in new clean energy if the bill is passed. I want that for my state; and I want that for citizens of the world we share this planet with.
Delivering on Build Back Better is a step forward in our commitment to our country and to the world. With COP26 kicking off, I hope our lawmakers listen to the science, along with the American people, and deliver for us so the next 100 years in New Jersey and elsewhere see an escalation in opportunities and cleaner air, instead of a never-ending uptick in extreme weather.