Different Minds: The Wide World of Animal Smarts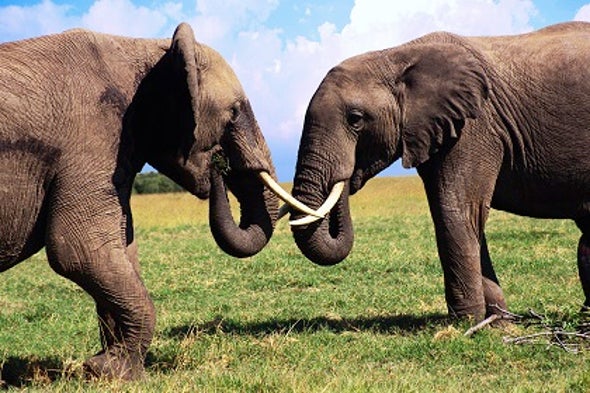 Primatologist Frans de Waal discusses his latest book, Are We Smart Enough to Know How Smart Animals Are? (Norton, 2016).
Steve Mirsky:    Welcome to Scientific American's Science Talk posted on April 29, 2016. I'm Steve Mirsky. On this episode—
Frans De Waal: How do you want to compare us with other animals if there are so many species that have extraordinary capacities? Some of them are very specialized. Some of them, like chimpanzees, they're like us. They can solve all sorts of problems, even a completely new problem that tests new capacities.
Mirsky:               That's Frans de Waal. He's at Emory University in Atlanta. He's the director of its Living Links Center at the Yerkes National Primate Research Center. His latest book is called Are We Smart Enough to Know How Smart Animals Are? In the current issue of The Atlantic Berkeley psychologist Alison Gopnik reviews the book. She says the primatologist Frans de Waal has been at the forefront of research that explores the distinctive ways in which animals think. He is its most important public voice. In Are We Smart Enough to Know How Smart Animals Are, he makes a passionate and convincing case for a sophistication of nonhuman minds.
De Waal was in New York City recently. I met with him at the offices of his publisher W. W. Norton & Company there at the exact center of the universe. That is the corner 42nd Street and Fifth Avenue. So you'll also enjoy a bit of authentic New York street sound. Here's Frans de Waal.
It seems to me that there's a key phrase in your book, evolution pushes cognition around. To me, that was the crux. You have to look at this from an evolutionary point of view. Until you do, as has been said about other things in evolution and biology, it's stamp collecting.
De Waal:            That's the problem with the approach that we've had for the last century. You try to simplify animals and it also meant that all the processes had to be equated. You know a rat. You know a pigeon. You know everything there is to know about animal cognition. Even though a rat and a pigeon are already quite different, I would say, but compare a rat to let's say an elephant, the elephant has a four kilogram brain. So, the elephant must have demands on its brain that are quite different from the rats. Some of that could be its body, of course. But some of that is also cognition I'm sure.
Mirsky:               I have two cats. One day, after I had had the cats for a few months, I realized that they had been training me, not the other way around.
De Waal:            That's always the story of the experimental psychologists also. They think they are training the rats but the rats may be training them. So, we tend to look at animals as trainable and that was, of course, the story of behaviorism. If you give you them enough rewards and punishment, they will behave like you want them to behave, as if that's the goal of what we need to achieve. We need to know how animals are trainable. I would rather understand how do they think and how do they solve the problems in their environment? What kind of solutions do they come up with spontaneously and under what kind of circumstances?
This whole idea of training animals, a little box where you can do nothing else and press a lever to get rewards, that's almost like a fascist instrument. In a sense, it's a control instrument. Why would you want to do that? I can see the advantages for animal trainers, obviously. But other than that, to understand animal cognition, it's not so helpful.
Mirsky:               You can train a bear to ride a bicycle but, in a way, so what? You talk in the book about how I can excite a cat or a dog by throwing something that they'll chase because that's part of the natural behavior repertoire. I'm not going to be able to pull that off with a rabbit, unless I really train the hell out of the rabbit. The rabbit's not going to be all that interested.
De Waal:            All the animals have natural tendencies to hack into wood, or to climb into a tree, or to dig into the ground. All these animals have natural tendencies. That was ignored in behaviorism because the focus was what can we teach them by certain methods? All these natural tendencies, they create learning opportunities.
For example, a chimpanzee or a monkey, they like to climb trees. They're going to learn a lot of things about trees and how not to fall out of them and how to jump from A to B. They're going to learn an enormous amount of things just by that natural tendency that they have. I think that's true for so many animals.
Mirsky:               You have a terrific example fairly early in the book about an experiment in which various species were asked if they could retrieve a banana. These were all primates. They were going to be really excited about getting a banana. The Gibbons couldn't do it. So, people assumed the Gibbons were stupid.
De Waal:            The Gibbons were declared stupid because this was a string pulling task where you need to look at a bunch of strings and pick them up. The string, of course, that's connected to food is the one that you need to pick up if you understand how the task works. The Gibbons were not doing anything. They were declared not as intelligent as the rest until Ben Beck, an experimental scientist, decided that since the Gibbons have hands where they cannot really do much with; these are more hanging hands to hang in a tree. He said I'm going to put the strings in a different way so that they grab them. All of a sudden the Gibbons were just as good as anyone else. So, it was basically the way we tested them.
This has come up so many times. How do you test an elephant? How do you test a possum? How do you test a primate? With the primates, of course, we have a very good sense of how to test them because we are primates. We pick up things with our hands. We have binocular vision and all of that. But how are you going to test an elephant, for example? So, with elephants, people have discovered that they don't like to pick up things necessarily with their trunk if it is an instrument to reach food because they also use their trunk to smell that food. So, they refuse to pick up things, like a stick, to reach food.
Mirsky:               They're blocking their own sense of smell when they do it.
De Waal:            Yeah. So, they don't want to do that. But they do want to move a box under the food to reach it if it hangs high. So, elephants are certainly capable of tool use. This has happened many times. People have made conclusions like elephants are not so smart for this and Gibbons are not so smart for that. That's all negative evidence and is very problematic really. The saying, of course, in our field is like absence of evidence is not evidence of absence. That still holds I would say.
Mirsky:               We're also dealing with humans are the center of the universe. We got rid of the Earth is the center of the universe and then the solar system is the center of the universe. But we're still stuck in a lot of ways with this idea of humans as the pinnacle of creation in the center of the universe. It affects the outlook on all the other species.
De Waal:            We're constantly comparing. It's almost like a contest. Can animals do this or that? For me, the question, am I smarter than an octopus, is really like a silly question. A question like, is a rose a better plant than an oak or something? I don't know how to answer that question. It's the wrong question. But we keep asking that in relation to ourselves. We look at ourselves and we think technology is important and language is important. Then we throw these phenomena at other species and see how far they come.
Take, for example, the echo location abilities of a bat. That's something we cannot relate to. It's something we don't do at all. We consider that a different category. Echo location by bats is like a specialization. We don't particularly care about it. That's because we cannot relate to it. So, we think it's really not that relevant.
Mirsky:               You have one example of an experiment in which monkeys looked to be more intelligent than chimps because it turned out the chimps just didn't care where they were reaching into the hole to –
De Waal:            This was a test that I did myself. I was in a lab where they were testing both monkeys and chimps on a task where they needed to stick an arm through a sleeve. They could feel and they needed to make a manual discrimination. It's called haptic discrimination. It was a very, very simple test. The monkeys would easily do 100 or 200 trials and would do them perfectly well. They showed that they could do this.
The two young chimps that I worked with, which were so much fun basically, they were so curious and alert. They would do 10 or 20 trials perfectly fine showing to me that they knew exactly what the problem was and how to solve it. But then their brain would start to wander and they would start doing other things. They would want to play with me, tickle me, and all of that. So, they were not ready to keep going. Their efficiently was actually much lower than the monkeys, not because they were less intelligent but basically because they were more intelligent I would argue.
Mirsky:               Right. They got bored and they wanted to do something else. You were talking about the echo location and I switched over to the chimps. The echo location makes me think of—it's almost the same thing as you said. For example, if someone was speaking to us, somebody from another planet comes and speaks to us. Their vocal range is higher than our auditory range. So, we can't even hear them. They think we're stupid. Is a naked mole-rat stupid? No. It's really smart at being a naked mole-rat, right?
De Waal:            Yeah. What the emphasis on cognition does compared to intelligence—we usually speak of intelligence in animals, which is fine if you take it as how good are you at finding solutions to certain problems. But cognition is interesting because cognition is information processing. It automatically brings in the senses. How do you perceive the world? How do you process that information to your own advantage?
Cognition is broader and doesn't equate all the species because an elephant has different senses than the bat, the bat different than the octopus, and the octopus different than you. So, obviously, they have different cognitions. The information that they're processing is totally different. That whole perspective still has to trickle through because people are still on a comparative scale.

They're still comparing humans with apes and monkeys and so down the scale. They're thinking in a ladder type fashion where we are at the top, obviously. We always need to be on the top. As soon as we are not on the top, like recently this happened with the young chimp Ayumu who had better memory, flash memory than humans. All of a sudden scientists go into training to show that they can do the same thing. So, they're so upset by it.
Mirsky:               On social media this week, even though the original experiments go back almost ten years, but I've been seeing videos of Ayumu cropping up on Twitter all week where Ayumu is—why don't you explain what Ayumu does?
De Waal:            Ayumu is a young male chimp in Kyoto who has been trained to recognize numbers on the screen. He can look at numbers one through nine on a computer screen and tap them in the right order.
Mirsky:               These are boxes that have the number in the box.
De Waal:            Yeah. What happens is he sees these numbers. If he sees them normally and taps them, that's already remarkable enough. But he sees them only for 200 milliseconds so that's like a fifth of a second.
Mirsky:               They're randomly assorted on the screen.
De Waal:            Yeah. They change position all the time. He sees them, nine blocks on the screen, and he can tap them in the right order most of the time. When this was demonstrated, some scientists immediately started to try to replicate this with their own training but they did only five numbers. I don't know why they stopped at five. I can do five. When I was in Kyoto, I could do five. I had to stare a little bit longer than Ayumu but I could do it. But nine becomes impossible and Ayumu is now training on 15 so we can safely assume that he's going to be better than humans. People are very upset by that.
Mirsky:               What do you think is in the chimp's natural cognition that might be giving the chimp, if you will, a leg up in this particular problem?
De Waal:            We don't know. It's flash memory. My speculation, this totally wild speculation has been that if as a chimp you entered a tree, you need to look at all these branches and know your escape route or travel route, if some big male comes in that you need to get out of the way. You need to know where to go. You map that whole thing in your head very quickly. But that is pure speculation. I cannot really vouch for that.
Mirsky:               Sure, but we do have to try to figure out those kinds of issues when you see the animal be able to perform like that. In the book you talk about, I might not pronounce it right, a fellow named Carol Vanschoyck, the orangutan researcher. I interviewed him years ago. I remember being struck by something he said. He said the cognitive abilities of some of these animals might not even be tapped into until you put them in an unusual setting. They have their standard repertoire of capacities in their home ecology. Then you put them in a cognition laboratory and they might actually come up with stuff that you never dreamed of.
De Waal:            The orangutan being such a big animal living in trees and being dependent on fruit would need to know all the fruit and trees in his area, where they are, what stage they are because it's very costly for him to travel there. It's not like the birds that can fly from tree to tree. They don't waste a lot of energy doing that. But for the orangutan it takes quite a bit of planning.
Carol, who was a fellow student of mine in the Netherlands long ago, recently published a paper on how male orangutans announced their future travel. It was very interesting to us because it has to do with what we call time travel, thinking ahead or thinking back to events. The male orangutan climbs in the top of a tree in the evening before he builds his nest. He calls in a certain direction. Carol has been recording the call. Which direction does he call?
After he has slept in his nest, the next morning he travels in the direction that he was calling in. Carol has been correlating these two things and analyzing it. He's convinced that these male orangutans, to the rest of the forest and all the females in there because he's the king of the whole big territory, he's announcing tomorrow I will be going over there. It's possible. The documentation is quite good. It's based on hundreds of calls. That means he is thinking ahead already one day.
Mirsky:               Speaking of thinking ahead, you tell this wonderful story. Tell the whole story about the grapefruits at the zoo.
De Waal:            What happened at the _____ zoo where I used to work is that one way we decided to do a little bit of filming of these grapefruits that we would hide under the sand on the island to see how the chimps would react to that.
Mirsky:               The chimps are in an enclosure at night but they hang out on this island during the day.
De Waal:            During the day they are on the island. We showed them a whole crate of grapefruits while they were all in their sleeping quarters. They were all locked up still. We thought we would get a reaction from them but they ignored the grapefruits. Maybe they thought they were for us or for somebody else. We then took that crate onto the island. We went through a door to the island. We hid all the fruits for our experiment. We came back with an empty crate.
That's when they reacted. They saw an empty crate and started jumping around, hollering, and slapping each other on the back. I've never seen animals so excited for no fruit at all because there was nothing visible in the crate. They must have deduced that we cannot go out with a crate of grapefruit and come back with it empty without these things staying there.
Mirsky:               They also deduced that you guys didn't eat all the grapefruit.
De Waal:            I hope they realized that. Another thing that happened is there was one male chimp Dandy who ran over some hidden fruits. These fruits were barely covered so you could see only little patches. All of them must have been looking for the fruits.
Mirsky:               This is when they were first released onto the island.
De Waal:            Yeah. He ran over the place. We couldn't see him slow down or nothing. So, we thought he had missed it. An hour later, when everyone was asleep, he was a low-ranking male. He went to the spot and dug them up. So, he knew where they were. He went straight to that spot. But he had decided not to react at the moment that he saw them.
Mirsky:               At the moment he saw them, he made this almost instantaneous calculation.
De Waal:            Yeah. It was better for him, if he wanted to keep his fruits, not to tell anyone and to wait until everyone was occupied with other stuff.
Mirsky:               That's just amazing. You talk in the book a lot about the different capacities, some of the birds that can hide thousands of bits of food for later recovery. They really know where they are.
De Waal:            Yeah. How do you want to compare us with other animals if there are so many species that have extraordinary capacities? Some of them are very specialized like that food hiding bird. Some of them, like chimpanzees, they're like us. They can solve all sorts of problems, even like Ayumu does with these numbers on the screen. Of course, it's not a problem they will regularly encounter in the field so a completely new problem that tests new capacities.
Mirsky:               You talk about the ability of some animals to figure out that they need to use one tool to get at another tool to get at the object of desire.
De Waal:            They have done that with crows, the New Caledonian crows that are very good tool users. They can do multiple steps. Chimpanzees do that in the field also. Chimpanzees carry what is called tool kits, like you carry a screwdriver, a hammer, and something else. The chimps come with three or four different kinds of sticks to a certain problem. They use one to penetrate the problem, another one to dig it out or whatever the task is that they have at hand. They must be planning what they're going to do.
Mirsky:               You have a brief paragraph on this in the book. I recently edited a story in Scientific American by Lee Dugatkin about social networks. He goes into some depth about the situation in Brazil with the dolphins and the human fisherman. That's really pretty amazing. That's another case where it seems like the dolphins trained the humans as much as the other way around.
De Waal:            The dolphins helped the humans catch fish but, of course, the humans then share a lot of the fish with the dolphins. I don't know who trained whom there. There's also the story of killer whales who have trained people in Australia. This was long ago when there was still whaling going on there in Australia. The killer whales would drive a big humpback whale in the direction of the whalers. They would kill it and leave morsels of it to the killer whales. So, there was cooperation between killer whales and humans because they're both smart creatures and they both understand reciprocity.
Mirsky:               We have sirens here. On the way here, a woman from Brazil asked me if I could give her directions. I was happy to do so. I was thinking about reciprocity because we have moved reciprocity from a one on one situation to a species wide arrangement where I help this person who I never expected to see again but I do expect that in the future some other person will help me if I'm lost.
De Waal:            We live in that kind of society. We still rely on these old mechanisms of reciprocity. We apply them now in anonymous relationships where they really didn't evolve. We live in these large scale societies but, of course, everything that we do, all our psychology evolves in the small scale society where you knew exactly who you were dealing with. You would get things back from that person or relatives or whatever.
Mirsky:               What made me think of the siren is these people are off to help strangers in whatever fire truck or ambulance it was. You get into that kind of thing a lot in the book that's now 20 years old Good Natured, which really had a profound effect on my thinking about the natural world when I read it about the evolution of morality really.
De Waal:            That was another interest of mine. At the moment, I'm focused on intelligence and cognition. I was raised as a student in the time that everyone was preoccupied with selfishness, violence, aggression, competition. It was all we could talk about. I was actually more attracted to other topics and saw in my animals that they were doing a lot more than just violence and aggression. They were helping each other. They were empathetic with each other. I got really interested in those issues.
Mirsky:               Talk about the ketchup example where the chimps are dipping the stick into a lot of holes to get ketchup. Then you restrict the number of holes.
De Waal:            This was an experiment. It was done at Lincoln Park Zoo. They wanted to test how chimpanzees deal with competition. The saying in the literature is that we humans are so great at cooperation. Chimpanzees, in contrast, are a very competitive species. They will never manage to set up cooperation like we do. What they did at the Lincoln Park Zoo is they had a mountain like termite hill with holes in it. The chimps were given little dipsticks. They could get ketchup out of these holes.
In the beginning, they had a lot of holes so all the chimps could sit at their own hole and eat the ketchup. Then they started restricting, one by one, day by day. So all these chimps now had to compete over these holes. Instead of five or six holes, they had two or three holes and the same number of chimps. Instead of seeing an increase in competition, the whole group falling apart basically as would have been predicted if chimps are so competitive, the chimps started taking turns. Two or three of them would sit around the hole and, in turn, they would dip their sticks in there. So, they showed – and there are many of these experiments, we have done some also – the chimpanzees are actually very good at dealing with competition and handling these kinds of situations.
Mirsky:               They came to an arrangement where they understood that we're all going to get plenty. We just have to be patient.
De Waal:            There are lots of animals who can fight but don't fight under certain circumstances. There's an old experiment that Hans Kumar did in the field. He worked with these hamadryas baboons where the males are huge and they have enormous canines. They are very dangerous. They can kill each other. So, he would throw a little peanut between two males and the males would ignore the peanut. He said you would swear that they were blind basically.
His control test was, of course, if a single male would walk up to him, he would throw a peanut and the single male would always take the peanut. But as soon as there were two males, the peanut was not worth taking because they could get into a fight over it. It was just not worth it.
Mirsky:               That's a real example of intelligence. You also talk in the book, another standard test is the floating peanut, and various animals will add either more water or rocks to the—
De Waal:            It's a very complex task. You give a chimpanzee a transparent vertical pipe. At the bottom there is a peanut. The chimp sees nothing else. Of course, the first thing the chimp does is shake the pipe and put its fingers in it and all of that. If nothing works, there are some chimps, not all of them but some of them, will turn around and go to the water faucet and suck up a lot of water and spit it in there. We even had one female that tried to pee into it. She was not so successful with it but she tried to.
Mirsky:               She had the right idea.
De Waal:            Yeah, she had the right idea. If you do that test on children, they don't solve it. Four year olds, there are only eight percent who solve it and eight year olds, only 50 percent. So, children have a lot of trouble with the task. That is because the water is in the faucet. The water doesn't even look like – you have to think up the solution. It's what Curly used to call insightful solution and chimps are capable of that.
Mirsky:               There were birds that figured out that if there was already water in there, if they added rocks, they could raise the level of the water until the peanut became available.
De Waal:            That's an old Aesop fable. Aesop had this fable of the crow who found a can with water and he couldn't reach the water. He started throwing stones in it until the water came to his level. They have repeated it now in certain labs.
Mirsky:               That's literally thousands of years old but it has now been shown to be true. There was another example of, I can't remember the particular behavior but somebody had noticed it in South America 500 years ago.
De Waal:            This is nut cracking by capuchin monkeys. It was rediscovered, so to speak, just 10 or 20 years ago. Actually, the chimp experts were a bit upset by it because – that's another thing. We have these competitions between people, like my crows are smarter than your monkeys and that kind of stuff. The chimp people were not entirely happy because they had a very nice story about the tool use of chimpanzees. They crack nuts with stones. They've reached the Stone Age just like we did at some point. It was all a nice coherent story in which monkeys did not belong, certainly not South American monkeys. The capuchin monkeys are very sophisticated. They bring their tools from distances. They wait until the fruits are ripe to hit them with the rocks that they use. It's all very sophisticated.
Mirsky:               Just this week we got evidence that South American monkeys probably reached the continent much earlier than we had previously thought.
De Waal:            The South American primates – when I started working with capuchin monkeys – they were often depicted as a bit dumb compared to all the other primates. They were primitive and they were dumb. You've heard this so often about animals. In my mind, there are no dumb animals. But, anyway, people would say that. Capuchin monkeys are actually fairly sophisticated. They have a larger brain than most other monkeys. They have a brain as large as a chimpanzee compared to their body size. They're very manipulative in tool using primates. I wouldn't rate them at the same level as a chimp necessarily but they're very smart primates.
Mirsky:               Again, this whole question of rating different animals is problematic.
De Waal:            Yeah. It's a leftover of the natural scale, the natural ladder, which came out of Greece, the scala naturae. Everything needs to be on that level. Obviously, humans need to be on the top. I look at the intelligence of animals more like a bush. There's an enormous bush with all sorts of branches. Sometimes there are specializations that you can't even imagine, like echo location in bats and in dolphins. We cannot relate to that. That requires a cognition that we don't have. We may look down on it because we don't have it and so we cannot relate to it. But it is, of course, very sophisticated to detect prey in flight and to catch it in flight based on bounced back sounds of yourself. That's a very complex task.
Mirsky:               When we look at chimps and they look, obviously, intelligent to us. Physically, obviously, evolutionarily they're close to us. When we rate their intelligence, are we just saying they're close to us, therefore, they're intelligent? A snake does not have that same intelligence because it's much further away from us evolutionarily, let alone a fish.
De Waal:            Yeah. We're impressed by chimpanzees. Some people, of course, are not impressed by chimpanzees. That is partly because they are so similar to us. They can do things that we can. We can relate to that. What a bat does, what a dolphin does, or what an octopus does relates much less to what we do. So we don't know where to put that.
For example, the octopus needs to perceive its whole environment and then, at some point, it may adopt the color of its environment. This is a cognitive task. You need to fit in. In order to hide yourself, you either adopt a color, or you start walking in a particular way, or you cover yourself with coconut shells, or whatever the octopus does to solve that problem. It is an intelligent solution probably based on learning. That's what we assume. The octopus has enough brain cells to do that. We cannot relate to that so we discard it as not so interesting.
Mirsky:               Again, just this past week, we had this incredible example of octopus intelligence when an octopus escaped from its tank somewhere. I think it might have been Australia.
De Waal:            New Zealand. It's Inky the octopus who left its tank. I'm a bit skeptical about it because the octopus is said to have found a drain and gone to the ocean through the drain. How many drains lead directly to the ocean? That's one question I have. It's very dangerous for the octopus. It was not necessarily a smart thing because leaving your tank with water for an octopus is not necessarily the best thing to do. It may end up shriveled up and dry on the floor. I'm a bit distrustful of the PR department of that aquarium.
Mirsky:               We need more data. You remind me of the story in your book about the two chimps who got out of their cage. Nobody would have known because the next morning they had let themselves back into their cage and even shut the door behind them.
De Waal:            Yeah. They had closed the door behind them. So, when we arrived and found them sleeping in the cage we were convinced nothing had happened. But then a secretary came screaming down the hall that there were some droppings in the hall. Where did they come from? We knew very soon where they came from.
Mirsky:               These guys were so cunning that they let themselves back in so that nobody would be the wiser. They just weren't cunning enough not to do their business in the hall.
De Waal:            There's an even stronger story. This was in Switzerland where the orangutans at the zoo had a skylight above them. They completely dismantled it. The whole skylight would come out. It's only years later that they discovered that every night on the summer nights when there was nice weather, these orangutans would be living on the roof. In the morning, before the keepers came, they would go back into their cage and put that whole skylight back up. They must have been doing that for the longest time and no one had even noticed.
Mirsky:               That's amazing. You talk about the orangutans very carefully dismantling their cages and hiding the screws and bolts so that no one was the wiser until the cage actually just fell apart.
De Waal:            That's actually something that the zoo people know. That's also why it's so intriguing. For the longest time, orangutans were considered not particularly good tool users, even though in zoos they are the best escape artists. They're wonderful tool users. So, no one could explain that until, of course, some field workers found a group of orangutans that use tools quite extensively in the field. The orangutans are known for that, to hide the evidence of their undoing of the cage.
Mirsky:               To wrap up, we really shouldn't ask which animal is the smartest other than us or which animal is smarter than this other animal? The questions are so laden with baggage.
De Waal:            The question should be how did cognition evolve? Why do certain animals have this cognition or that cognition? How does it serve them to have these abilities? The contest type of which is smarter, a dog or a cat, which is such a strange question to me—
Mirsky:               It's obviously a cat.
De Waal:            You think it's obviously a cat.
Mirsky:               I'm just kidding. It's because I'm a cat owner.
De Waal:            I know quite a few dog owners who feel differently. Why do they feel differently? Is it because the dog is happy to see them and follows their orders, which the cat doesn't do? As soon as someone follows your orders, they must be a smart animal. That's sort of how we think. But this whole contest type thinking, who is smarter and who is dumber? It's very alien to me and has no function in science. In science we have very different questions.
Mirsky:               What do you mean?
De Waal:            The questions that we're after is why do certain species have the cognition that they have? What do they do with it? How does it serve a purpose for them? What are the peaks of their specializations, so to speak, and so on?
Mirsky:               To do that, you really have to look at their evolutionary history and their life history.
Mirsky:               Great stuff. Thanks so much for taking the time. Thanks for the book. It's terrific.
De Waal:            Good. Thank you.
Mirsky:               That's it for this episode. Get your science news at our Web site, www.scientificamerican.com, where you can check out Colm Mulcahy's review of the new movie The Man Who Knew Infinity, about the incredible life of math genius Srinivasa Ramanujan. Follow us on Twitter. We'll get a tweet whenever a new item hits the Web site. Our Twitter name is @sciam. For Scientific American's Science Talk, I'm Steve Mirsky. Thanks for clicking on us.