Dinosaurs Got Cancer, Too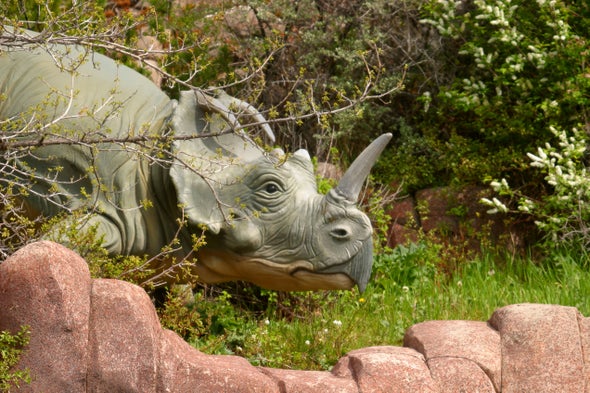 Researchers seeking evidence for cancer in dinosaurs found it in a collection of bones at a paleontology museum in Alberta.
"Given that hundreds of thousands of dinosaur bones have been dug up, is there any evidence that dinosaurs got cancer there?"
David Evans, senior curator of paleontology at the Royal Museum of Ontario in Toronto, at a recent museum fundraising event.
"There had been a few studies that had kind of suggested, based on gross anatomy, that dinosaurs might have gotten cancer. But there was nothing compelling from a medical standpoint. And from that point on, we decided to go on a hunt for rare dinosaur diseases, in particular cancer."
So in 2017, Evans and colleagues went digging through a collection of dinosaur bones at the Royal Tyrrell Museum of Paleontology in Alberta—a hotbed of dinosaur fossils.
"And out of the hundreds of dinosaur bones that we looked at, we found one that was a candidate for bone cancer."
The bone specimen Evans and his colleagues found comes from a dinosaur that roamed western Canada between 70 and 75 million years ago. The creature is called a Centrosaurus.
"Centrosaurus is a horned dinosaur. It's about the size of a rhinoceros, and it's a close cousin of the famous triceratops, so it looked very similar. It would have a parrot beak at the end of its large skull. It had a neck shield similar to triceratops and walked around on four feet and ate plants."
Its apparent cancer is a particularly aggressive type.
"And this would have made it more vulnerable to the top predators at the time, which were the cousins of T. rex. But we actually don't think it's the cancer that killed this animal—which, if it would have been allowed to run its course, it certainly could have been fatal
The tumorous bone was discovered among thousands of other bones from the same species. All these animals appeared to have died in a coastal flood.
"And this flood looked like it killed a herd of these horned dinosaurs, Centrosaurus, which are known for living in these social groups. And we suspect, although we can't prove, that the cancer could get to such an advanced state because this animal was able to benefit from the safety of numbers of being in a herd. Whereas if it was out on its own, with this devastating disease, it would certainly have had a good chance of being picked off before the cancer progressed this far."
The study is in the journal Lancet Oncology. [Seper Ekhtiari et al., First case of osteosarcoma in a dinosaur: A multimodal diagnosis]
Evans says the research introduces a new way to study paleopathology in the fossil record.
"This discovery definitely takes dinosaurs, which we often think of as almost mythical, powerful creatures, and, I think, it shows that they were real animals. And it's really unique and sobering that they got diseases similar to the ones that humans get today. And they would have suffered greatly from these diseases, and so it brings them to life in a really unusual way."
—Emily Schwing
[The above text is a transcript of this podcast.]