Feed Microbes Oxygen to Help Clear Spilled Oil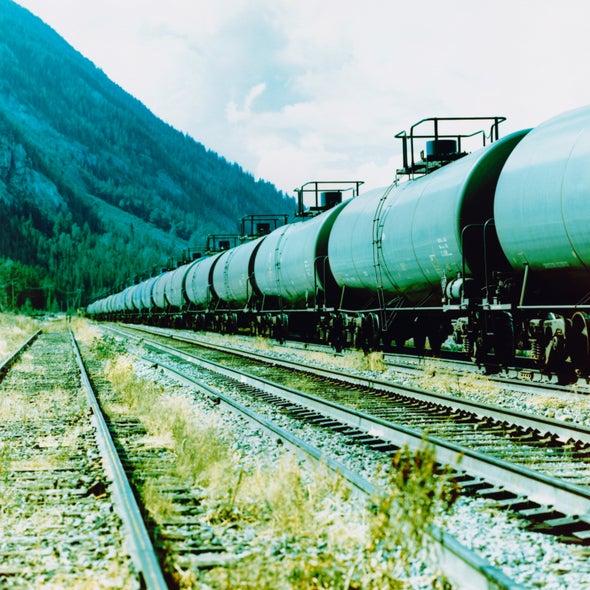 A technique called "biosparging" relies on pumping oxygen underground to help naturally occurring microorganisms multiply and consume oil spills.
On June 3rd, a train loaded with highly volatile crude oil derailed just outside the small town of Mosier in Oregon's Columbia River Valley. More than 40,000 gallons of crude spilled out of the train. Some burned away in a 14-hour long fire at the scene. Some got into the wastewater treatment system. And some of the spilled crude oil found its way into the nearby groundwater.
Crews with Union Pacific Railroad Company and the Oregon Department of Environmental Quality are now focused on getting that groundwater clean again. They're using a technique called "biosparging," which helps the naturally occurring microorganisms at the site consume the oil. The biosparging relies on pumping additional oxygen underground.
"And this additional oxygen will cause the population of microbes to expand very quickly."
Oregon Department of Environmental Quality project manager Bob Schwarz.
"So the more microbes, the more quickly the oil gets consumed."
Schwarz says it's unclear exactly how much oil contaminated the groundwater.
"We're measuring it in hundreds of parts per billion, with a 'b,' so it's a very small mass. But the levels are still high enough for us to have to clean it up."
Schwarz says the groundwater treatment system will likely continue for the next year. Meanwhile, trains will resume carrying oil through the area—a move that, according to Oregon Public Broadcasting, local fire chief Jim Appleton called "insane" at the time of the accident.
—Emily Schwing
[The above text is a transcript of this podcast.]