Frog Picks Maternity Ward Like Goldilocks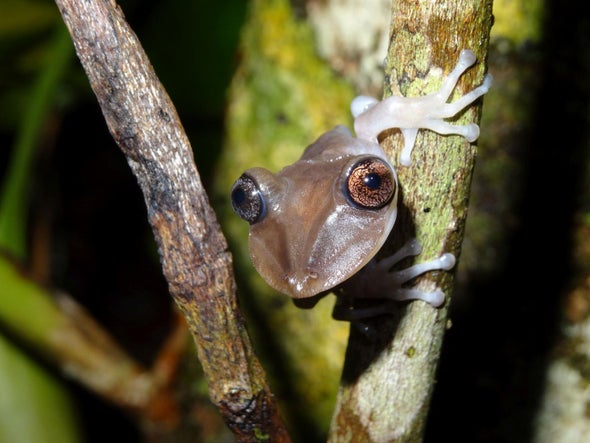 The Bahia's broad-snout casque-headed tree frog needs a pool to raise its young that's just right.
In the jungle, home is anywhere you can raise your babies—while trying not to get gobbled up by somebody else. Take a tiny creature from Brazil whose name is longer than it is: the Bahia's broad-snout casque-headed tree frog. It likes to hang out in the little ponds that form in cavities within bromeliad plants.
These petite pools are technically known as "phytotelmata," from the Greek words for plant and pond. A male finds a bromeliad and attracts a female, who lays her eggs directly into the water. The male stays behind to guard the eggs and tadpoles—spending the rest of his life within that one plant. But not just any bromeliad pool will do.
"It's so crazy that there are some really nice, big bromeliads and I never found our frog there. If I would be a frog, I would like that bromeliad."
Herpetologist Mirco Solé, from Brazil's State University of Santa Cruz, quoting his graduate student, Amanda Lanter-Silva.
"But then we made the research, and we saw that there were tradeoffs."
In all, Solé and his team surveyed 239 bromeliads within a protected part of Brazil's Atlantic rainforest, of which 74 were occupied by frogs.
The frogs preferred big bromeliads. But the very largest bromeliads were unoccupied by the frogs, which suggests there's a Goldilocks situation. And the researchers think it has to do with the size of the frog's alligator-shaped heads.
If the bromeliad's water tank is too large, then the frog's head can't form a tight seal around the opening. Which would make them and their offspring an easy meal. But if the pool is too small, it might dry out completely.
"So they are really picky concerning their houses. They need a clean house, with fresh water, and it should not be too large, nor too small."
The study is in the journal PLOS ONE. [Amanda Santiago Ferreira Lantyer-Silva et al., Reproductive site selection in a bromeliad breeding treefrog suggests complex evolutionary trade-offs]
Solé says that these findings remind us that we need to think about the nuanced habitat needs of a species when it comes to conservation. It's not enough to breed some frogs and release them into the rainforest. We also need to ensure that they're able to find the habitats they need to live, mate and raise their young.
—Jason G. Goldman
[The above text is a transcript of this podcast.]