Giant Tsunami Remnants Spotted on Mars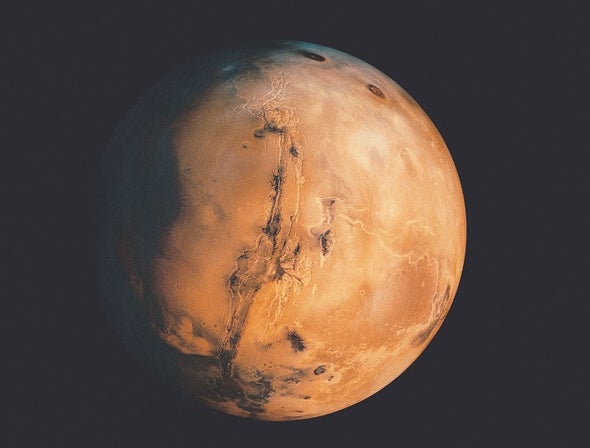 Evidence indicates that waves as tall as skyscrapers and thousands of kilometers wide once washed over the Red Planet.
For as long as we've been sending spacecraft to Mars, we've been finding signs of water. The Red Planet's sinuous river valleys, flood-carved canyons and buried glaciers all hint that it was wet billions of years ago.
Some researchers think that the curiously flat and sparsely cratered northern lowlands are the remnants of a once-great ocean. But that ocean's proposed coast varies in height by thousands of meters, which has made the idea controversial.
Now, a team of researchers has found evidence for ancient tsunamis on Mars, evidence that supports the idea of a vanished Martian ocean and explains its vertically variable shoreline.
"We were trying to find shorelines on Mars like those we typically see on Earth, which is consistently distributed along a constant elevation. And that is not what we have found on Mars, because in the case of Mars the shorelines were buried beneath the tsunami deposits."
Alexis Rodriguez of the Planetary Science Institute in Tucson. He led a team that used satellite images to identify thick deposits of boulders and silt apparently left by two separate tsunamis, a few million years apart, almost three-and-a-half billion years ago.
"The discovery of the tsunami deposits represents definite evidence for the existence of the early Martian ocean….the tsunamis were enormous. On average we estimate they were about 50 meters in height, but at some locations they could have reached as much as 120 meters...and the surface areas that the tsunamis covered within the study region are also huge…each tsunami had roughly the combined areas of California, Nevada and Oregon."
The most plausible cause for such massive tsunamis was asteroids or comets slamming into the Martian ocean. The study is in the journal Scientific Reports. [J. Alexis P. Rodriguez et al., Tsunami waves extensively resurfaced the shorelines of an early Martian ocean]
The tsunamis could provide crucial information about the habitability of ancient Mars. The first one occurred when the planet must have been relatively warm and amenable for life, because it carved out backwash channels as it returned to the sea. By contrast, the planet had become much cooler by the time the second tsunami hit—the waters apparently flash-froze after flowing onto the surface.
Examining additional tsunami deposits could reveal much more data about Mars's ancient climate changes. Someday, rovers—or astronauts—might even visit the deposits, looking for evidence of past marine life locked in frozen waves.
—Lee Billings
[The above text is a transcript of this podcast.]
[Scientific American is part of Springer Nature.]