Ocean Plastic Smells Great to Sea Turtles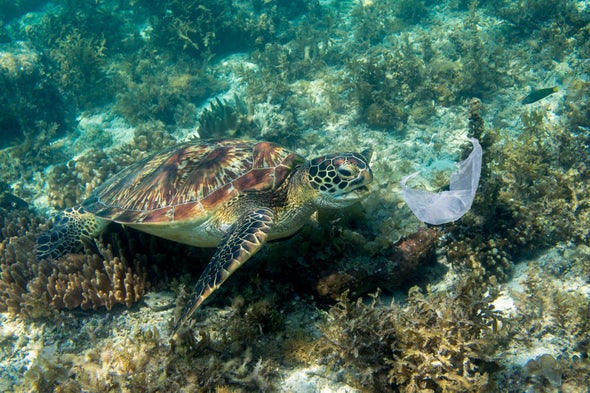 Ocean plastic gets covered with algae and other marine organisms, making it smell delicious to sea turtles—with potentially deadly results.
Plastic: It's all over the ocean. And for sea turtles, it's a killer. At least 1,000 die every year because they swallow plastic or get tangled up in it.
So why do sea turtles run into plastic so often? And why the heck are they eating it? Scientists believed the turtles may think they're biting into a jellyfish when they come across some plastics.
And now a study finds that the smell of plastic may also be attractive. Researchers exposed 15 loggerhead turtles to different odors in the lab. They tested the animals' response to the smell of turtle food, distilled water, clean plastic and also to biofouled plastic—that's plastic that has marine organisms growing all over it, which is a common occurrence in the sea and on beaches.
"It gets occupied by algae and other organisms pretty quickly. And it doesn't take very long. I mean, if you leave a plastic water bottle sitting on the sand, even for a week, it's liable to get covered in these organisms. And once it's covered and biofouled, that's what makes it so appetizing to turtles."
Kayla Goforth, a Ph.D. student in biology at the University of North Carolina at Chapel Hill.
The research team found that the loggerhead turtles had similar responses to biofouled plastic as to their normal food.
"So they have to come up to breathe. And we know that they can detect airborne odors. So when they find that there's an odor of interest in the air, they'll spend an increased amount of time at the surface with their nostrils out of the water. And we found that the turtles spent more time with their nostrils out of the water when there was this biofouled plastic odor or a food odor."
The study is in the journal Current Biology. [Joseph B. Pfaller et al., Odors from marine plastic debris elicit foraging behavior in sea turtles]
The researchers don't know exactly what makes biofouled plastic smell so tasty to turtles. But they think a compound called dimethyl sulfide might be the culprit.
"It's a chemical that we know that sea turtles can detect. And seabirds and some fishes are also capable of detecting it. And they all use it as a feeding cue."
So the next time you're about to buy that plastic bottle, remember: it could wind up inside a sea turtle.
—Annie Sneed
[The above text is a transcript of this podcast.]