Play Helped Dogs Be Our Best Friends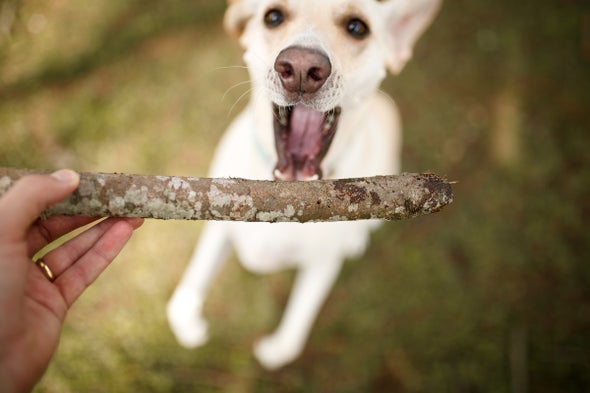 The ancestors of today's dogs already exhibited some playfulness, which became a key trait during domestication.
All domestic dogs belong to a single species that descended from wolves—despite vast differences in size, appearance, behavior and temperament among breeds. While dogs first became domesticated tens of thousands of years ago, the breeds we know today are largely the result of selection for certain traits by humans over the past several hundred years.
"We have an enormous amount of diversity within the same species, and we can rarely observe such diversity in nature. So it's a wonderful system to understand how evolution works within a short period of time."
Evolutionary biologist László Garamszegi of the Institute of Ecology and Botany in Hungary. He says that our playing with dogs is a key component of the human-canine bond. But breeds vary in their degree of playfulness. For example, a breed called the Vizsla is very playful.
"On the other hand, the Chihuahua doesn't like to play at all. Of course, you can train a little bit, but the average level of playfulness will be always lower than in the Hungarian Vizsla."
Garamszegi and his colleagues analyzed the playfulness of more than 89,000 purebred dogs across 132 breeds, from Pomeranians to Great Danes. The dogs were all given a test measuring their degree of enthusiasm for a game of tug-of-war with people.
"We were interested in whether breeds could be distinguished by their average level of playfulness and what are the evolutionary forces that makes different breeds behave differently."
The researchers found that after controlling for the degree of genetic relatedness between breeds, dogs bred for herding and sporting were more playful on average than dogs that had been selected for other purposes like the nonsporting and toy breeds.
"For some functions, like hunting or herding, you need trainable dogs and the very strong owner-dog relationship. So if you have a playful dog, it's easy to train. One way to train a dog is to play with the dog."
By tracing playfulness back genetically through canine evolution, the researchers showed that the ancestors of today's dogs already possessed an intermediate level of playfulness.
"So this was one of the traits that was also important during the process of domestication."
Selective breeding often amplified the trait.
"But some breeds, like the toy dogs, they actually lost some of this playfulness."
Toy breeds were originally meant to be fashion accessories for the aristocracy, so playfulness could be a liability.
"They need to match with your clothes; they need to match with your traveling habits. But they do not need too much attention. And in this particular situation, if you have a playful dog, it just creates a problem for you."
The study is in the journal Biology Letters. [Niclas Kolm et al., The link between selection for function and human-directed play behaviour in dogs]
The research could help people choose the optimal pet for their family. But ultimately ...
"If you want to train your dog, you have to play a lot with your dog."
—Susanne Bard
[The above text is a transcript of this podcast.]