The Epic History of the Horse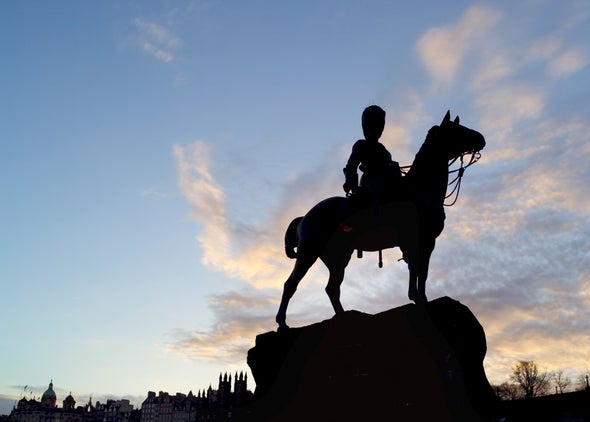 Science journalist and equestrian Wendy Williams talks about her new book The Horse: The Epic History of Our Noble Companion
Steve Mirsky: Welcome to Scientific American's, Science Talk, posted on December 10, 2015. I'm Steve Mirsky. On this episode –
Wendy Williams: Europeans always thought that horses evolved in Europe and Asia and had to be brought to North America in order to live. But it did seem strange to Darwin when he would see how well the horses were doing in the Western Hemisphere. "They act like they belong here, what could that be about," Darwin wondered.
Mirsky: That's Wendy Williams. She's a veteran science journalist and equestrian. And she's combined her passions to bring us the new book The Horse: The Epic History of Our Noble Companion, published by Scientific American and Farrar, Straus and Giroux. She was in New York City recently and we talked about the book at the Scientific American offices. You say right up front in your prologue, the horse, the name of the book is a scientific travelogue, a biography of the horse and a worldwide investigation into the bond that unites horses and humans. That's a lot.
Williams: Yes, it was a lot. Took me a long time to do the book actually. But it was really fun because it was really intellectually challenging and I kept saying, "can I pull this off, is this going to work?" so every day I was pulling my hair out but I guess in the end it came together.
Mirsky: Yeah it did. I read it and it's very good.
Williams: Oh, that's so nice.
Mirsky: And I'm really fond of evolutionary theory and reading about evolution and a lot of the book is about the evolution of the horse and it is a fascinating story.
Williams: I think it is amazing, isn't it?
Mirsky: It's an amazing story.
Williams: What a wonderful story.
Mirsky: And you actually kinda begin – you have this little illustration that Huxley did.
Williams: Mm-hmm.
Mirsky: Darwin's bulldog, Huxley, of a little proto-primate riding a proto-horse.
Williams: Yeah.
Mirsky: And it's a fanciful image, but it is – it does bring up the fact that our great, great ancestors did coexist.
Williams: Absolutely, in fact, what I found that was fascinating was that on _________ which is dry and desiccated today in Wyoming, the very first widely accepted true primate, the euprimate, was discovered there and not far from there was discovered the earliest known, widely accepted horse fossils. So, we were there together sharing the world from 56 million years ago. At least.
Mirsky: Right, at least. And the horse – and human evolution gets a lot of discussion. But horse evolution is so fascinating because, I mean, just as an example, you talk about relatively recently, there was a single species of horse – of horse ancestor.
Williams: Mm-hmm.
Mirsky: That some individuals had one toe and some had three toes.
Williams: Right.
Mirsky: In the same species.
Williams: Right, and the – isn't that amazing, in the same species. When I found that out I was talking on the phone to the scientist who discovered this site and he told me, he said, "so some horses there had one toe and some had three toes." And I said, "so they were two separate species?" And he said, "no, they were the same species." So what's really cool about that is that's a really key, essential turning point in horse evolution. What's also interesting that Mike and I discussed later when I went to visit him –
Mirsky: And Mike is?
Williams: Mike _______, he's the scientist that I was talking to who discovered this area called _______. Everyone should go there, it's very cool. Mike told me that there were four other species of horse found at the site, so it wasn't just this one species with three toes. There were five species altogether and some of them had one toe and some of them had three toes. So it was a question which way the world was gonna go at that time.
Was it gonna get colder and drier, or was it gonna stay wet enough for there to be a lot of trees and a lot of shrubs that the animals could browse on. And, as we know, along came the ice ages which kind of answered that question. And so these horses there, that had been on the cusp, some with three toes, and some with one, in the same species, made their decision, they were the victorious horse out of that group of five and they went on to become today's horse.
Mirsky: The environmental conditions selected for the single toe?
Williams: Right. They – the – well, we could call them environmental conditions but I think of them as the world's energy systems. The tectonics and the falling asteroids and the exploding volcanoes and the wind currents and the ocean currents. Everything changed to such a degree that favored that particular horse. But that didn't have to happen. Those energy systems could have changed in another direction and we could be riding three-toed horses today.
Mirsky: Let's talk about – let's back off the toes, let's talk about horse evolution in general 'cause you go through – you really go through the whole horse body from the toes to the eyeballs –
Williams: To the cecum, to the stomach, to –
Mirsky: The cecum is so fascinating.
Williams : Isn't that cool? I – my whole life – I'm 65, my whole life has been spent with horses and I never knew that.
Mirsky: Tell everybody what the cecum is and why it's so different in horses.
Williams: Well, most mammals have a cecum. I can't say all because I'm not sure, but most mammals have a cecum.
Mirsky: We have one.
Williams: We have a cecum, it's a couple of inches long and it's in the digestive tract and it follows after the stomach. Our stomach is really important. The cecum is not really that important – I'm sure it's essential in some way but it doesn't do a lot of the digestion. The digestion that humans do is in the stomach and in the intestines. In horses, it's called throughput digestion and horses digest their food very, very quickly. It goes into the stomach, but the stomach is not that important. It zips right through the stomach and it zips into the cecum, which is this huge, huge organ in horses. It's where all kinds of different bacteria live, all kinds of microflora.
Mirsky: And you say in the book it's four feet long?
Williams: Something like that, yes, it's huge. And that is where a really important part of digestion of food works with horses, so that all of this real roughage that horses eat, some of this stuff is amazing. I wrote in the book about gores, horses can eat gorse. I was surprised to see them, but they –
Mirsky: But you need a little handlebar mustache if you're gonna do it though.
Williams: Apparently. Because they do have these thick, thick mustaches.
Mirsky: The Bask horses.
Williams: The Bask horse. The horses, yes, the horses in ________ Bay in northwestern –
Mirsky: And you have a photograph – they really do have – it's hilarious.
Williams: Oh, absolutely.
Mirsky: It looks like –
Williams: - it's like a Colonel Sanders mustache.
Mirsky: Yeah.
Williams: Yeah.
Mirsky: It looks like somebody has put this fake mustache on them. It hangs down like Wile E. Coyote.
Williams: Yes, it does.
Mirsky: Not Wile E., Yosemite Sam, that's who I was thinking of.
Williams: Yeah, that's what you meant.
Mirsky: Right.
Williams: Yes, it's very much like Yosemite Sam's mustache. And the thing is, they eat gorse. Gorse is a very odd plant, it does have leaves but as soon as those leaves come out, they immediately turn to thorns and they become two- and three-inch thorns. Unbelievable that horses could eat this. People who take care of horses in the northeast, for example, would be totally awestruck to see this plant. Not just that the horses can eat this plant, but they thrive on this plant. This is their main diet, these three inch long thorns on gorse. So that's why it's thought – it hasn't been scientifically proven, but it's thought that those mustaches are those to keep the poor horses from ending up with bloody lips while they eat.
Mirsky: Right, because the lips are surprisingly flexible and useful.
Williams: They are very facile, they're like human hands. I tell the wonderful story in the book of Whisperer and how he got a drink of water out of my water faucet and he was able to use his lower lip as a cup. So the water flowed down out of the faucet and he extended his lower lip out there and drank his fill. He looked very happy.
Mirsky: Right. Whisperer was your horse many years ago.
Williams: Whisperer was my horse, yeah.
Mirsky: And you have a quote, I forgot who said it in the book, but the quote was that, "a cow could never have played Mr. Ed."
Williams: No, a cow couldn't have played Mr. Ed because he doesn't have those kinds of lips. When you look at people who are playing with their horses today, and there are a lot of people today who are interested in horses in companionship sort of way, rather than as a tool or rather than purely for riding. And people who ride horses also play games with their horses these days. When you look at them, you'll see that a lot of them teach their horses to do all kinds of fun, fascinating movements with their lips. Horses are very good at that.
Mirsky: Let's – I got sidetracked because it's so fascinating with the mustache, the lips, the gorse, but let's go back to the whole evolutionary business from the toes up to the eyeballs. You discuss, what was it? Dorsal stability is something that's really fundamental to our modern horses.
Williams: Right.
Mirsky: Yeah, so you really take us through the whole horse body. What's fascinating – let's go through the whole body at a rapid pace, at a gallop if you will.
Williams: Okay.
Mirsky: And talk about what are some of the adaptations on the modern horse that are just really pretty amazing.
Williams: Well the modern horse is the way he is today because of 56 million years of evolution. Throughout these 56 million years, all kinds of stresses were laid upon the horse, and as – since you've read the book, you'll know that there were several times when horses almost disappeared from the planet because they barely made it through these crises to adapt into the next stage of the planet's existence. Fortunately, they made it through and we do have horses in our world today. And the result of that is the modern Equus that we love that's so powerful. What we don't know, or most of us don't think about is the fact that these many, many different elements in the horse are the result of this 56 years of evolution.
The eye, for example, is fascinating. Horses see color, but they see color the way dogs see color. They have two cones instead of three. We have three cones, we can see red. Horses can't really see red. They see a different shade then red when they look at that object. But what they can do really well is see in the dark, because instead of having a little circle in the center of the eye, where the rods and cones are mostly placed, as we do as humans, they have a visual strip that extends from one corner of the eye to the other corner of the eye. And most of the rods that see in black and white are situated within that visual strip.
So, the rods don't really give you an awful lot of details but they do tell you than an object is there, and they – because of the way the visual strip is located, the horse can see almost 360 degrees around him. He can see almost to the back of his tail and he can see almost right in front of him. But, unlike us, a horse can't really see right in front of this face. These visual strips mean that the horse is very, very attentive to movements, to flashes of light. We know that they see better in the dark than we do because they have more cone – rods than we do.
Mirsky: And this is an evolutionary legacy as a prey animal. I mean, evolutionarily, their ancestors were prey.
Williams: Well, it is – partly is because they were prey but it's also partly because most of their evolutionary existence after about 34 million years ago was spent out on a wide, grassy plain. And so, when horses have to adjust from dark to light or light to dark, it takes them about 30 minutes for those cones – rods, I keep getting confused. For those rods to start to work well. Which, if you think about it, is about the time it takes the sun to set over the horizon. So their eyes are adjusting according to the time it takes for the sun to set.
We're quite different. We can see dark, light, dark, light very quickly. Our eyes can adjust very, very quickly but we don't see as well once our eyes are adjusted to the dark. We don't see as much detail as the horse sees.
Mirsky: You talk about the experience the horse has either stepping into a trailer where suddenly it's dark and they're really incapacitated for a while.
Williams: They're very incapacitated. They have to trust you in order to go into a dangerous place like a horse trailer.
Mirsky: And you had that other story where the horse was brought into an enclosure where, what would be completely innocuous to us, clearly appeared to be a potential threat to the horse.
Williams: Yeah, this is very, very interesting. That horse did not want to come into this arena. If you can picture it, it was a large, working arena indoor, with a little bit of light. Not great light but not poor light. The horse was alone in this huge arena and there was an audience of several hundred people over on the side watching the horse. So this horse was brought in alone into this arena and was very, very anxious. You can tell by the way the poor guy was turning his head around and his ears were pointed, and he seemed to be looking at a distant wall that ended the arena several – I don't know, I'm not good with distance – several hundred yards away.
What was happening there was the wall was about the height of a – shoulder height of a man. The wall was painted white and people were running back and forth on the other side of the wall, so if you looked at it, it looked like it could be some sort of a cat. Some sort of a cat running back and forth constantly on that wall. And the horse was obviously terrified of that. What was interesting is the person who was working with this horse told us that when this horse came into the arena and there were other horses in there already working, the horse was quite calm.
The horse seemed to him to be out of control when he was alone in there. It's not hard, if you really understand the nature of horses, to figure that out because the horse relies on the companionship of other horses to tell him whether he's in danger or whether everything's peaceful and copasetic. There were no other horses in there and he was very suspicious of what was running along that wall in the distance.
Mirsky: This – you just brought up the social existence of horses and first of all, it's very complicated.
Williams: Yes.
Mirsky: They have highly structured social lives.
Williams: It's as bad a soap opera.
[Laughter]
Mirsky: And the, sort of, old myth – well, is accepted – conventional wisdom let's call it – for a while that there was this stallion who kept a harem. I mean, even the words are just so charged.
Williams: Right.
Mirsky: And in reality –
Williams: The mares could care less. What the mares really want is for the stallions to go away as far as possible and bother themselves and not to bother – you know, we are busy here, we are raising kids, we are eating grass, what are you doing in the middle of our world, leave please. But the stallions don't really care whether the mares resent them or not [laughs]. They go on about their stallion business of picking fights. There was one gang of four that was strutting all over the place. They were just teenage boys walking down a city street. And they were very curious, when we walked up they started walking towards us and they came – "oh, who are those people, what's going on? Maybe we can make them think we're powerful."
We didn't really think they were that impressive or powerful, so instead the guys stopped and smelled a dung pile and thought about that for a while and then wandered off in another direction. It's absolutely hysterical and I am sure that this is the reason why people, during the ice age, were so fascinated with horses that they made so much art of horses because horses have such personalities. And if you look at the art that was done of horses in the ice ages, like the horses on the walls of Chauvet Cave, you see that all these horses have very specific, definite personalities. And they are doing exactly the kinds of things that horses would do today.
Mirsky: You spend a fair amount of the book – I mean, not 50 percent but 5 percent of the book is all about the cave art that depicts horses over the last, what, 40,000 years.
Williams: Right. I – it – yeah, I think the earliest known carving of almost anything is a carving of a horse, the Vogelherd horse. It's a tiny little thing and it was carved out of mammoth ivory. A couple of centimeters by a couple of centimeters. Absolutely stunningly beautiful.
Mirsky: There's a picture in the book and when you pick up the book which I hope you'll do, you'll see the picture and then a couple of pages later, there's a picture of a modern horse – I mean a photograph –
Williams: That looks just like that.
Mirsky: Just like it.
Williams: Exactly like that. So, to be honest, we've always been impressed by the stallion's arched neck, when he says, "I am very important and you will pay attention." In fact, we do pay attention because it's quite beautiful. It's a gorgeous little S curve that everybody loves to look at. So that was the first piece, the earliest known piece of horse art that we have. Along with that were a couple of other ivory carvings not of horses, so obviously art was pretty advanced by 35,000 years ago in order to be able to create these pieces.
And then, from there on in, _________ art, the art of the Ice Age progresses until about 12 or 10,000 years ago. And throughout that whole period, there are just wonderful, wonderful depictions of horses all over the place. In Spain, all the way from the northeast coast of Spain in Galicia, all the way over into the Ural Mountains in Russia. You go into these cave walls, and you see horses everywhere. But it's not just on the cave walls. There's carvings, they would take reindeer antlers and make wonderful horseheads out of reindeer antlers.
There's one artefact that people found and they wondered for a long time what was it. It was a long stick with a hole and then a gorgeous horsehead carving on top of it. It turns out, people have decided that that was a spear straightener and that it was made out of antler because the antler was harder than wood. People, supposedly, the theory is that people would take pieces of wood that they wanted to make spears and to – and run them back and forth through that hole and create a straight spear. Decorating that spear straightener is a wonderful head of a horse.
Mirsky: And the artwork and the fossil record which stretches back way, way longer than the artwork kinda indicates that horses were every place. There were a lot of horses out there.
Williams: Yes. Pretty much since the time of the dawn, horses – pretty much since Polcad Bench, horses have been prolific. There have been many, many different species that have come and gone over the eons. They've changed, as I've explained. Sometimes – a very, very successful horse was the Hyperion, who had three toes. We find evidence of her living all the way down in the southern part of Africa in a place called Laetoli, which is absolutely an awesome place. We can see her trotting along with her three toes on each feet, with a little foal. And at one point, the foal runs in front of her and she slips in order to avoid running into the foal, and you can see her actually plant those three toes in the ash so it's recorded forever, for all time, exactly how she used those three toes.
Mirsky: Why don't you tell the story of some of the things that vexed Darwin about horse evolution and then how Huxley came to the United States and saw some fossils that had been unavailable to them in Europe and how things then clicked.
Williams: Crystalized, yeah.
Mirsky: Yeah.
Williams: Yes, the trip to North America really crystalized things. Well, as I explain in the book, Charles Darwin was prone to stress headaches anyway. He was very – he was a man who was highly anxious. He loved horses, he was an excellent rider, but he was very, very upset about the truth he was discovering about evolution because he knew that the church people were not gonna like that. His wife was very religious and he hated to upset his wife, which is a quality I appreciate.
So, he was reluctant to publish this and one of the things that confused him was the evolution of horses. You have to remember that when the Europeans first came to North America, there were no horses there. They were all gone. All of them. Not one horse in North America. So, on the next trip over, Columbus brought a few horses with him because he thought it would be convenient to have them.
To his surprise, the horses did really well in North America and flourished. So, Europeans always thought that horses evolved in Europe and Asia and had to be brought to North America in order to live, but it did seem strange to Darwin when he would see how well the horses were doing in the Western Hemisphere. "They act like they belong here, what could that be about" Darwin wondered. But, when you look in the European rock record, you see prolific numbers of horses, then you see horses disappear completely. Then you see prolific numbers of horses again, but a very different kind of horse. It's still a horse, but it's a different species of horse. Then they disappear again, then they reappear again, so there was this really –
Mirsky: This oscillation -
Williams: - confusing, now you see them now you don't thing, in Europe, that absolutely drove Darwin nuts. Because, remember he was English and he did not like disorder in the universe. Everything had to be calm and cool and collected. Remember, keep calm and carry on. That was Darwin's motto as well as the motto of modern England. So, he couldn't resolve this problem, he couldn't figure it out and it did upset him a great deal. Then, Thomas Huxley, who was a buddy of Darwin's, younger than Darwin, sailed over to New York to give a lecture on evolution and he was gonna explain what Americans needed to know about evolutionary theory because only the Europeans, of course, really understood this.
Mirsky: It didn't really sink in, but go on.
[Laughter]
Williams: So, he came over, he came to New York and he was about to give his lecture and he got this note from someone named O.C. Marsh at Yale, who turned out to have started his own museum up there, because his uncle had a lot of money. And, Marsh rode down and said, "before you give your lecture on evolution, I think you'd better come up here for a little visit." So Huxley got on the train and went up to Yale and Marsh said, "look what I have." Marsh had a whole progression of horse legs and horse toes that began with a little dawn horses 56 million years ago and showed how the legs had gotten longer and how the four toes on the front feet had become three toes. And then they'd become one main toe and two really little toes and then had become just one toe. So, Marsh said, "this is where horse evolution occurred, and this is what's missing in the rock record in Europe." Huxley was amazed, but the other thing that Marsh showed Huxley was that not only were horses found 56 million years ago, Marsh had the first widely accepted true primate that had been found in very close proximity to the horses of 56 million years ago. So, it showed – Marsh showed that horses and primates had started the world – had started through life together and had traveled over time together for these 56 million years.
Mirsky: And that's where that little drawing he made comes from that's in the book.
Williams: Right, that's where he made that wonderful drawing that Yale still has. Of course, it was meant to be funny, with the little primate astride the little horse with many, many, many toes.
Mirsky: I mentioned dorsal stability, so I don't wanna leave listeners hanging. So, why don't we talk about that for just a second?
Williams: Well, if you look at these little dawn horses, they're about the size of dogs or maybe even very large cats. They're not very large. Neither were the primates then by the way. But they run the way my border collie runs. My border collie runs with his back as much as with his legs. His back undulates, goes up and down and it curves and that's where he gets all his tremendous speed from.
That's how those little dawn horses ran. But they didn't run very fast because the rest of their body wasn't really well shaped yet to be able to run fast. They did, however, have what was said to be the fastest gait of a land mammal in those days, which was described to me by several scientists as a scamper. So, they couldn't gallop but they could scamper around and that was really all that was needed because they were living in forest like environments where all they had to do was escape behind a tree and there was no problem. They would have been very difficult to ride though.
I talked to a scientist from East Germany who said it would have been like riding – your American cowboys riding cows in a rodeo or something. The back just wouldn't have been very comfortable. As horses got bigger and their legs got longer and more powerful, you also see that their backs flattened out and they became miraculously perfect for human beings, the modern primates, to sit on and to ride. That happened over the course of time, because of the cooler weather, because of the spread of grasslands, because of the disappearance of forests over vast amounts of the planet. And so, one of the things that people ask is when did riding begin and when I give my presentations,
I like to show a very amusing little video showing how riding might well have begun at least to some degree the way Huxley suggested it might have begun. I think – of course, I was born to ride a horse – I think that we were born with an instinct to get up on the back of someone. Remember that we're primates, and most of the primates that you see in the forests in the world today have young who ride on their backs. So, riding for a primate is actually kind of a natural thing, as well as being up high. We love to be up high. Maybe that's how riding began. Maybe riding horses began long, long before horses were actually domesticated.
Mirsky: But they sort of come pre-adapted to humans jumping on their back with that, as you call it, dorsal stability. With that very rigid front part of the spine there. So it makes it comfortable to ride.
Williams: I'm not sure I would call it rigid, but it certainly – it's as though it were an easy chair. You just seem to be able to fit. Of course, people who don't ride, don't know what I'm talking about. But, for people who ride, it just seems like that horse is the perfect seat for you to sit on forever.
Mirsky: And when you watch jockeys on racehorses, they position themselves to get over the very, most stable part.
Williams: They position themselves to get up on the withers. Because the horse gets his power from his hindquarters. That's where he's running from, and the more you can get off the hindquarters, then off the back, the faster the horses can run. And what's interesting about that is when we visited Mongolia, we saw that all Mongolians ride that way. They ride in saddles that are wooden and do not look very comfortable.
But to be honest, Mongolians, when they're riding, don't sit in those saddles very often. They stand in the stirrups and they stand over the withers. One reason they do that is because the horses are faster, but another reason they do that that they explained to us is because it's easier on the horse. If you're standing up in the saddle over the horse's withers, you're not putting weight on the horse's kidneys and on the horse's hindquarters so the horse has a much easier time running.
Mirsky: You brought up Mongolia. You talk about – this was an amazing thing to me, that there are these bands of wild horses that allow – individual members of the bands allow themselves to basically become a workhorse for a little bit, for a few days. A Mongolian human will come over and grab one and say, "come on with us for a few days to do some chores." And then the horse goes, everybody gets along fine and then the person returns the horse to the wild band. And this arrangement seems to have been worked out.
Williams: Well, it works out very well. I saw it. The horses are quite comfortable and what's interesting is, when you have a horse on your saddle and bridle in Mongolia, if – and this doesn't happen very often but if the Mongolian actually falls off his horse – he doesn't tell anybody, by the way, if that happens. But his horse stands right there and waits for him. "What are you doing down on the ground, get back up." So the horse is a compliant part of this partnership between horses and humans. But when the saddle and the bridle are removed and the horse is turned back into the free-roaming band, the horse is fine being back into the free-roaming band.
So, what that tells you is – we brag about how flexible we are and how adaptable we are, humans are the only animals that are completely adaptable, blah, blah, blah, blah, blah. It's kind of a boring conversation, I heard it on TV again last night. We're not actually that special. Horses do that all the time. Horses have a social life with their band members and when they are being ridden, they have a social life with their owner. And the bond with that owner can be every bit as strong as the bond with the horses in their band.
Mirsky: Let's talk about you. You're a journalist, but a horse person going way back.
Williams: Yeah.
Mirsky: And what was it that got you to say to yourself, "I really have to write this book."
Williams: Well, I told my mother when I was five that I was gonna write a book about horses. And since I'm 65 now, I figure I'd better get that job done. So, I have taken care of one life task by writing this book and it's very satisfying to ____ a life task when you're my age.
Mirsky: So you worked on this book for 60 years?
Williams: You know, people ask me how long it took to work on the book and a case can be made 60 years. A case can be made that I started when I was three years old and sat on the back of my father's armchair and rode my horse as fast as I could while the cowboys were on the TV screen. I loved that, I thought, wow, that looks like a great life. And actually, it is a great life. It's a wonderful life to be a cowboy.
And then, we didn't have money so that I could own a horse, but I did get to take riding lessons and I was fortunate enough to find one of these barns where little girls were allowed to come out and spend the day and help. I don't know how much help I was at the age of ten, but help with the horses and spend the day rolling around in the hay with the other little girls and having a wonderful time. So, my mother was more than happy to have me there. Then I went off to school and was busy getting an education, couldn't have horses. But as soon as I got out of school, I finally got a horse to take care of myself and that's where the book begins.
Mirsky: If you prefer your saddle to be on a bicycle, Williams is also the author of Best Bike Paths of New England and Best Bike Paths of the Southwest. That's it for this episode. Get your science news at our Web site, www.scientificamerican.com or you can also check out the Bring Science Home feature in the Education section. It offers fun science activities for parents and their kids ages six to 12 to do together with household items in just a half hour or less. And follow us on Twitter where you'll get a tweet whenever a new item hits the Web site. Our Twitter name is @sciam, S-C-I-A-M. For Scientific American Science Talk, I'm Steve Mirsky. Thanks for clicking on us.
[End of Audio].