Special Report
Creationism Vs. Evolution
The controversy over evolution rages on. Win all your debates against creationists with the science in our special report.
The Sciences
Creationists cast themselves as proponents of "academic freedom"
September 10, 2008 — JR Minkel
The Sciences
Interactive map highlights recent battlegrounds in evolution education
March 2, 2011 — Francie Diep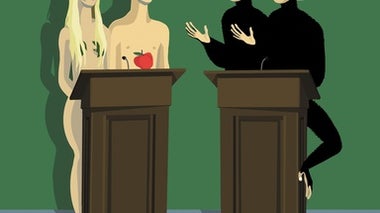 Evolution
Opponents of evolution want to make a place for creationism by tearing down real science, but their arguments don't hold up
July 1, 2002 — John Rennie
Two prominent defenders of science exchange their views on how scientists ought to approach religion and its followers
John Rennie, Michael Shermer and Steve Mirsky all watched Ben Stein's new antievolution movie. Here's what they had to say about its design flaws.
In this episode Columbia College Chicago's Stephen Asma discusses the new antievolution Creation Museum in Petersburg, Ky., as well as his books on natural history museums and monsters, both mythological and teratological...
Institutions step up fight against attacks on theory of evolution
A consortium of scientific societies wants the scientific community to get more involved in science education, including evolution--before it's too late. Steve Mirsky reports.
Is the universe fine-tuned for life?
The World Summit on Evolution, held in the Galapagos Islands, revealed a science rich in history and tradition, data and theory, as well as controversy and debate
Did humans invent right and wrong, or are these feelings part of the inheritance from our primate ancestors?
Our intuitions about consciousness in other beings and objects reveal a lot about how we think
Using his quiet country estate as headquarters, the great naturalist was a reclusive revolutionary
A new movie, Expelled, claims that intelligent design is good science that is being censored by adherents to evolution, which is nothing but Darwinian dogma. Scientific American's editor-in-chief, John Rennie, and podcast host Steve Mirsky discuss the movie...
An open letter to Messrs. Dawkins, Dennett, Harris and Hitchens
Why Christians and conservatives should accept evolution
The advance of science, not the demotion of religion, will best counter the influence of creationism